Such a good Thai-inspired dinner recipe: Coconut Curry Stir Fried Shrimp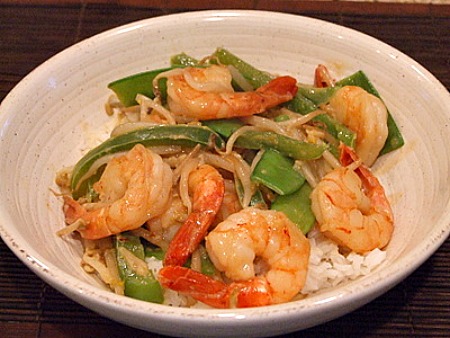 Coconut Curry Stir Fried Shrimp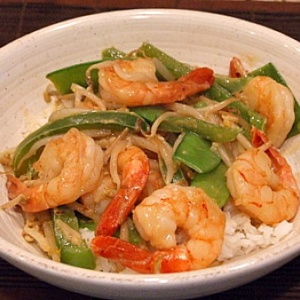 Yield:
4 servings
Prep Time:25 minutes
Cook Time:10 minutes
Ingredients:
SAUCE:
1 cup coconut milk (light is ok)
1 tablespoon fish sauce
1 to 2 teaspoons red curry paste (depending on your spice preference)
1 teaspoon light brown sugar
1 teaspoon cornstarch
STIR- FRY:
1 pound extra- large (21/25) shrimp, peeled and deveined
2 teaspoons soy sauce
2 tablespoons vegetable or canola oil, divided
1 medium bell pepper, cored, seeded and sliced (1 1/2 cups)
8 ounces snow peas, strings removed (1 1/2 cups)
1 cup bean sprouts
3 cloves garlic, minced
1 tablespoon grated fresh ginger
Directions:
Place sauce ingredients in a bowl; mix and set aside.
Toss shrimp with soy sauce. Heat 2 teaspoons oil in 12-inch nonstick skillet over high heat until just smoking. Add shrimp and cook, stirring occasionally and breaking up clumps, until curled and lightly browned, about 1 1/2 minutes. Transfer shrimp to its own bowl.
(plan to mince garlic and grate ginger while veggies are cooking) Add 1 more Tablespoon of oil to pan and return to high heat until shimmering. Add bell pepper and cook, stirring occasionally, until crisp tender, about 2 minutes. Stir in snow peas and bean sprouts and cook for 1 minute.
Clear center of pan and add remaining 1 teaspoon oil, garlic and ginger. Cook, mashing garlic mixture into pan with back of spatula, until fragrant, about 30 seconds. Stir in cooked shrimp. Whisk sauce to mix, add to pan, and bring to simmer. Cook until sauce begins to thicken, 1 to 2 minutes. Serve immediately.
Tips:
Adjust the curry to your preference of spiciness. We don't like too much spice, so I just used 1 teaspoon curry paste and that gave it just a little kick.