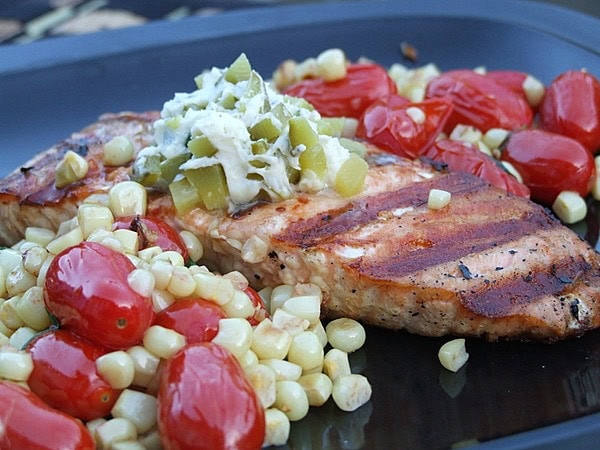 Grilled Salmon w/ Dill Pickle Butter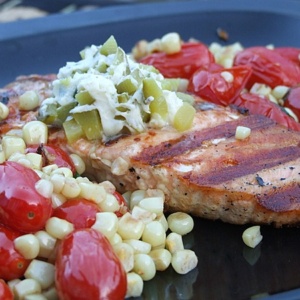 Yield:
4 servings
Prep Time: 15 min
Cook Time: 10 min
Ingredients:
4 tablespoons unsalted butter, softened
1/4 cup finely diced dill pickles
1 teaspoon minced fresh tarragon
1/2 teaspoon Dijon mustard
salt and freshly ground black pepper
Four 6-ounce salmon fillets, with skin
extra-virgin olive oil, for rubbing
Directions:
1. Preheat grill.
2. In a small bowl, blend butter with diced pickles, tarragon and mustard; season with salt and pepper.
3. Rub salmon w/ oil and season with salt and pepper. Grill over moderately high heat, skin-side-down, until the skin is lightly charred and crisp, about 3 minutes. Using a metal spatula, turn the fillets and grill until barely done in the center, about 4 minutes longer. Transfer the salmon to plates. Top with dill pickle butter and serve.
Tips:
*If you are preparing this as a gluten-free dish, just be sure to use a brand of Dijon mustard that is known to be GF.
*Serve with sauteed fresh corn and cherry tomatoes.