Here's an easy summer salad recipe using fresh corn on the cob:  Fresh Corn and Tomato Salad with Balsamic Basil Dressing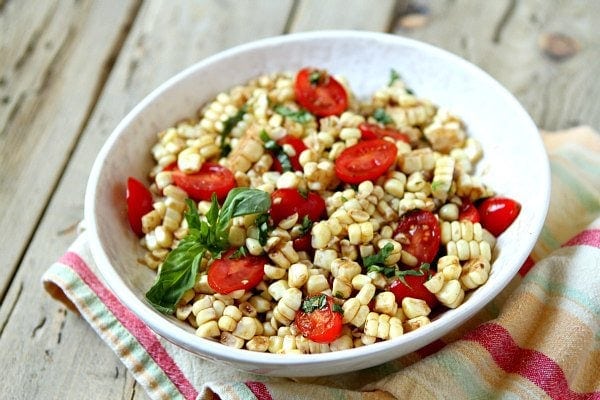 If you can get your hands on fresh, sweet corn in the summertime, you should consider yourself one lucky person.  It's usually pretty abundant and cheap in high season, and the local farmer's markets are the best place to find good corn.  This recipe celebrates both fresh corn AND tomatoes, so look for some nice, sweet tomatoes too!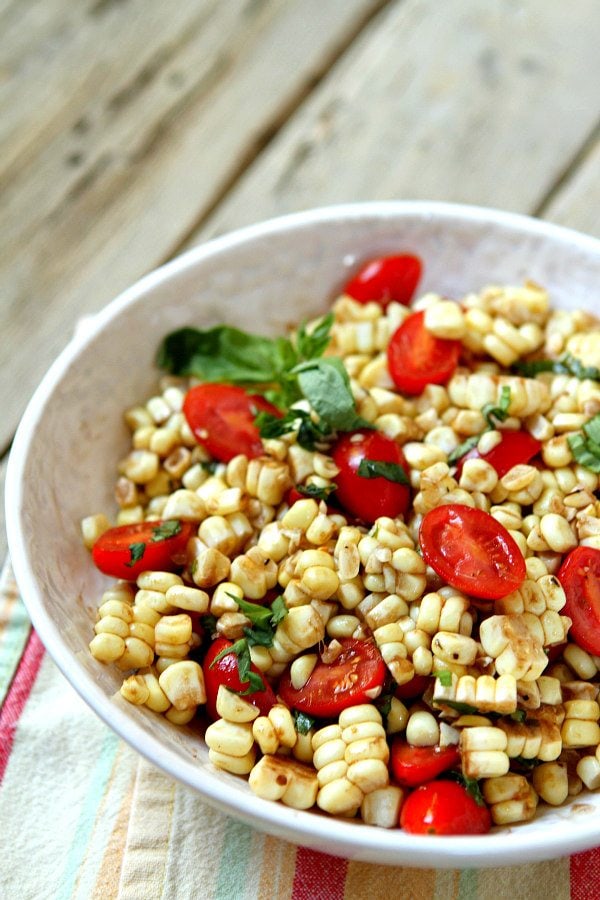 This salad is dressed with a simple homemade balsamic basil dressing.  It's a nice side salad for grilled meats and chicken.
Fresh Corn and Tomato Salad with Balsamic Basil Dressing
Yield:
8 servings
Prep Time: 30 minutes
Cook Time: 7 minutes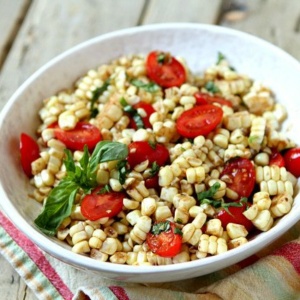 Ingredients:

Salad:

1 teaspoon salt
6 medium ears fresh corn
1 1/2 cups halved pear or cherry tomatoes
fresh basil, for garnish

Dressing:

1/4 cup extra-virgin olive oil
3 tablespoons balsamic vinegar
1/2 teaspoon granulated white sugar
1/2 teaspoon cornstarch
1 teaspoon dried oregano
6 large fresh basil leaves, chopped
salt and pepper, to taste

Instructions:

Bring a large pot of water to boil.  Add salt and corn.  Cook for 5 minutes, then transfer cobs to a paper towel-lined plate to cool and dry.  When cool, cut the kernels off the cob and transfer the kernels to a medium bowl.  Stir in tomatoes.  Refrigerate while making the dressing.
Prepare the dressing:  In a small saucepan, combine the olive oil, balsamic vinegar, sugar, cornstarch, oregano and basil.  Bring to a boil, then reduce the heat and simmer until the dressing thickens slightly- 2 to 3 minutes.  Remove from heat, season with salt and pepper, and set aside to cool.
When ready to serve, drizzle dressing on top of the salad and toss gently.  Garnish with additional basil, if desired.

Nutrition:

Nutritional Information per serving (recipe divided into 8 equal servings)- nutrition facts do not include the added salt in the recipe: Calories 128, Total Fat 7.9g, Saturated Fat 1.1g, Cholesterol 0mg, Sodium 13.3mg, Potassium 182mg, Carbohydrates 15.1g, Dietary Fiber 2.2g, Sugar 3.2g, Protein 2.4g
Weight Watchers Points per serving:  Freestyle SmartPoints: 2, Original SmartPoints: 5, PointsPlus: 4, Old Program: 3
SOURCE:  RecipeGirl.com
Here are a few more fresh corn salad recipes you might enjoy: