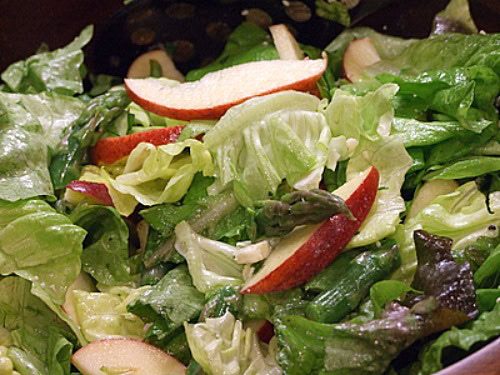 Asparagus- Apple Salad w/ Blue Cheese Vinaigrette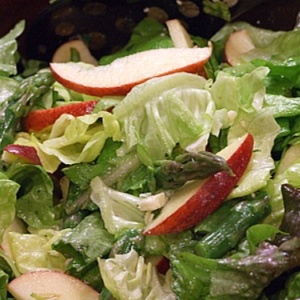 I needed a lighter salad to go with our heavy Christmas Eve menu and chose this one. It was just that- light and delicious.
Yield:
Serves: 6
Prep Time: 15 min
Cook Time: 1 min
Ingredients:
DRESSING:
1/4 cup (1 ounce) crumbled blue cheese
2 Tablespoons chopped fresh parsley
2 Tablespoons white vinegar
1 Tablespoon water
1 teaspoon granulated sugar
2 teaspoons Dijon mustard
1 teaspoon extra-virgin olive oil
1/4 teaspoon salt
1/4 teaspoon freshly ground black pepper
SALAD:
2 cups (2-inch) diagonally cut asparagus
4 cups torn butter lettuce (or red leaf)
2 cups thinly sliced Gala apple
Directions:
1. Combine dressing ingredients in a small bowl, stirring with a whisk.
2. Cook asparagus in boiling water for just 1 minute. Drain and rinse under cold running water; drain and pat dry. Combine asparagus, lettuce, and apple in a large bowl. Drizzle with vinaigrette; toss gently to coat.
Nutrition:
Nutritional Information per serving:
Serving size: recipe divided into 6 portions
Calories per serving: 92
Fat per serving: 3.5g
Saturated Fat per serving: 1.5g
Sugar per serving: 8.5g
Fiber per serving: 3.5g
Protein per serving: 4g
Cholesterol per serving: 5mg
Carbohydrates per serving: 13.5g
WW POINTS per serving:
Points Plus Program: 2 Old Points Program: 3