Here's a rice side dish recipe that is packed with fresh flavor: Lemon- Dill Rice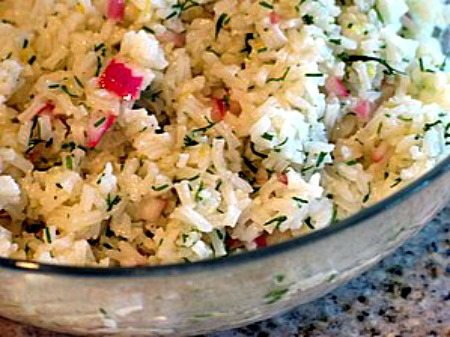 Lemon- Dill Rice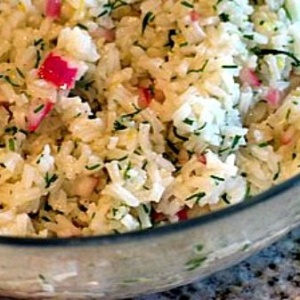 Yield:
4 servings
Prep Time:25 min
Cook Time:14 min
Ingredients:
1 cup white long-grain rice
1/3 cup red onion, finely chopped
3 tablespoons red wine vinegar
4 tablespoons freshly squeezed lemon juice (about 1 1/2 lemons)
2 1/2 tablespoons extra-virgin olive oil
1 1/2 teaspoons finely chopped garlic
3/4 teaspoon salt
1/4 teaspoon freshly ground black pepper
3 tablespoons chopped fresh dill
grated zest of one lemon
Directions:
1. Fill medium saucepan half full of water and bring to a boil. Stir in rice and return to a boil. Simmer, cook uncovered, and cook until rice is tender (about 14 minutes). Drain rice in fine mesh strainer and then transfer to a medium bowl.
2. While the rice is cooking, mix the red onion and vinegar in a small bowl. Let sit for 5 minutes; then strain the onion through the strainer and discard vinegar. Set the onion aside.
3. In a small bowl, whisk together lemon juice, oil, garlic , salt and pepper. Drizzle this mixture over the hot rice. Mix in the onion, dill and zest. Toss to combine and serve while warm.
Nutrition:
Nutritional Information per serving:
Serving size: 1/4th of the recipe
Calories per serving: 183
Fat per serving: 8.5g
Saturated Fat per serving: 1g
Sugar per serving: .5g
Sodium per serving: 678mg
Fiber per serving: 1g
Protein per serving: 2.5g
Cholesterol per serving: 0mg
Carbohydrates per serving: 25g
WW POINTS per serving:
Points Plus Program: 5 Old Points Program: 4