This rice side dish is full of all kinds of good stuff: Confetti Rice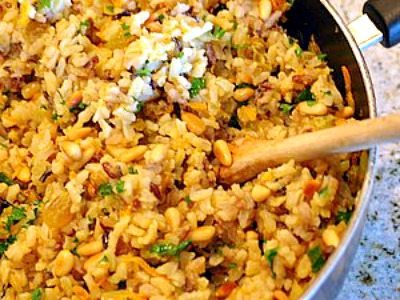 Confetti Rice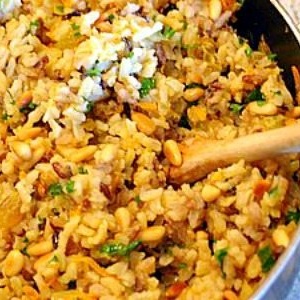 Yield:
8 servings
Prep Time: 40 min
Cook Time: 1 hour 50 min
Ingredients:
1 cup raisins
3/4 cup long grain white rice
3/4 cup brown rice
3/4 cup wild rice
1 1/2 cups chicken broth
6 tablespoons unsalted butter
6 tablespoons chopped onion
2 3/4 cups chicken broth
1/2 cup shredded carrots
3 tablespoons unsalted butter
1 cup pine nuts, toasted
1/2 cup chopped fresh parsley
Directions:
1. Place raisins in a bowl and cover with hot water. Let soak until plump- drain.
2. Rinse white, brown and wild rices separately and drain.
3. Combine wild rice and 1 1/2 cups chicken broth in a saucepan and mix well. Cook, covered, for 35 to 40 minutes or until tender.
4. Heat 3 Tablespoons of butter in each of 2 separate saucepans until melted. Add 3 Tablespoons chopped onion to each saucepan. Sauté until tender.
5. Add white rice and 1 1/4 cups chicken broth to 1 saucepan and mix well. Add brown rice and 1 1/2 cups chicken broth to the remaining saucepan and mix well. Bring both saucepans to a boil; reduce heat and simmer. Simmer the white rice, covered, for 20 minutes and the brown rice, covered, for 1 hour.
6. Sautè the carrot in 3 tablespoons butter in a skillet.
7. Combine cooked rices in a large bowl and mix well. Stir in raisins, carrot, pine nuts and parsley. Spoon into serving bowl.
Tips:
*One half of a large carrot will yield one half cup of shredded carrot.
*Try substituting dried cherries or cranberries for raisins, and/or pecans or almonds for the pine nuts.
*If you are preparing this recipe as GLUTEN-FREE, just be sure to use a brand of chicken broth that is known to be GF (and make sure none of the rices are a blend that has gluten in it).