This one is the kind of meal that is perfect for a Sunday dinner:  Rosemary Pork Roast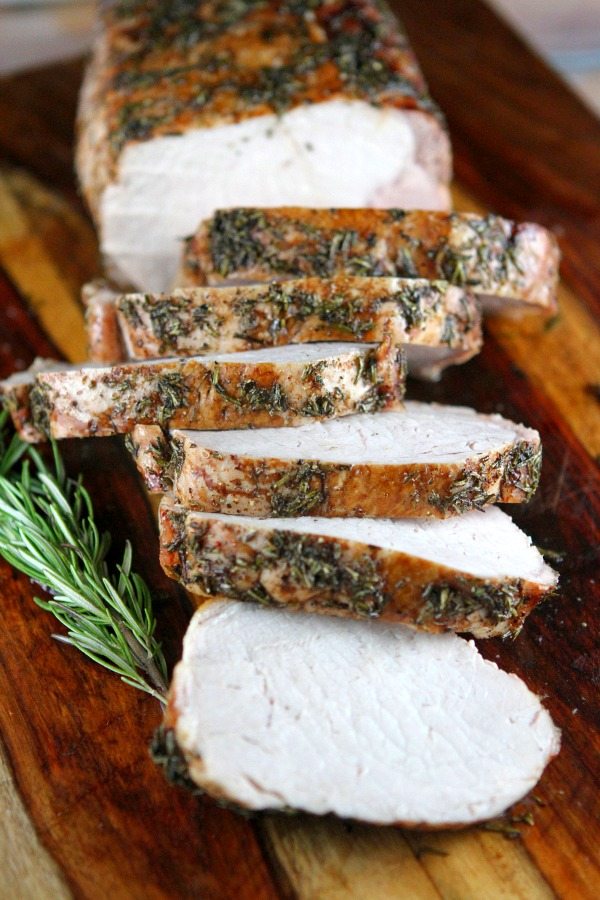 Rosemary Pork Roast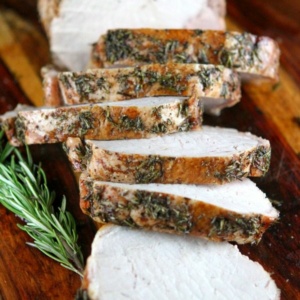 Yield:
12 servings
Prep Time: 15 minutes
Cook Time: 1 hour
Ingredients:
3 1/2 pounds boneless pork loin
2 tablespoons dried rosemary (or 1 1/2 tablespoons fresh chopped)
2 tablespoons olive oil (plus one more tablespoon)
1 tablespoon freshly ground black pepper
1 tablespoon balsamic vinegar
Directions:
Preheat oven to 350 degrees F.
Place pork, fat side up, in large heavy roasting pan. Insert meat thermometer in center of roast. Roast for 30 minutes.
In small bowl, stir the rosemary with the olive oil, pepper, vinegar and salt. Spoon over pork and spread all over.
Return pork to the oven and roast about 30 minutes longer or until internal temperature is 140 to 145 degrees. Remove from oven, cover loosely with foil, and let rest for at least 10 minutes.
Slice thinly and pour any juices over the meat. Serve warm or at room temperature.
Nutrition:
Nutritional Information per serving (Serving size:

1/12th of the roast) 

Calories:

276, 

Fat:

18g, 

Saturated Fat:

5.5g, 

Sugar:

0g, 

Sodium:

57mg, 

Fiber:

.14g, 

Protein:

27g, 

Cholesterol:

78mg, 

Carbohydrates:

.43g

Weight Watchers POINTS:  SmartPoints: 5, PointsPlus: 7, Old Points Program: 7
SOURCE: RecipeGirl.com
More pork roast recipes you might enjoy: