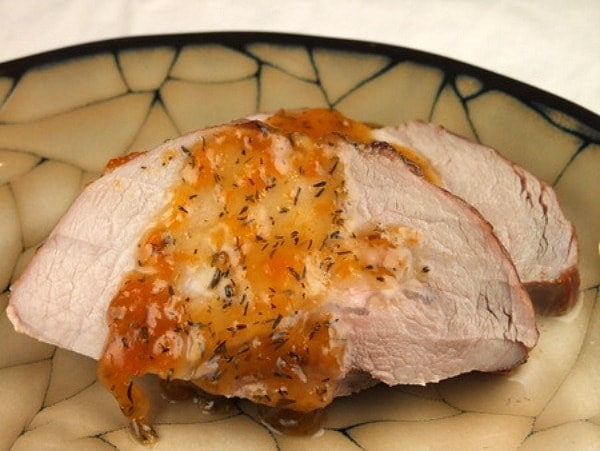 Apricot- Glazed Pork Roast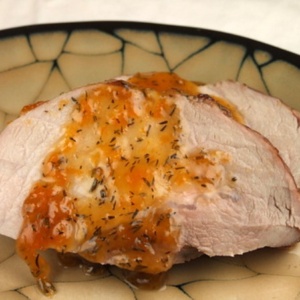 This 4 ingredient recipe for pork roast is super simple and family-friendly...
Yield:
Servings: 6 (Serving size: 3 ounces pork and 2 teaspoons sauce)
Prep Time: 15 minutes
Cook Time: 1 hour, 45 minutes
Ingredients:
2 to 2 1/2 pounds boned, rolled pork loin roast
1/2 cup apricot preserves
1 Tablespoon Dijon mustard
1 teaspoon dried thyme
Directions:
1. Preheat oven to 325°F.
2. Unroll roast; trim fat. Re-roll roast; secure at 1-inch intervals with heavy string.
3. Combine preserves, mustard, and thyme in a bowl; stir. Brush 1 Tablespoon apricot mixture over roast. Place on a broiler pan coated with cooking spray. Insert meat thermometer into thickest portion of roast.
4. Bake for 1 hour and 45 minutes or until meat thermometer registers 160° (slightly pink), basting once with apricot mixture. Let stand 15 minutes before slicing.
5. Bring remaining apricot mixture to a boil; reduce heat, and cook 2 minutes. Serve with roast.
Nutrition:
Nutrition Facts -Amount Per Serving (Serving size: 3 ounces pork and 2 teaspoons sauce)
Calories 280, Calories From Fat (27%) 76.65, Total Fat 8g, Sat Fat 2.77g, Cholesterol 83mg, Sodium 110.14mg, Carbohydrates 17.5g, Dietary Fiber .23g, Sugar 17.07g, Net Carbs 17.25g, Protein 33.29g
WW POINTS per serving:
Points Plus Program: 7 Old Points Program: 6