I served this Pork Tenderloin with Apricot- Ginger Sauce as a special dinner for my family, and everyone enjoyed it so much.  The spice rub is the perfect blend of flavors, and the sweet apricot ginger sauce is a nice balance with the spice.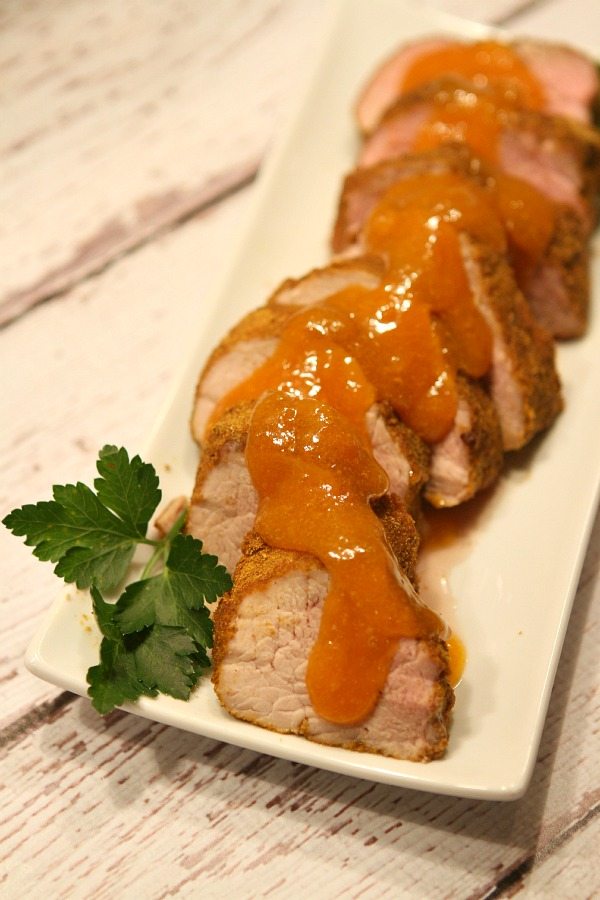 Pork Tenderloin with Apricot- Ginger Sauce
Yield:
6 servings
Prep Time: 45 min
Cook Time: 50 min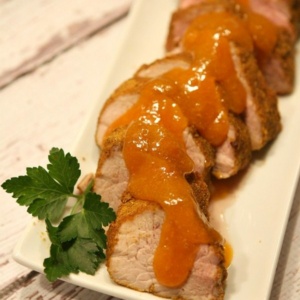 Ingredients:
SPICE RUB: 1 1/2 tablespoons curry powder 1 1/2 tablespoons ground cumin 1 tablespoon ground ginger 1 teaspoon salt 1 teaspoon freshly ground black pepper 1/2 teaspoon cayenne pepper PORK: 2 pounds pork tenderloins olive oil APRICOT GINGER SAUCE: 20 California dried apricots One 11-ounce can apricot nectar 3/4 cup granulated white sugar 1/2 cup white vinegar 1/2 cup water 1 1/2 tablespoons minced fresh ginger 1 1/2 teaspoons sweet chili sauce
Instructions:

1. Combine Spice Rub ingredients in a bowl and mix well. 2. Preheat oven to 400 degrees F.  Brush tenderloins with olive oil and pat the rub over the surface of each. Arrange tenderloins in a baking pan that has been sprayed with nonstick spray. 3. Bake 25 to 30 minutes, or until meat thermometer registers 145°. Remove tenderloins to a platter and tent with foil. Let rest for 10 minutes. Slice tenderloins and arrange on a serving platter. 4. To prepare sauce, combine all ingredients in a saucepan and mix well. Bring just to a boil; reduce heat. Simmer, covered, for 30 minutes, stirring occasionally. Process the sauce in a blender or food processor until smooth. 5. Drizzle sauce over slices of tenderloin and serve warm.

Tips:
*Avoid using Turkish dried apricots in this recipe, as they lack flavor.
SOURCE: RecipeGirl.com (recipe given to me)