This recipe has been featured in a post on The Recipe Girl blog: Quick and Easy Glazed Pork Tenderloin with Pineapple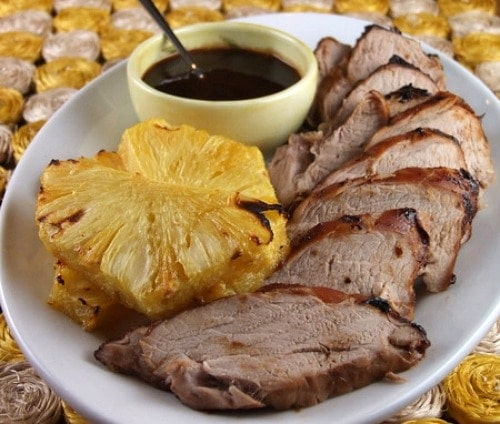 Glazed Pork Tenderloin with Pineapple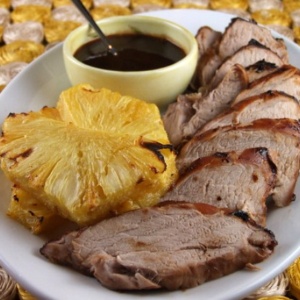 I love to make this recipe when I'm on Weight Watchers... feels like such a treat.
Yield:
4 servings
Prep Time: 25 min
Cook Time: 20 min
Ingredients:
PINEAPPLE:
4 slices (each 1/2-inch-thick) fresh pineapple
PORK:
3 Tablespoons hoisin sauce
2 teaspoons grated, peeled fresh ginger
1 clove garlic, minced
1 teaspoon Dijon mustard
1 1/2 pounds pork tenderloin, trimmed
coarse salt and freshly ground black pepper
QUICK GINGER SAUCE:
2 Tablespoons hoisin sauce
2 Tablespoons pineapple juice
2 teaspoons grated, peeled fresh ginger
1 teaspoon soy sauce
freshly ground black pepper
Directions:
1. Heat the broiler. Place the pineapple slices on a foil-lined baking sheet.
2. In a small bowl, combine the hoisin sauce, ginger, garlic and mustard. Rub pork w/ sauce.
3. Place pork in the broiler, about 4 inches from the heat; place the pineapple in the oven. Broil the pork until it registers 155°F on an instant-read thermometer, 15 to 20 minutes. Remove from the broiler (let rest 10 minutes before slicing- the temp. will rise to 160°F. as the pork sits). Turn the pineapple slices; cook until browned in spots, about 10 minutes more.
4. Halve pineapple slices; arrange on a platter with the sliced pork. Drizzle the pork with the pan juices; season with salt and pepper. Serve with quick ginger sauce.
5. To prepare sauce: In a small bowl, stir together all sauce ingredients; season with salt and pepper.
Tips:
*Peeling ginger: I find that it's easiest to grate ginger when it's frozen. Cut the peel off and place it in the freezer for about 15 minutes or so before grating. When you're finished, you can put the remaining fresh ginger piece in a zip bag and keep in the freezer for future use. It keeps just fine in the freezer.
*Try grilling this recipe if you'd like. Grilled pineapple is fabulous!
Nutrition:
Nutritional Information per serving:
Serving size: recipe divided into 4 servings
Calories per serving: 294
Fat per serving: 6.65g
Saturated Fat per serving: 2.14g
Sugar per serving: 9.7g
Fiber per serving: 1.81g
Protein per serving: 37.03g
Cholesterol per serving: 111.17mg
Carbohydrates per serving: 20.62g
WW POINTS per serving:
Points Plus Program: 7 Old Points Program: 7
Source: RecipeGirl.com (via Great Food Fast)