These Apricot Brie Bites with Toasted Pine Nuts and Crispy Sage are the perfect party appetizer.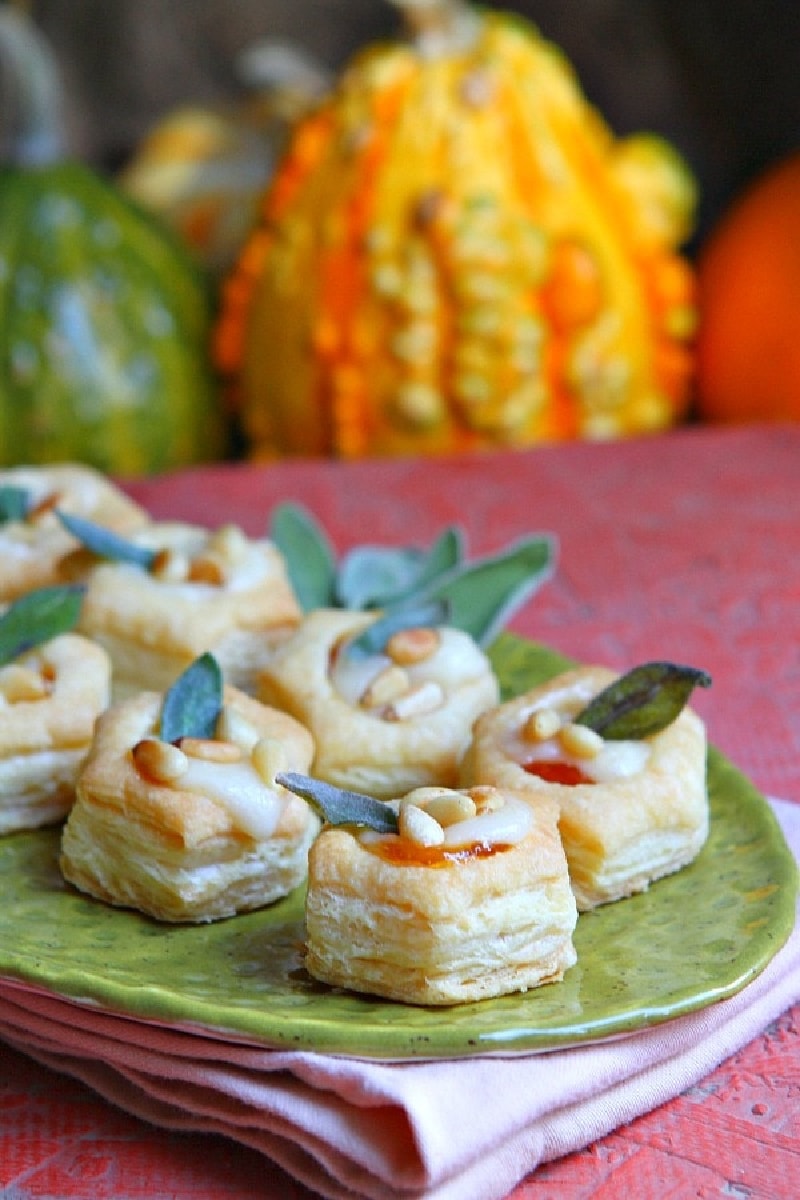 RecipeGirl and Pepperidge Farm:
I started my website way back in 2006 under a crazy- ridiculous, embarrassingly long name. "RecipeGirl" was born in 2008 when my husband suggested that I change it. I was contacted by my first brand: Pepperidge Farm in 2009. They sent me an email and asked me if I'd like to create a few recipes for them. After surviving the initial shock of actually receiving an email offer such as this, I calmly collected myself and responded… Um… YES!!!! Puff Pastry was an ingredient I used often in my kitchen, so it was exciting to be given the challenge of creating recipes with it. Well, guess what? They have continued to contact me as the years have progressed. I've shared with them how much I loved their products and remember my first -very positive- experience. So we've worked together again and again. This is a recipe I created for them way back in 2013.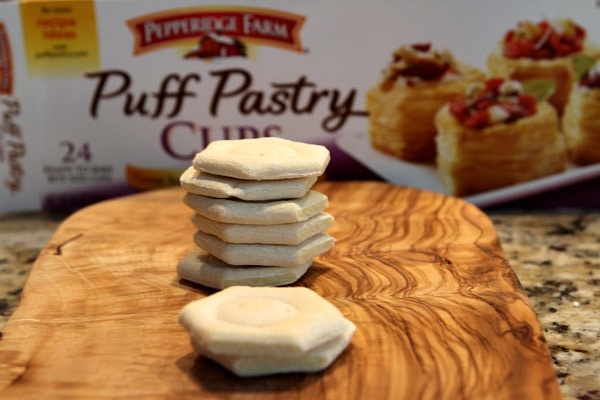 This time around, I created a recipe using Puff Pastry Cups. I had never used these before, but they are the cutest little bite-sized cups that are perfect for appetizers or small desserts. They come (frozen) in long sheets. You just break them apart on the perforations when you're ready to use them (no thawing needed).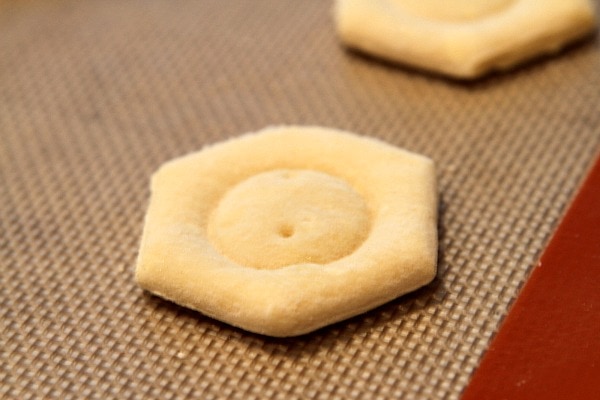 How to make Apricot Brie Bites:
Place the puff pastry cups perforated-side-up on a baking sheet. Bake them for 20 minutes.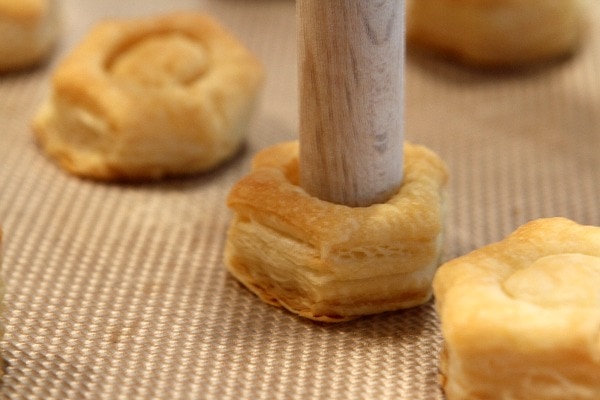 They puff up like magic! Then use the end of a wooden spoon (or something like it) to poke the centers down to create the "cups."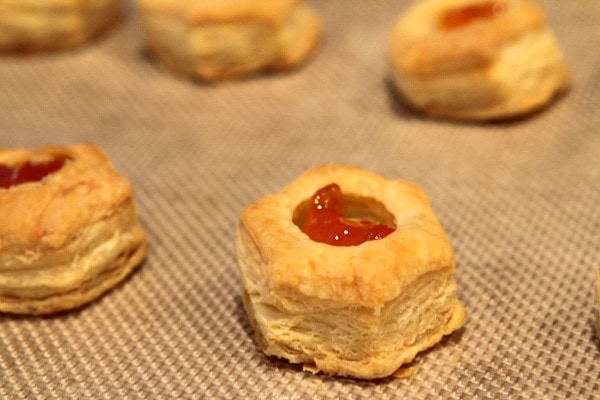 Then the cups are ready for filling! Start with a small spoonful of apricot jam. (Note that you can use raspberry jam or orange marmalade too).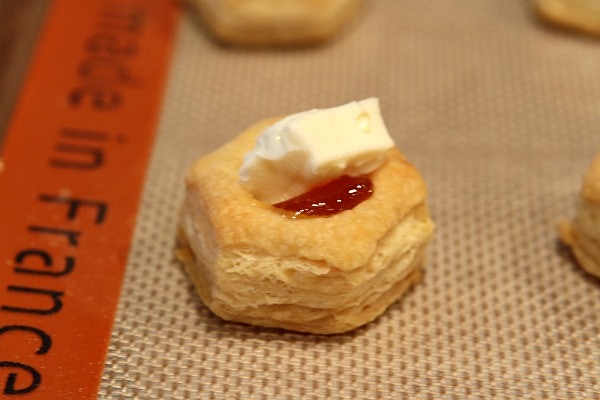 Then stick a little chunk of brie cheese on top of the jam. Place them back into the oven for about 2 minutes to soften and melt the brie.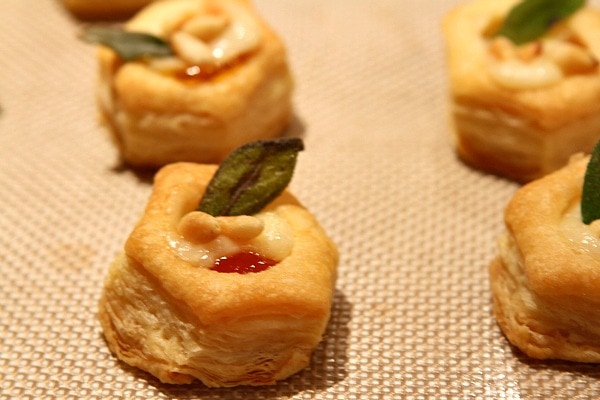 Once they're out of the oven, top with toasted pine nuts and a small leaf of crispy sage (easy instructions included in the recipe below).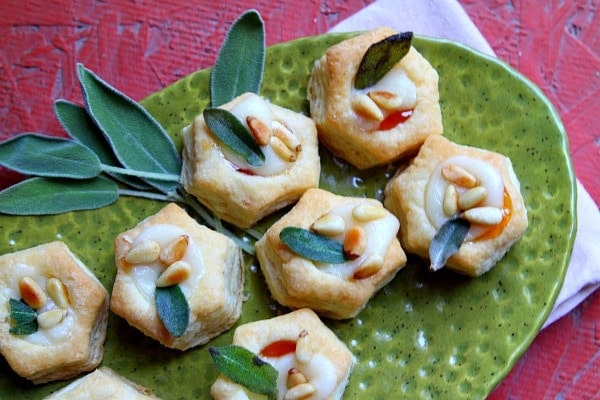 These Apricot Brie Bites are then ready for the platter and ready for munching. These would make a great appetizer for a Halloween, Thanksgiving or Christmas party. Sub pecans for the pine nuts, if you'd like. They're a one to two bite appetizer- perfect for a pick-up-and-go, no-mess kind of treat. And the melted brie combined with the flaky Puff Pastry is ohhhh so good. Well, melted brie mixed with ANYTHING?!?!? …You know, is delicious! 🙂
Here are a few more recipes using Puff Pastry you might like to try:
Apricot Brie Bites
Lovely appetizer using melted brie cheese!
Recipe Details
Ingredients
One

9.5-ounce package

frozen Puff Pastry cups

(Pepperidge Farm makes them)

2

tablespoons

pine nuts

24

whole

small fresh sage leaves

2

tablespoons

olive oil

¼

cup

apricot jam

24

½-inch chunks

brie cheese

(rind removed)-- about 12 ounces
Instructions
PREPARE THE PASTRY CUPS:
Preheat the oven to 400 degrees F. Break apart the frozen pastry pieces along the perforations. Place the pastry on a baking sheet (perforation-side-up). Bake 20 minutes, or until the pastries have puffed up and are golden brown. When the pastries come out of the oven, use the end of a wooden spoon to poke the inside of each pastry to create the "cup."
WHILE THE PASTRIES ARE BAKING...
Toast the pine nuts: Heat a small skillet to medium. Add the pine nuts and dry toast them until lightly brown. Stir often, and keep an eye on them. Remove from heat when toasted and transfer them to a paper towel to cool. Prepare the crispy sage: Heat the olive oil in a small skillet. Add a few sage leaves to the hot oil, fry for about 20 to 30 seconds (until crispy), then remove them to a paper towel to drain.
ASSEMBLE THE APPETIZERS:
Spoon ½ teaspoonful or so of apricot jam into each pastry cup. Top with a chunk of brie. Pop them back into the 400 degree oven for 2 minutes or so, just until the cheese is slightly melted and soft. Remove from the oven and transfer the pastries to a serving tray. Top each with a few toasted pine nuts and a crispy sage leaf (be very gentle with the crispy leaves as they will break if you handle them too much). Serve immediately.
Notes
*Pepperidge Farm Puff Pastry Cups are available in the frozen pastry section at your market.
*Try using different flavors of jam: raspberry or orange marmalade are good choices too.
*Toasted pecans may be used in place of the toasted pine nuts.
Nutrition
Serving:
1
appetizer
,
Calories:
132
kcal
,
Carbohydrates:
7
g
,
Protein:
4
g
,
Fat:
10
g
,
Saturated Fat:
4
g
,
Polyunsaturated Fat:
1
g
,
Monounsaturated Fat:
5
g
,
Cholesterol:
14
mg
,
Sodium:
118
mg
,
Potassium:
37
mg
,
Fiber:
1
g
,
Sugar:
1
g
,
Vitamin A:
89
IU
,
Vitamin C:
1
mg
,
Calcium:
31
mg
,
Iron:
1
mg