Root Beer Pulled Pork is meant to be piled onto buns for the best sandwiches!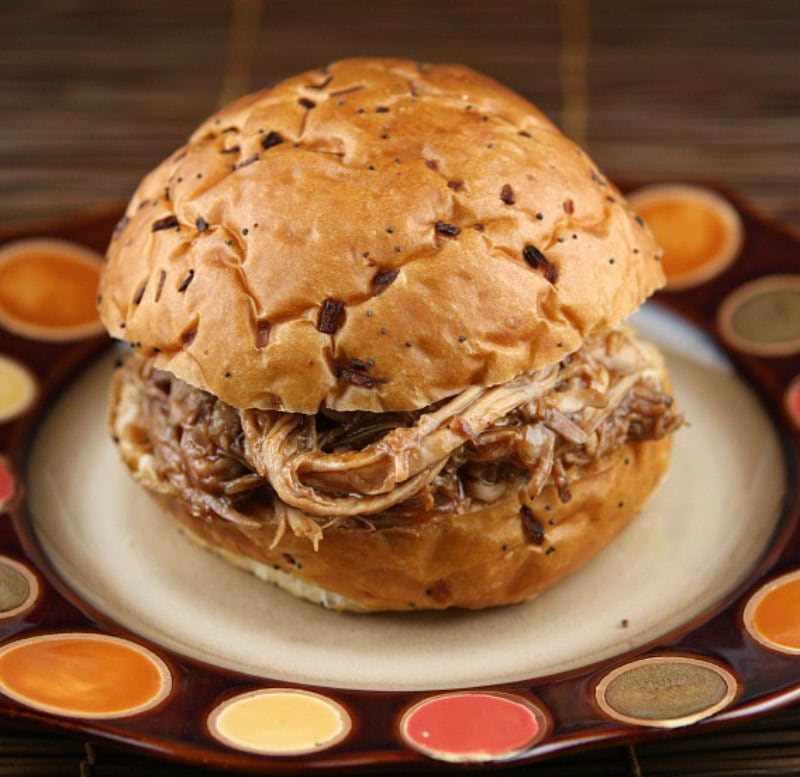 When I have little time for making dinner (or when I don't really feel like cooking), I turn to my slow cooker to make dinner for us. And I usually make something large enough that will give us a couple of nights of good dinners. It's a relief to come home to "dinner already done," and it's a whole lot healthier than picking up fast food. These slow cooker root beer pulled pork sandwiches are a repeat recipe at my house. Everyone loves them!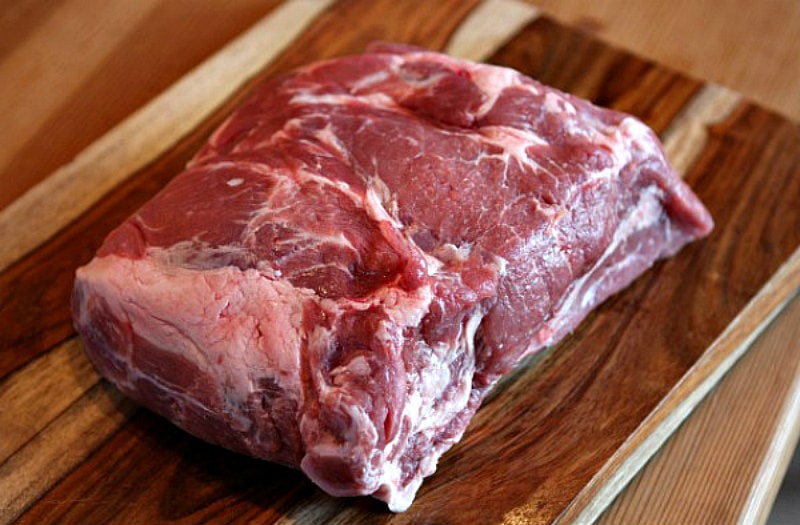 How to make Root Beer Pulled Pork:
Purchase a pork roast- butt or shoulder cut, and trim it of any obvious excess fat slabs.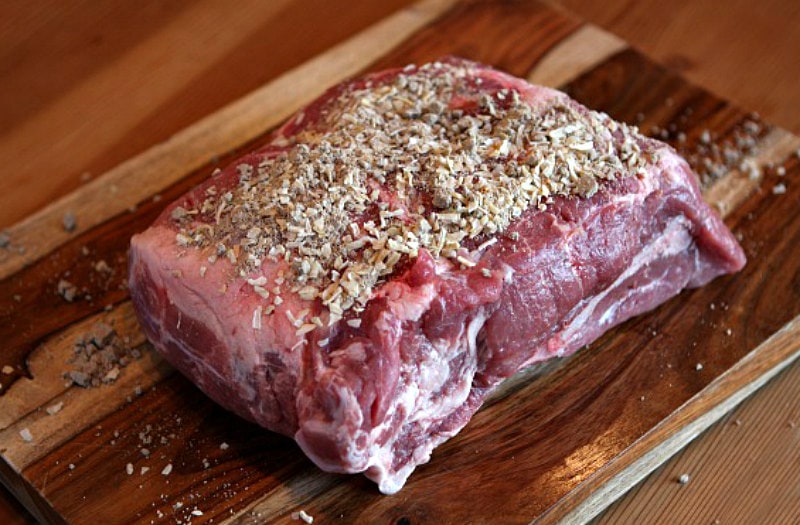 Sprinkle on an envelope of dried onion soup mix (or some dehydrated onions).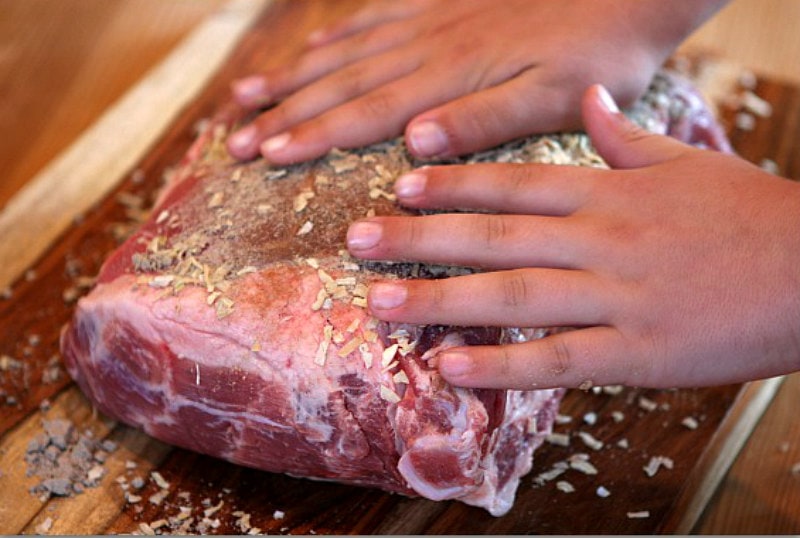 With clean hands, rub the mix into the meat on all sides. Give it a good sprinkle of salt and pepper too.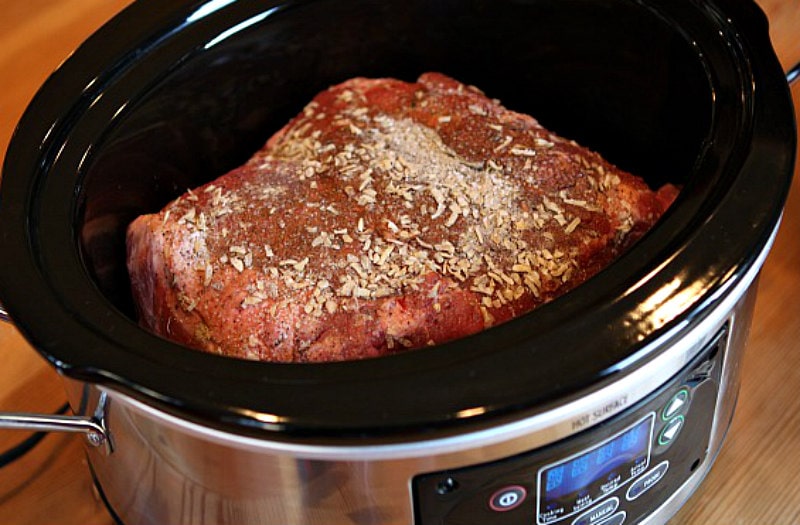 Place your seasoned roast into your slow cooker.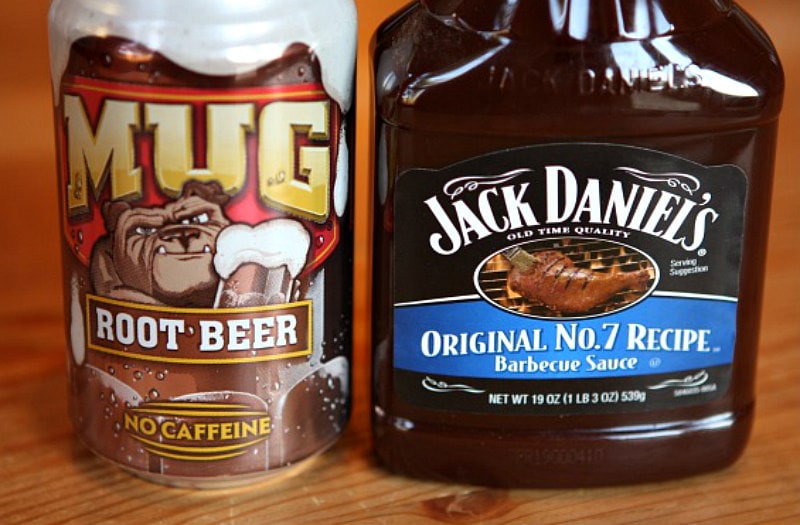 In a medium bowl, mix a can of root beer with a half cup of your favorite bbq sauce. I like the Jack Daniel's brand, but Sweet Baby Rays is pretty darn good too.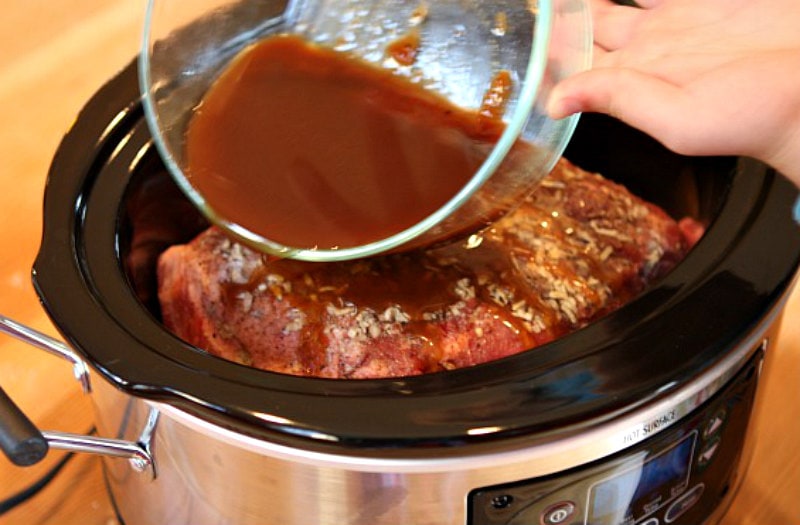 Pour the root beer-BBQ sauce mixture over your pork roast. Then let it cook LOW and slow for 10 or 11 hours.
The best slow cooker:
I view the slow cooker as an absolutely essential small appliance to keep in your kitchen. It's important to have a good slow cooker that has helpful features. My favorite slow cooker is this Hamilton Beach Slow Cooker. I've had it for many years now, and it's still going strong. The features this slow cooker offers are awesome.
The lid locks, so it's easy to take with you if you're going to a party.
Both the insert and the lid are dishwasher safe.
It has digital programming, so you can mix and match temperature and cooking times.
When cooking time is up, it automatically switches to "warm," so you don't have to be home when it's done.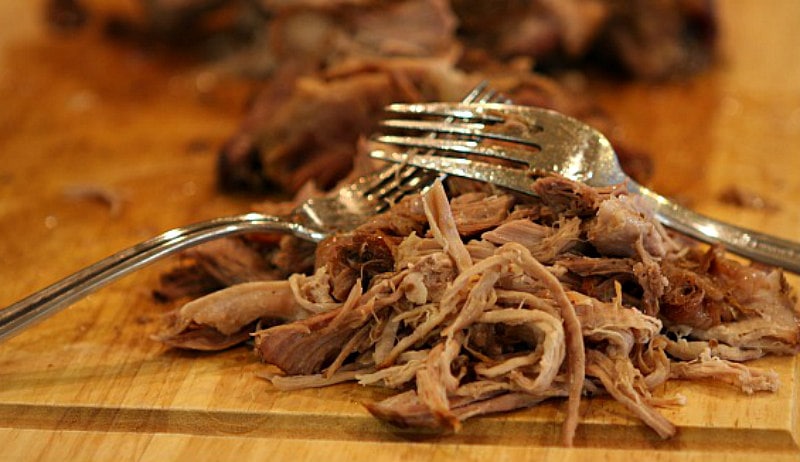 When your roast has reached an internal temperature of over 190 degrees F., the meat should pull easily apart and away from the bone. At this point you can remove the roast to a cutting board and use two forks to pull apart the meat into shreds. It then goes back into the (almost drained) slow cooker with more BBQ sauce and is left to heat for a few minutes.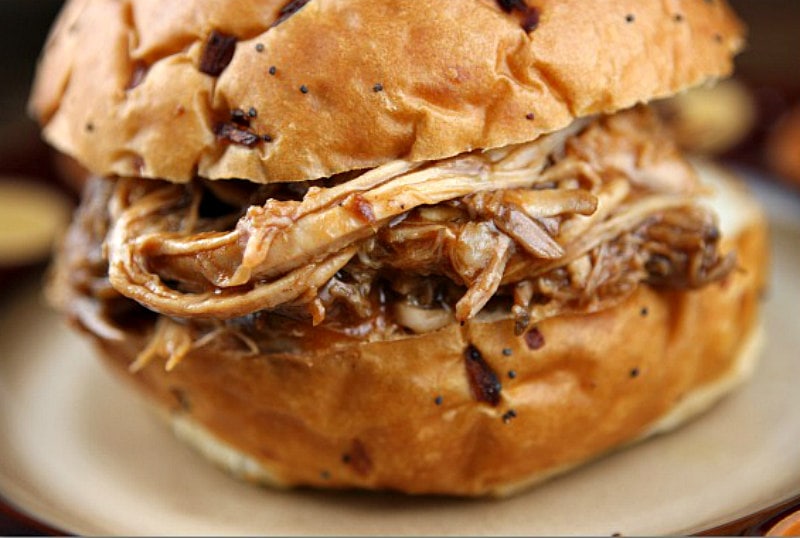 Serve a good scoopful of pulled pork on a warmed bun. We like ours with potato salad (easy to make ahead) and pickles.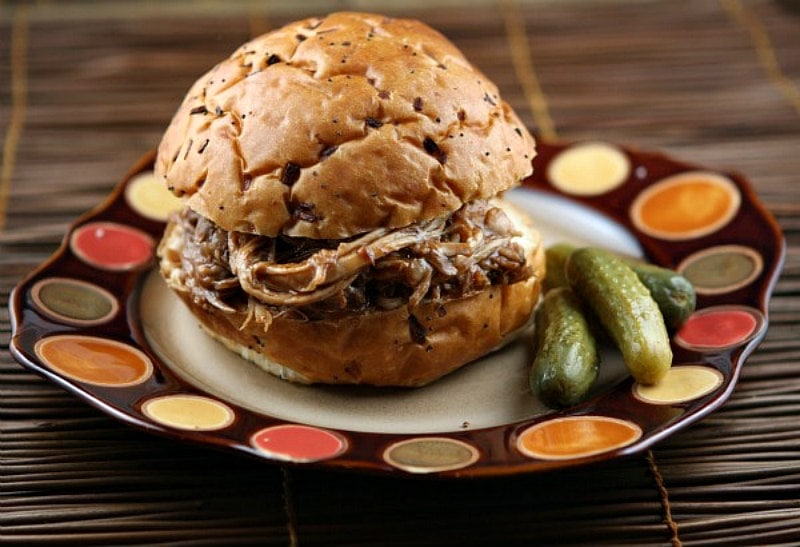 And you can see just how very tender this pork turns out to be. Perfect. And easy. And stress-free for those busy (or lazy) days. Enjoy!
Here are a few more sandwich recipes you might like to try:
Root Beer Pulled Pork Sandwiches
These sandwiches are a big time family favorite!
Recipe Details
Ingredients
One

5 to 6 pound

bone-in shoulder pork shoulder/ butt roast

One

2-ounce envelope

dried onion soup mix

salt and pepper

One

12-ounce can

root beer

2

cups

barbecue sauce,

divided

buns for serving
Instructions
Trim the pork roast of excess fat. It's okay to leave some on there-- just get rid of the large, visible slabs.

Place the pork roast on a work surface and sprinkle with the onion soup mix. Use clean hands to rub the mix into the meat, reaching underneath to reach all sides. Sprinkle generously with salt and pepper. Place the seasoned roast in your slow cooker insert.

In a medium bowl, whisk together the root beer and 1/2 cup barbecue sauce. Pour over the roast in the slow cooker.

Place thee lid on the slow cooker and cook on LOW heat for 10 to 11 hours, or until the internal temperature is above 190 degrees F. and meat is tender enough to pull away from the bone.

Remove the roast to a cutting board and let it sit to cool for just a few minutes. Pour out all but about 3/4 cup of the juices from the slow cooker. Use two forks to shred the pork, cutting around and discarding any fatty pieces. Place all of your pulled pork back into your slow cooker. Add about 1½ cups of barbecue sauce. Stir to combine and place the lid back on. Heat on HIGH for about 15 to 20 minutes, just until pork and juices are hot and bubbly. Use this time to heat up your buns and get the rest of your meal ready.

Scoop the pulled pork onto the buns and serve immediately.
Notes
Nutritional information is for pulled pork only (1 serving for 10 servings total). Buns should be counted as extra.
*If you don't wish to make such a large roast, you can use the same ingredients for a smaller roast too. You can likely cut down a bit on the cooking time, and use less barbecue sauce when adding it in at the end.
*For the most tender pulled pork, I do not recommend trying to short-cut the recipe by cooking it on HIGH heat. Low and slow is best!
Nutrition
Serving:
1
serving
,
Calories:
334
kcal
,
Carbohydrates:
31
g
,
Protein:
28
g
,
Fat:
10
g
,
Saturated Fat:
3
g
,
Cholesterol:
93
mg
,
Sodium:
1152
mg
,
Potassium:
645
mg
,
Fiber:
1
g
,
Sugar:
23
g
,
Vitamin A:
136
IU
,
Vitamin C:
2
mg
,
Calcium:
48
mg
,
Iron:
2
mg