Slow Cooker French Dip Sandwiches
Since I tempted you last post with 10 Family Friendly Slow Cooker Recipes, I thought I'd keep the ball rolling this week and share one more slow cooker recipe that your family will love you for:  Slow Cooker French Dip Sandwiches.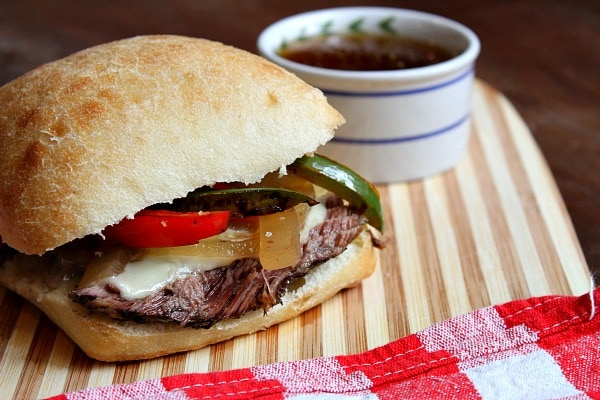 But first, I must ask… are you into using your slow cooker?  I went through many years of telling myself how horrible slow cooker recipes were… and refused to believe that anything good  could ever come out of it.  When I began writing about food 7-years ago, I decided to give the slow cooker another chance.  Over the years, I've come across some dud recipes and I've discovered some that I really and truly enjoy.  As I began to endure a busy home life with a family, I came to appreciate what the slow cooker could do (make dinner for me on days that are crazy-busy).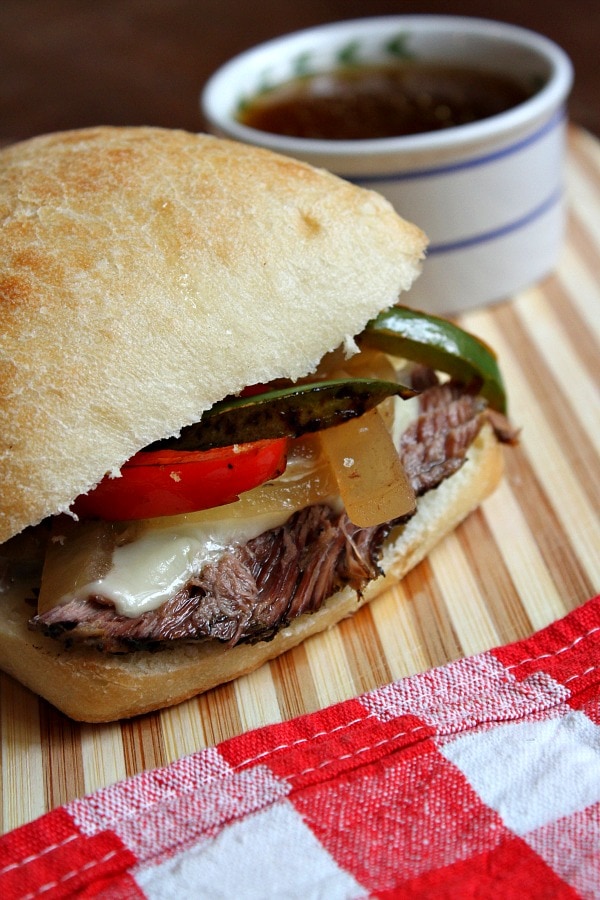 So let's talk about these sandwiches.  They're not super traditional… at least traditional in the world I grew up in.  My Mom made French Dip sandwiches as I was growing up, but we just stuffed sliced roast in a roll and dipped it in a rich broth.  You can certainly do that with this recipe, but I've kicked things up a notch by adding cheese, onions and peppers.  Picky eaters can choose to leave out what they wish- that's where the family-friendly part of this recipe comes in.  Dunking your dinner also happens to be fun, so kids dig this one because of that.
The beef in this recipe turns out so very tender.  It practically falls apart when you slice it for the sandwiches (that's a good thing). So get that 'ol slow cooker out and make some of this French Dip! The slow cooker does most of the work for you. Amen.
Yield: 6 servings
Prep Time: 25min
Cook Time: 8 hours
Slow Cooker French Dip Sandwiches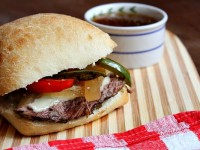 Ingredients:
1 large sweet onion, sliced
One 2 1/2 to 3 pound beef brisket or boneless beef bottom round roast (fat trimmed)
2 tablespoons extra-virgin olive oil, divided
2 large cloves garlic, minced
1 teaspoon dried Italian seasoning
1/2 teaspoon ground black pepper
1/2 teaspoon kosher salt
1 1/4 cups low-sodium beef broth
1/2 cup water
1 tablespoon Worcestershire sauce
1 medium red bell pepper, cored, seeded and sliced into strips
1 medium green bell pepper, cored, seeded and sliced into strips
1 tablespoon extra-virgin olive oil
6 thin sliced cheese (white American, Havarti or Provolone)
6 sandwich rolls, sliced in half (warmed slightly)
Directions:
1. Place the onion slices in the bottom of your slow cooker.
2. In a small bowl, mix 1 tablespoon of the olive oil, garlic, Italian seasoning, pepper and salt. Rub the seasoning mixture onto all sides of the roast, then set the roast on top of the onions in the slow cooker. Add the broth, water and worcestershire sauce to the slow cooker. Cover and cook on low for 8 to 9 hours (if you have to speed things up, you can set it on high for 4 to 4 1/2 hours). I recommend slow cooking it, if time allows.
3. Toward the end of the slow cooking time, heat the remaining tablespoon of olive oil in a medium skillet over medium-high heat, add the peppers to the pan and saute until the peppers are softened.
4. Remove the meat to a cutting board and slice against the grain. Pile the meat onto the sandwich rolls and top with cheese, onions from the slow cooker and sauteed peppers. Serve beef juice from the slow cooker on the side for dipping sandwiches.
28 Responses to "Slow Cooker French Dip Sandwiches"
Leave a Comment