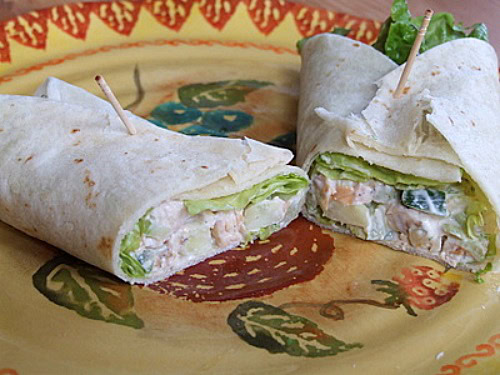 Crunchy Chicken Salad Wraps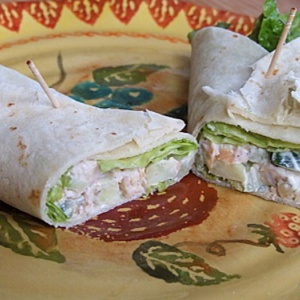 A delicious, light chicken salad recipe, all wrapped up!
Yield:
4 servings
Prep Time: 20 min
Total Time: 20 min
Ingredients:
1 1/2 cups chopped cooked chicken breast
1/4 cup diced English cucumber
1/4 cup minced celery
2 whole green onions, chopped
1 Tablespoon finely chopped fresh flat-leaf parsley
1/4 cup fat free mayonnaise
2 Tablespoons fresh lemon juice
1/8 teaspoon freshly ground black pepper
4 (8-inch) fat-free flour tortillas
4 medium red-leaf lettuce leaves
Directions:
1. Combine the chicken, cucumber, celery, scallions, parsley, mayonnaise, lemon juice and pepper in a medium bowl.
2. Warm the tortillas in the microwave to make them a bit more pliable. Divide and layer the lettuce and chicken mixture on the tortillas. Roll up, fasten with toothpicks, and cut diagonally in half.
Nutrition:
Nutritional Information per serving:
Serving size: 1 wrap
Calories per serving: 216
Fat per serving: 4.25g
Saturated Fat per serving: .81g
Sugar per serving: .61g
Fiber per serving: .82g
Protein per serving: 20.19g
Cholesterol per serving: 44.63mg
Carbohydrates per serving: 24.25g
WW POINTS per serving:
Points Plus Program: 6 Old WW Program: 5