A delicious sandwich choice for company: Chicken Salad Sandwiches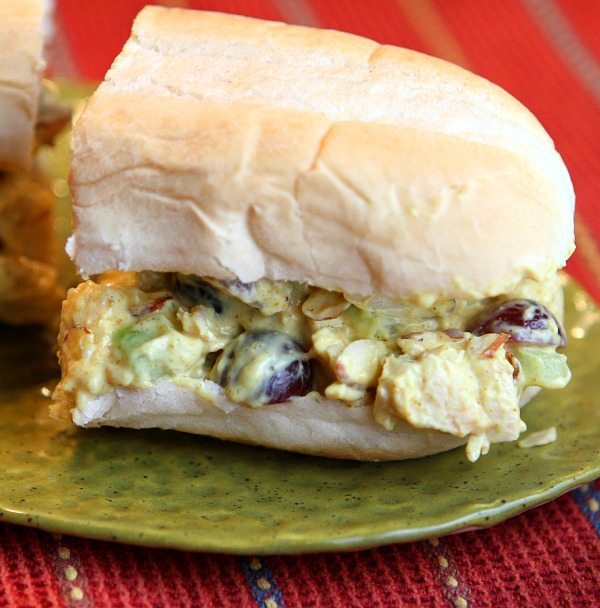 Chicken Salad Sandwiches
Yield:
4 servings
Prep Time: 15 min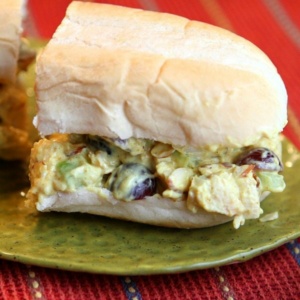 Ingredients:

2 cups chopped cooked chicken
1 cup seedless grapes, cut into halves
1/2 cup chopped celery
1/2 cup slivered almonds or chopped cashews
2/3 to 3/4 cup mayonnaise
1 teaspoon curry powder
1 teaspoon soy sauce
2 teaspoons freshly squeezed lemon juice
Four 5 to 6-inch baguettes, French bread or rolls, cut lengthwise into halves

Instructions:

1. Combine chicken, grapes, celery, almonds and water chestnuts in a medium bowl and mix well.

2. In a separate bowl, mix mayo, curry, soy sauce and lemon juice in a bowl and stir into the chicken mixture a little at a time until you reach desired creaminess. Chill, covered, for 2 hours or longer. Serve chicken salad on bread.

Tips:

*If you don't already have some cooked chicken, marinate 2 chicken breasts in the refrigerator in a mixture of olive oil, lemon juice, garlic, salt and pepper for 1 hour or longer. Bake at 400 degrees for 30 minutes. Cool slightly, chop and add to the salad.
*Use light mayonnaise if you'd like to lighten up this recipe.
More chicken salad sandwiches you might enjoy:
Avocado Chicken Salad Sandwiches by Life's Ambrosia
Crunchy Chicken Salad Wraps by RecipeGirl
BBQ Ranch Chicken Salad Sandwiches by Taste and Tell
Fruity Curry Chicken Salad Sandwiches by RecipeGirl
Buffalo Chicken Salad Sandwiches by Chocolate Moosey