I'm so glad I finally made these Philly Cheese Steak Sandwiches. They're as close to authentic as you can get, though local Philly people will surely argue with that claim!
Watch the short video showing you how to make these Philly Cheese Steak Sandwiches, then scroll to the bottom and print out the complete recipe so you can make these at home!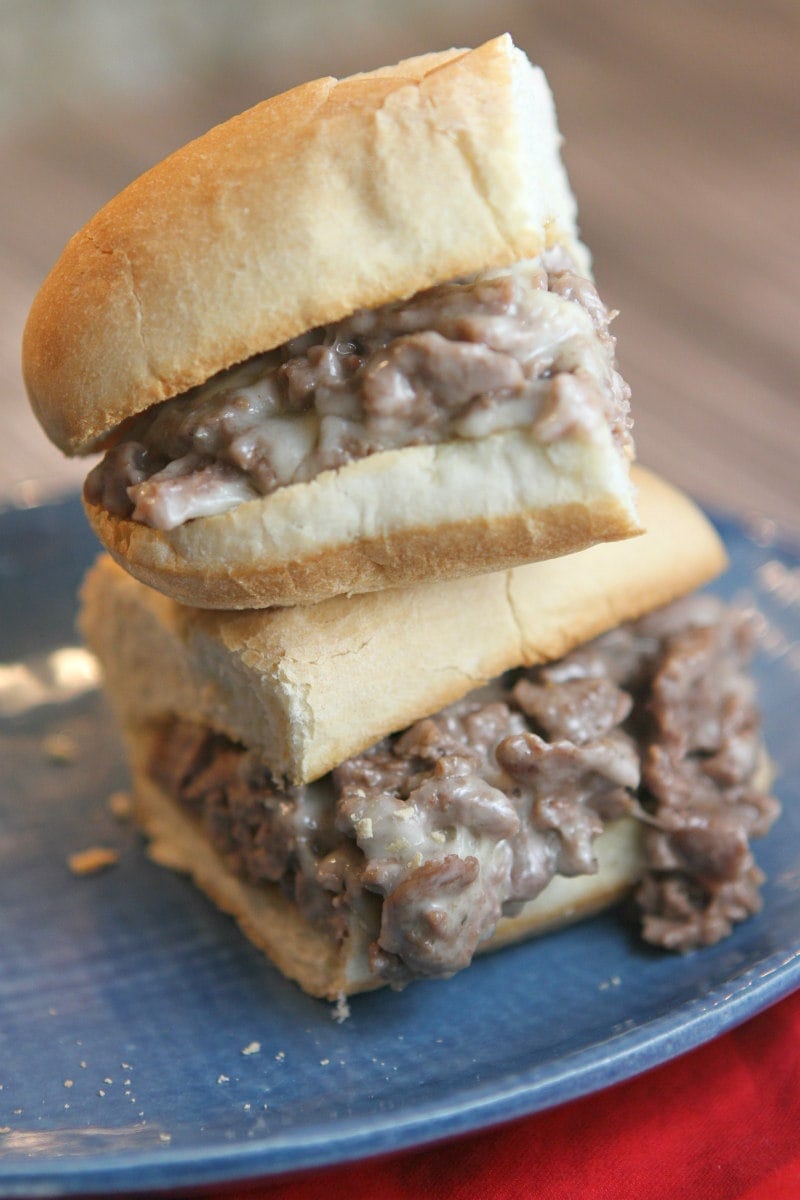 If you love Philly Cheese Steak Sandwiches as much as my family does… and if you've ever ventured into Philadelphia… then you've likely tried Geno's and Pat's for their take on cheese steaks. Geno's and Pat's are two competing Philly cheese steak restaurants, and they are directly across the street from each other. I've tried them both, and I don't really have a preference of one over the other. They're both awesome Philly cheese steak sandwiches!!
But now, you can make your own at home. This recipe tastes very similar to what you will find at a really great cheese steak establishment. However, I need to tell you right up front that you do not use Cheese Whiz in this recipe!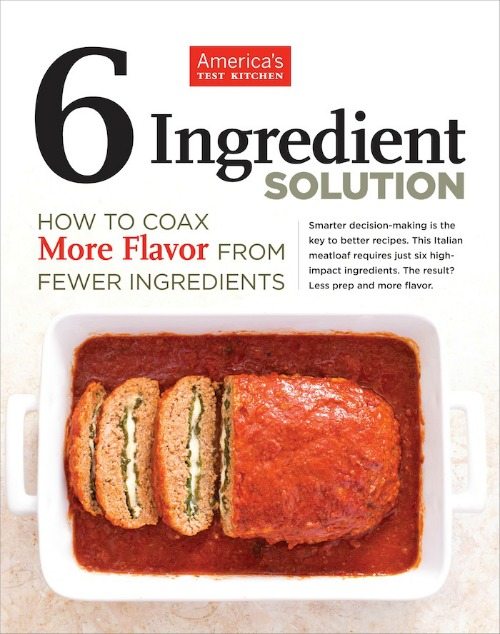 The recipe comes from this book: 6-Ingredient Solution by America's Test Kitchen. I LOOOOOVE this cookbook. First of all, I totally trust anything and everything that America's Test Kitchen shares (they test and re-test their recipes until they are absolutely perfect), and second… recipes that only contain 6 main ingredients or fewer are totally desirable in my book– especially on super busy weekdays.
Everything in this cookbook looks great- there are chapters for things like appetizers, soups, chicken, beef/pork/lamb, seafood, pasta, vegetarian, casseroles and desserts. On my list to make for dinner next week: Beef Taco Bake and Chicken Pizzaiola. My family will love those!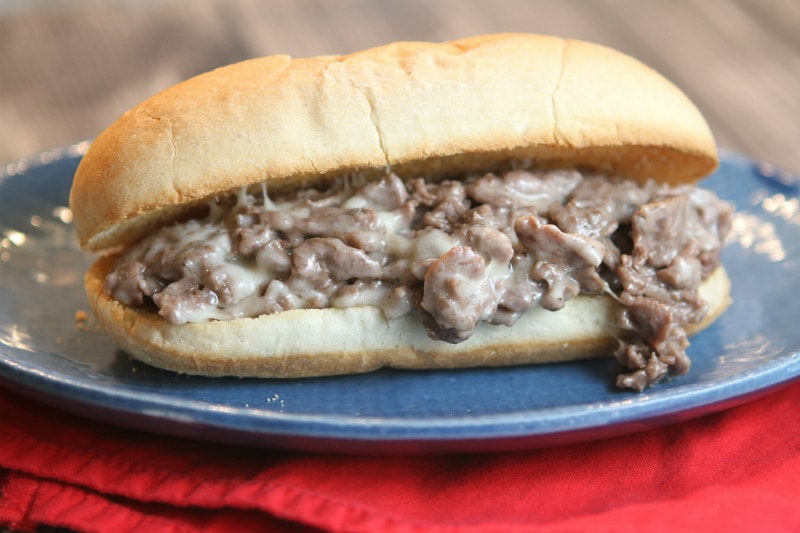 I was in need of a little "Game Day" food for the playoff games last weekend, and I remembered reading about this recipe. It was perfect for a football-watching Sunday!
How do you make Philly Cheese Steak Sandwiches?
The first key to making good Philly Cheese Steak Sandwiches is using the right cut of meat (skirt steak), and cutting it properly. In this recipe, you freeze the raw steak, then you shave it into thin, small pieces before you cook it.
The next absolute MUST for good results is to use American cheese… yes, good 'ol processed American cheese. It just won't taste the same if you try to substitute something else. Cheese Steak fanatics will tell you it has to be "cheese whiz," but the American cheese absolutely works.
The steak is fried up in a pan, the cheese is melted into the steak, and the cheesy meat mixture is piled onto toasted rolls.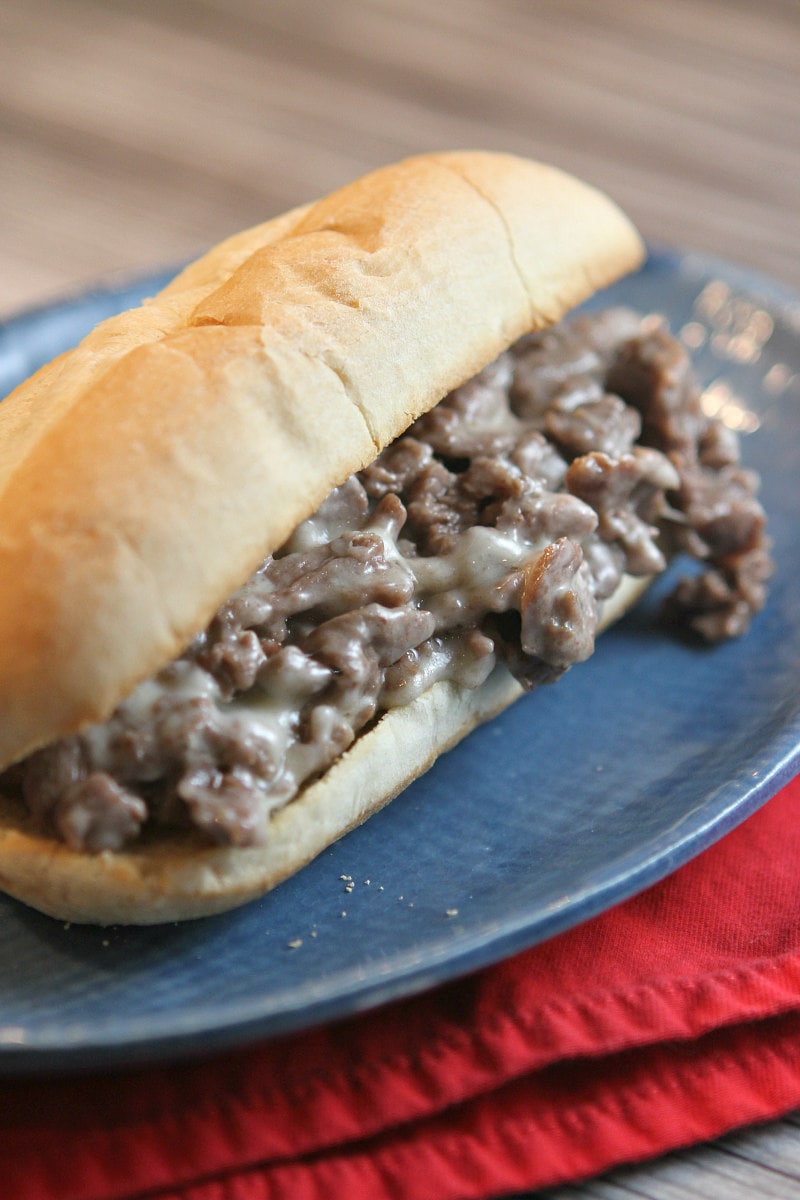 These are a great munchie for Game Day, and they are a favorite for dinner too. I cut them in half, wrap them in foil, and keep them warm in the oven until we are ready to eat. They are absolutely delicious.
My husband is crazy about onions and peppers on his cheese steak sandwiches, so I saute some onions and peppers for him (totally optional).
My husband is in Philly all the time on business, and he was kind of apprehensive about me attempting this recipe… but he was quick to let me know that these were pretty darn close to the cheese steaks he has in Philly. Everyone loves them. Yahoo!
If you enjoy these, then you might also like to try Cajun Cheese Steak Sandwiches and Slow Cooker Italian Beef Sandwiches. Grilled Reuben Sandwiches and Oven Baked Chicken Parmesan Sandwiches are good choices too.
Philly Cheese Steak Sandwiches
A delicious copycat of Philly Cheese Steak Sandwiches (not authentic, but an awesome recipe!)
Recipe Details
Ingredients
2

pounds

skirt steak

(don't sub any other kind!)

Four

8-inch

soft Italian sub rolls

2

tablespoons

vegetable or canola oil

1/2

teaspoon

salt

1/8

teaspoon

ground pepper

1/4

cup

grated Parmesan cheese

8

slices (8 ounces)

American cheese
Instructions
Trim fat from steak, if needed. Slice the steak crosswise, with grain, into 3-inch-wide strips. Place steak on large plate and freeze until very firm, about 1 hour. Using a sharp knife, shave the frozen steak as thinly as possible against the grain. Mound the meat on a cutting board and chop coarsely with your knife, 10 to 20 times.

Adjust the oven rack to the middle position and heat oven to 400 degrees. Split rolls open, spread on baking sheet, and toast until lightly browned, 5 to 10 minutes.

Heat 1 tablespoon oil in 12-inch nonstick skillet over high heat until just smoking. Add half of the meat in an even layer and cook, without stirring, until well-browned, 4 to 5 minutes. Stir and continue to cook until the meat is no longer pink, 1 to 2 minutes; transfer the meat to a colander to drain. Wipe out the skillet with paper towels and repeat with the remaining 1 tablespoon oil and chopped meat.

Return the now-empty skillet to medium heat. Drain the excess moisture from the meat, return the meat to the skillet, and add 1/2 teaspoon salt and 1/8 teaspoon pepper. Cook, stirring constantly, until meat is warmed through, 1 to 2 minutes.

Reduce heat to low, sprinkle with Parmesan, and lay American cheese over the top Let cheeses melt, about 2 minutes. Fold the melted cheese into the meat thoroughly. Divide the mixture evenly among the toasted rolls and serve.
Notes
*The last photo in the post shows added onions and peppers (optional). I sliced a sweet onion thinly and sauteed it in a little oil along with a thinly sliced green bell pepper.
Nutrition
Serving:
1
sandwich
,
Calories:
818
kcal
,
Carbohydrates:
34
g
,
Protein:
67
g
,
Fat:
45
g
,
Saturated Fat:
23
g
,
Cholesterol:
205
mg
,
Sodium:
1775
mg
,
Potassium:
737
mg
,
Fiber:
1
g
,
Sugar:
5
g
,
Vitamin A:
610
IU
,
Calcium:
682
mg
,
Iron:
15
mg