Baked French Fries are the perfect side dish to any juicy burger or hot dog. Eat your French Fries the healthier way without sacrificing that great crispy texture!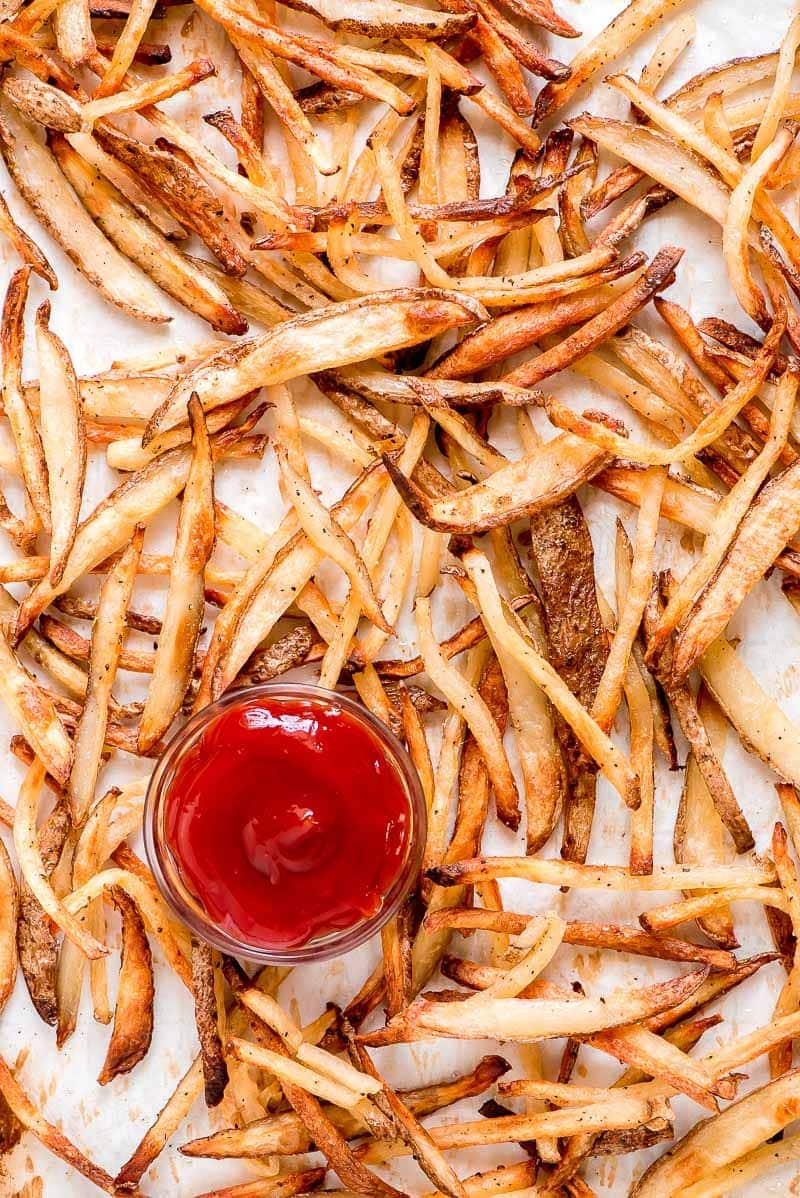 I don't know about you but a burger just isn't complete without a side of fries. Am I right? Chips can sometimes stand in as a substitute but they're not any healthier and they just don't satisfy the craving. Baked French Fries are the solution to having that favorite side but without all the calories or making your house smell like a greasy fast food place. If you happen to be following the Weight Watchers WW plan, you'll find a link to the WW Points on the recipe card at the end of this post.
Isn't it amazing how many different ways there are to prepare potatoes?! They're so simple, which makes them perfect for using to create so many various yummy dishes. French fries are the most popular way to prepare potatoes so here's how to bake them!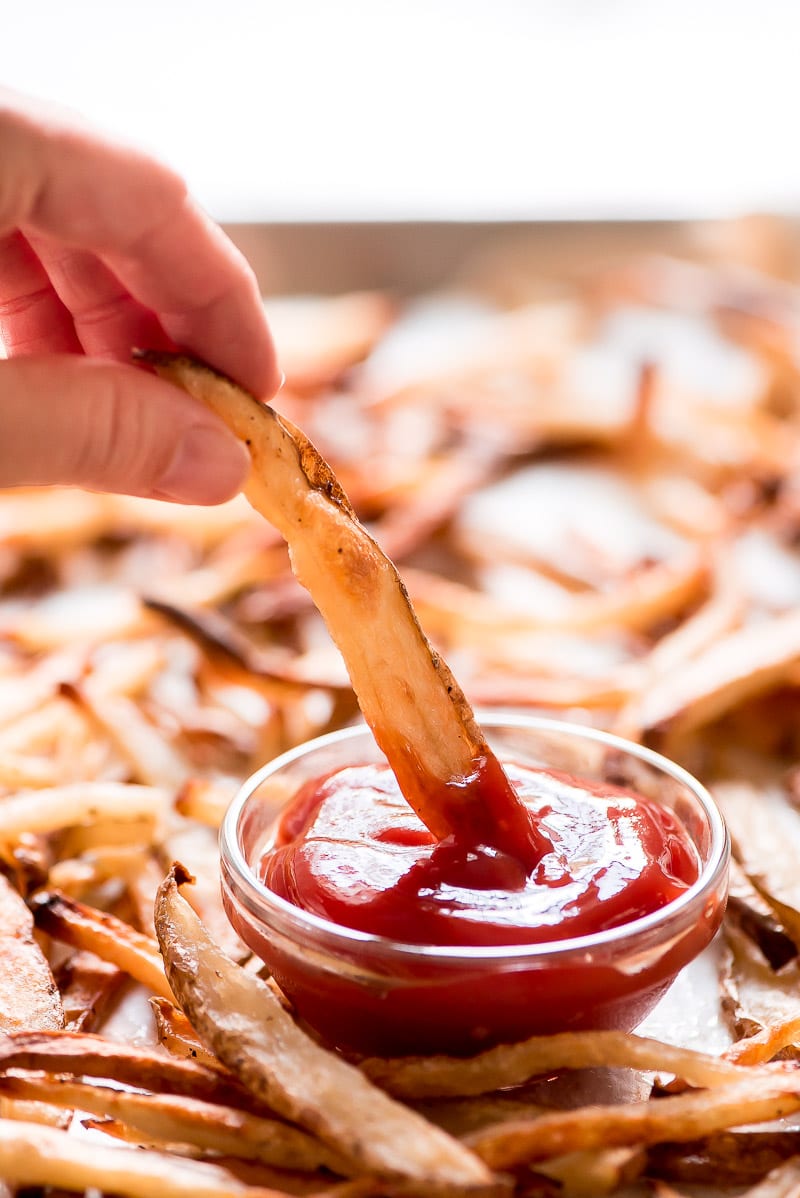 How to make Baked French Fries:
The first step is to cut your potatoes so they are nice and thin. About 1/4-inch will do the trick. To cut them uniformly and more quickly, I highly recommend using a mandoline slicer. This is a great tool to have in the kitchen for slicing up any vegetable. You do not need to remove the potato peel unless you prefer them to be peeled.
Once your potatoes are cut into long thin strips, put them in a bowl of cold water for about 30 minutes. Switch out the water halfway through. Why soak? Doing this helps to remove excess starch, which helps your fries reach maximum crispiness. Drain the potatoes in a colander and rinse with cold water.
After soaking the potatoes it's important to remove as much of the water as possible. To do this, place half the potatoes on a kitchen towel and spread them out in one layer. Place another towel on top and pat dry. Remove the top towel, let the potatoes air dry for about 5 minutes, and then repeat with the remaining potatoes.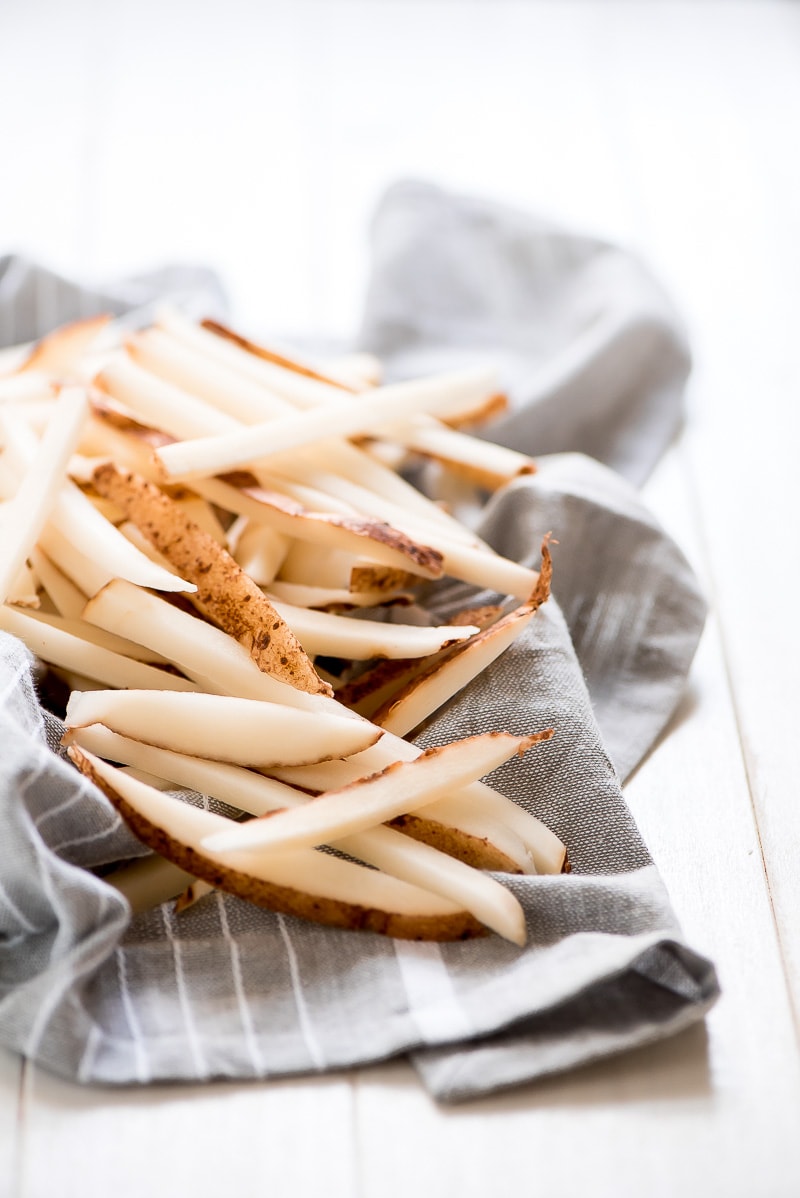 To bake the fries, divide them up on two large baking sheets lined with parchment paper. Drizzle the oil on top, sprinkle with salt and pepper, and just toss with your hands until everything is nicely coated. Spread the potatoes out so there is as little overlap as possible.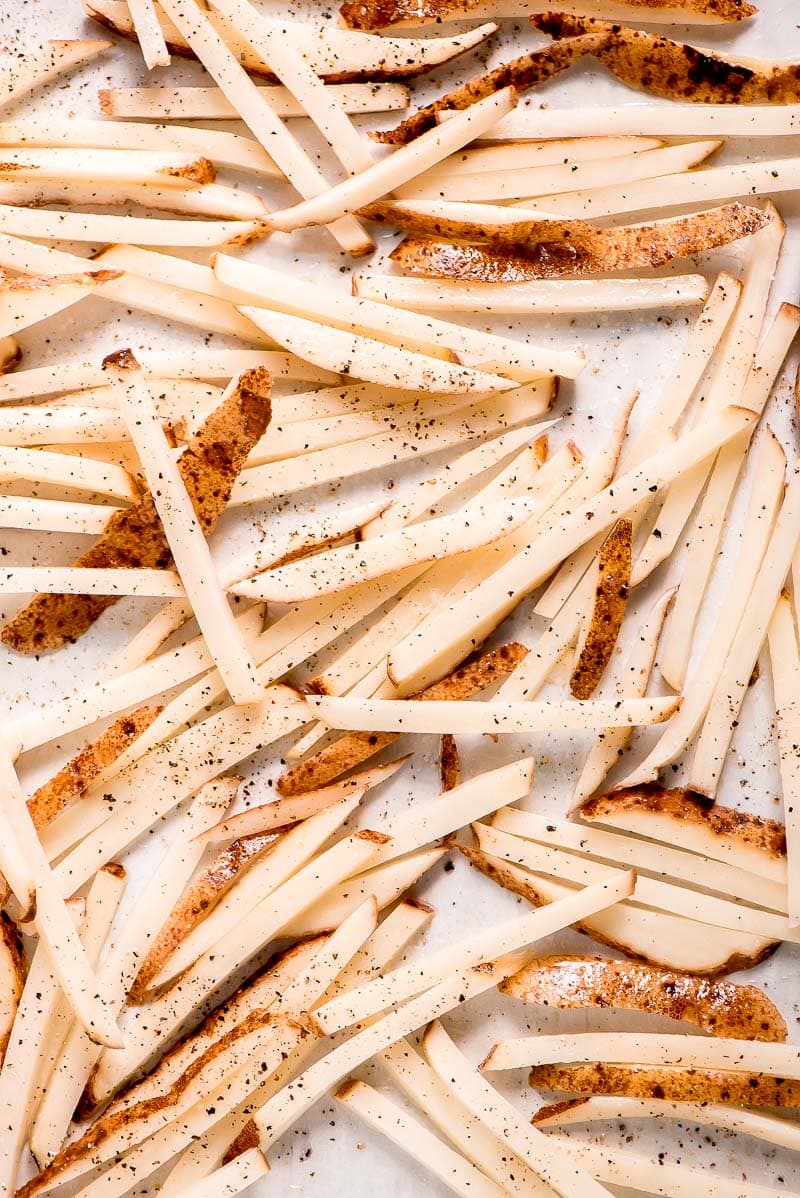 Pop both pans in the oven and bake for 20 minutes. Then move the pans so they trade spots in your oven, and bake another 15 to 20 minutes. Take the pans out and give them a toss. If you want them further browned, pop them back in for 2 minutes on broil, switching pans as needed.
Give the fries a couple minutes to cool before digging in. Serve with some ketchup alongside a burger, hot dog, chicken nuggets, anything!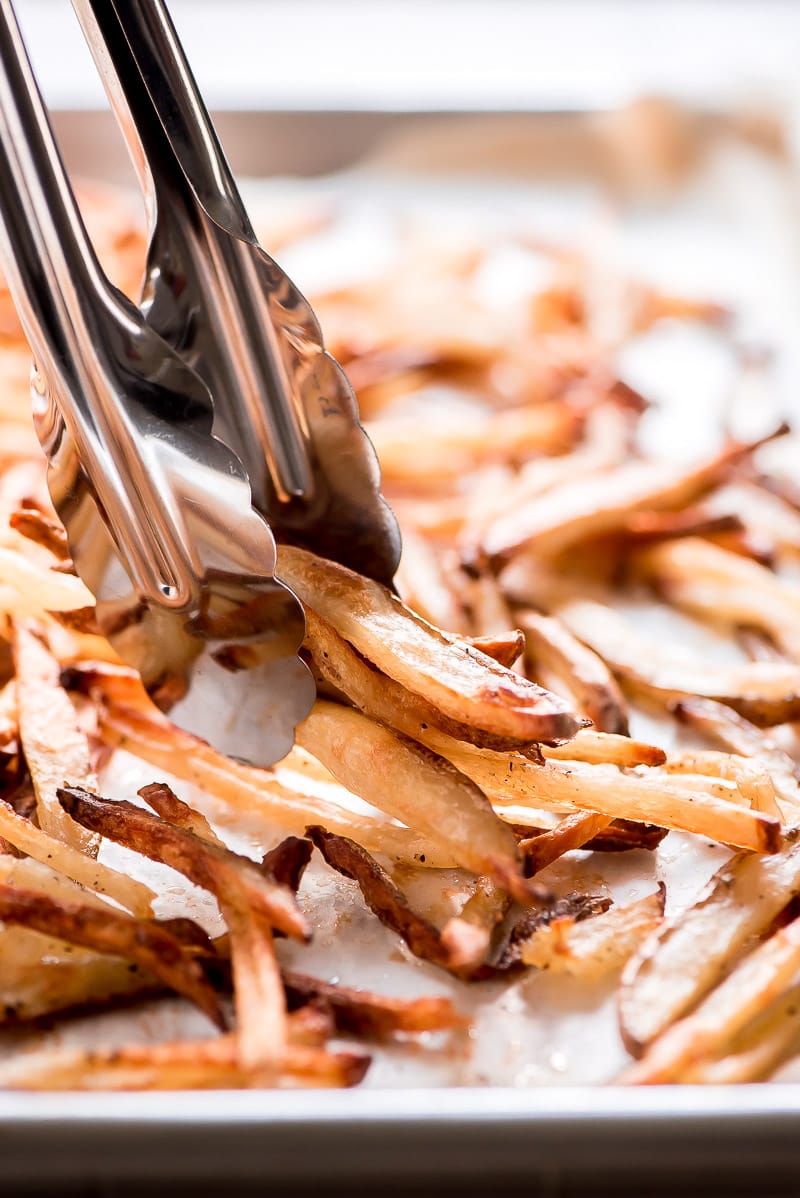 If you're looking for more potato sides dishes, you might like to try Twice Baked Potatoes and Garlic Roasted Red Potatoes, Roasted Garlic Mashed Potatoes, Au Gratin Potatoes, and Sweet Potato Fries.
Baked French Fries
Make your own crispy baked french fries to eat at home!
Recipe Details
Ingredients
4

medium

Russet Potatoes

4

tablespoons

olive oil

1½

teaspoons

kosher salt

(or 3/4 teaspoon table salt)

freshly ground black pepper,

to taste
Instructions
Preheat oven to 450℉. Line 2 baking sheets with parchment paper.

Cut potatoes into 1/4 inch strips using a mandoline slicer or knife. Place the potatoes in a large bowl of cold water for 20 to 30 minutes, changing out the water halfway through. This will help remove the starch in the potatoes and make your fries crispier. Drain and thoroughly dry the potatoes with a kitchen towel.

Divide the fries among the two baking sheets, drizzle with oil and sprinkle with salt and pepper. Toss to evenly coat. Spread the fries out so they are in one even layer so they can get nice and crispy.

Bake both pans at once for 35 to 40 minutes, swapping pan position halfway through. Bake until golden and crisp. For extra crispiness, toss fries and broil 1 to 2 minutes at the end. Serve with ketchup or dipping sauce of choice.

Nutrition
Serving:
1
serving
,
Calories:
194
kcal
,
Carbohydrates:
25
g
,
Protein:
3
g
,
Fat:
9
g
,
Saturated Fat:
1
g
,
Sodium:
588
mg
,
Potassium:
592
mg
,
Fiber:
1
g
,
Vitamin C:
8.1
mg
,
Calcium:
18
mg
,
Iron:
1.3
mg