One of my favorite ways to prepare steak is this recipe for Pan Fried Lemon Garlic Rib Eye Steaks.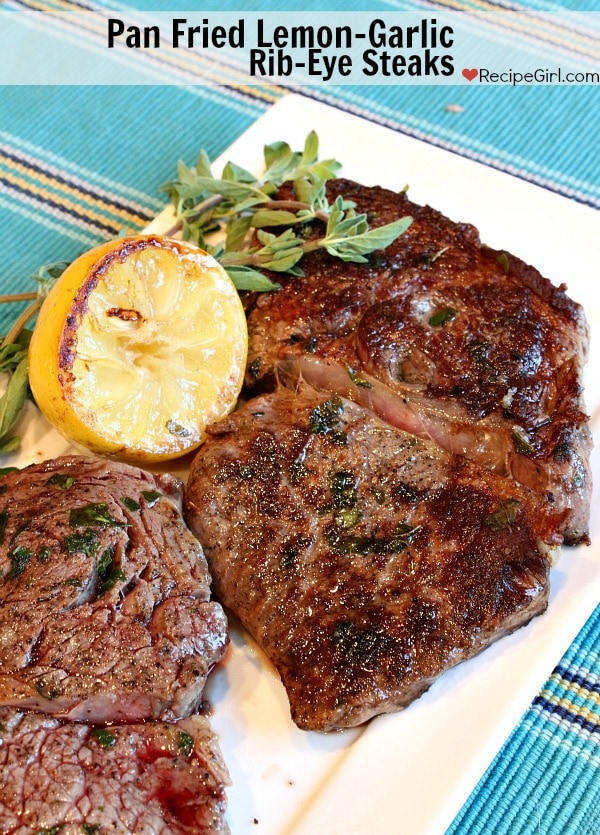 This is a recipe from The Recipe Girl Cookbook . It's one that we like to have for dinner now and then. It's just a simple and delicious steak recipe. Add a potato and a vegetable/salad, and you're all set with an easy, family-friendly dinner!
You can always make these steaks on the grill, but the grill isn't accessible for everyone all-year-long, and PLUS… these are fried in a little oil+butter, which is ALWAYS a good thing. FRYING STEAKS IN BUTTER. Yes, that's a good thing.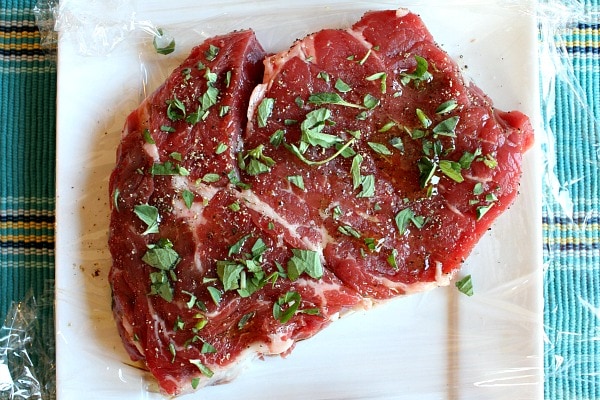 These babies are simply marinated. Simple: Garlic Rub + Olive Oil + Pepper + Chopped, Fresh Oregano. That's totally it. Wrap them up in plastic wrap and let them sit for an hour at room temperature (because steaks cook more evenly at room temperature). Just before cooking, you'll sprinkle some chunky kosher salt on them.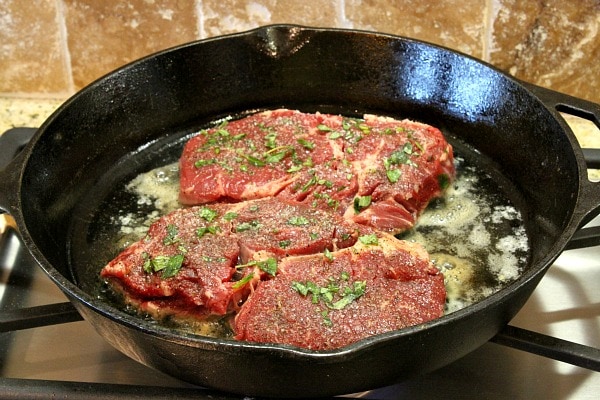 The steaks are fried in half butter and half olive oil.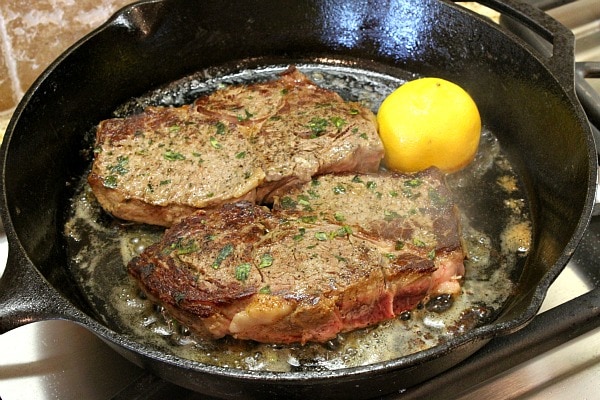 When you flip the steaks, you'll add a half lemon to the pan so it can get all nice and soft and slightly caramelized.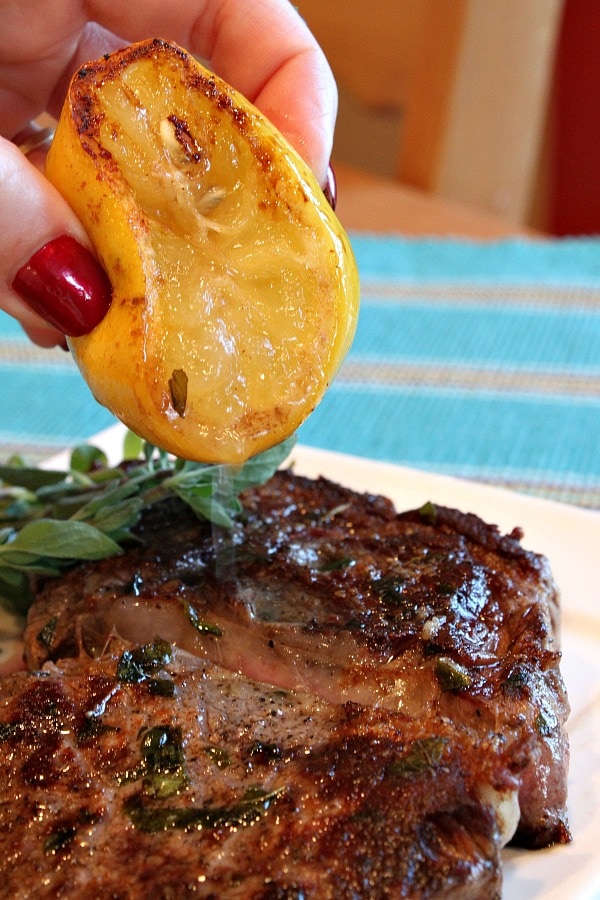 When the steaks come off the pan, let 'em "rest" for a while before serving, and squeeze that pan-fried lemon juice on top.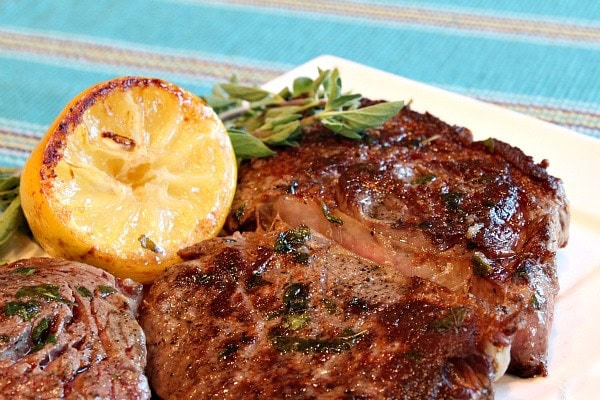 Now, they're ready to serve to your hungry family or partner or romantic date or whoever. This recipe is designed for two- but go ahead and mess with it and double or triple it, as needed! If you check out the recipe below, you will notice that I include all kinds of tips in the recipe- for changing things up or just things to keep in mind to make the recipe the best that it can be. I include these kinds of tips for every single one of the 195 recipes in my cookbook!
Pan Fried Lemon Garlic Rib Eye Steaks
For best results, search high and low for some good quality rib-eye steaks (good quality meat can make a big difference in the resulting flavor).
Recipe Details
Ingredients
Two

8-ounce

rib eye steaks,

trimmed of excess fat

2

large

garlic cloves,

peeled and cut in half

freshly ground black pepper

2

tablespoons

extra virgin olive oil,

divided

1

tablespoon

finely chopped fresh oregano,

divided

1

tablespoon

salted butter

2

teaspoons

kosher salt

½

medium

lemon
Instructions
Rub both sides of the steaks with the split garlic halves. Coat both sides of the steaks with a generous sprinkle of pepper. Coat each steak with ½ tablespoon oil and press on ½ tablespoon of the oregano. Wrap the steaks in plastic wrap and let them sit at room temperature for 1 hour (see tips).

Preheat a large skillet to medium heat. Add the butter and the remaining 1 tablespoon olive oil. Remove the steaks from the plastic wrap and sprinkle each with 1 teaspoon salt. Add the steaks to the hot pan and cook 2 minutes on the first side, or until they are seared a nice, deep brown. Turn the steaks over and add the lemon to the pan, cut-side-down. Turn heat to medium low and cook for 2½ minutes more, or until the steaks become browned on the bottom. Your steaks will be medium rare at this point. Add a little more cooking time if you prefer your steak more well done.

Remove the steaks to the cutting board and let them rest 5 to 10 minutes before serving. Squeeze the pan-fried lemon over the two steaks. Serve immediately.
Notes
To make this recipe dairy free, leave out the butter and use all olive oil instead.
Cooking a steak at room temperature will allow for it to cook more evenly and quickly.
You'll get a better result in pan-frying your steaks if you avoid using a nonstick skillet. The steaks will brown more nicely and hold a better texture if you opt for a stainless steel or cast-iron skillet.
MAKE-AHEAD TIP: Wrap the steaks in plastic wrap and let them marinate in the refrigerator for several hours or up to 1 day. Remove the steaks from the refrigerator and let them sit at room temperature for 1 hour before serving.
USING THE GRILL INSTEAD: Preheat your grill to medium and grill the steaks 3 to 4 minutes per side for medium-rare. Grill the lemon cut-side-down.
Nutrition
Serving:
1
serving
,
Calories:
659
kcal
,
Carbohydrates:
3
g
,
Protein:
46
g
,
Fat:
52
g
,
Saturated Fat:
20
g
,
Polyunsaturated Fat:
3
g
,
Monounsaturated Fat:
27
g
,
Trans Fat:
0.2
g
,
Cholesterol:
153
mg
,
Sodium:
2490
mg
,
Potassium:
663
mg
,
Fiber:
1
g
,
Sugar:
0.2
g
,
Vitamin A:
255
IU
,
Vitamin C:
3
mg
,
Calcium:
69
mg
,
Iron:
5
mg