This recipe has been featured in a post on The Recipe Girl blog: Roasted Butternut Squash w/ Garlic, Sage & Pine Nuts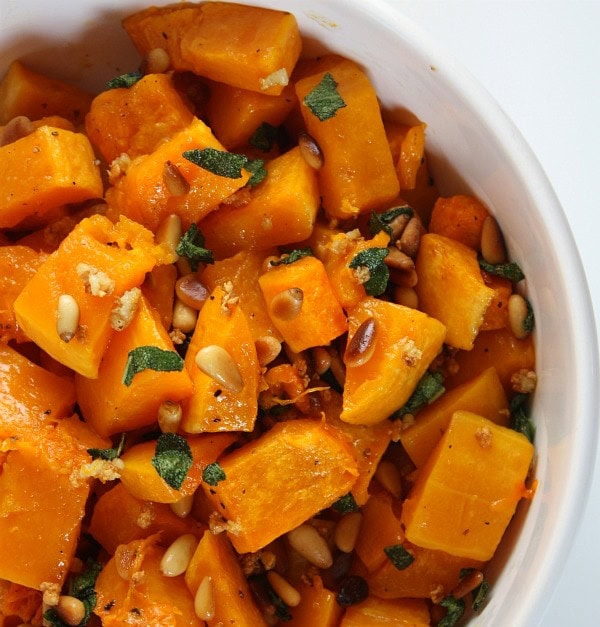 Roasted Butternut Squash with Sage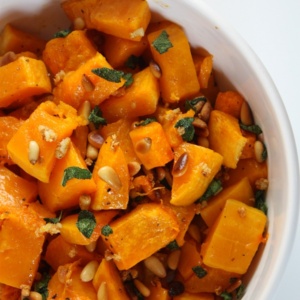 One of my all-time favorite recipes. I eat this for lunch quite often...
Yield:
6 side dish servings
Prep Time:15 min
Cook Time:45 min
Ingredients:
3 pounds butternut squash, peeled, seeded and cut into 1/2-inch cubes
2 Tablespoons olive oil, divided
1 teaspoon kosher salt
1/2 teaspoon freshly ground black pepper
2 large garlic cloves, minced
2 Tablespoons finely chopped fresh sage
1/3 cup pine nuts
Directions:
1. Preheat oven to 450°F. Line baking sheet with parchment paper, or spray lightly with cooking spray.
2. In a medium bowl, toss butternut squash cubes with 1 1/2 Tablespoons olive oil, salt and pepper. Spread out on prepared baking sheet. Roast for 35 to 45 minutes, until squash is as tender as desired.
3. While squash is roasting, heat 1/2 Tablespoon olive oil in a small skillet. Add garlic, sage and pine nuts, and sauté until pine nuts are lightly browned. Remove from heat.
4. Scoop butternut squash into a large bowl. Scrape contents from the skillet onto the butternut squash and gently toss. Serve immediately.
Tips:
*Add crumbled goat cheese on top for a little added yummy flavor.
Nutrition:
Nutritional Information per serving:
Serving size: 1/6th of the recipe
Calories per serving: 195
Fat per serving: 9.88g
Saturated Fat per serving: 1g
Sugar per serving: 5.27g
Fiber per serving: 4.88g
Protein per serving: 3.39g
Carbohydrates per serving: 28g
WW POINTS per serving:
Points Plus Program: 6 Old Points Program: 5.5