Here's a simple recipe for Roasted Baby Beets. They turn out perfect!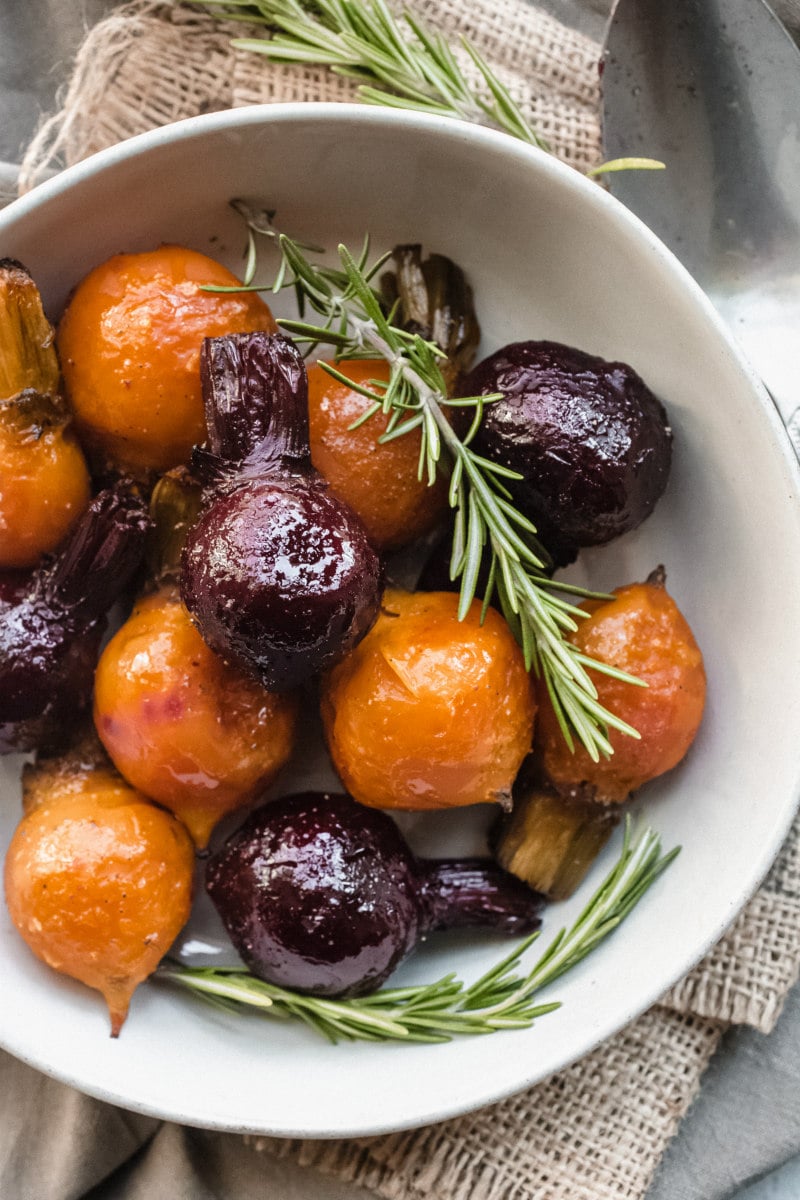 There is something magical that happens when you roast vegetables, and roasting beets is no exception! They take on a rustic flavor profile, and they're so good that you'll want to eat them all the time. Serve them on their own as a side dish, or chop them up and add them to salads. Be sure to use both orange and purple beets for gorgeous color!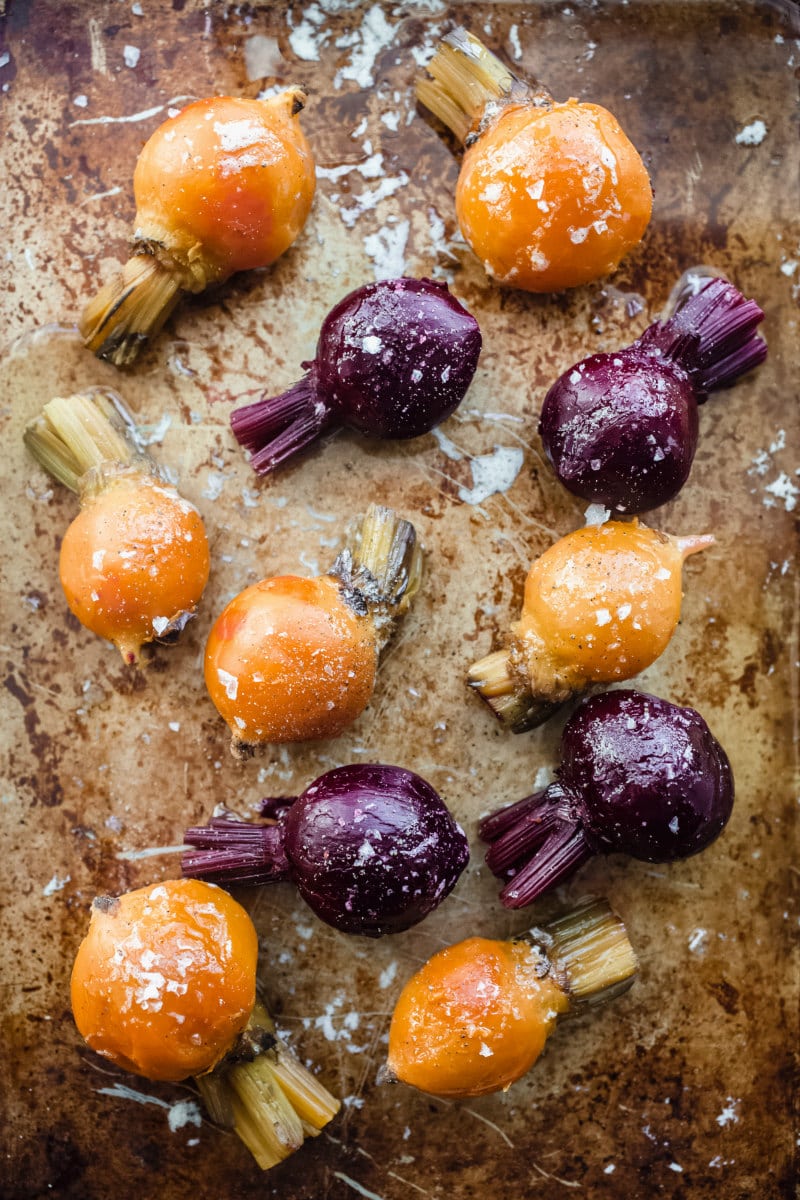 How to prepare beets for roasting:
Leave the skins on! Rinse them well. Cut off the greens, but leave about 1-inch of the stem attached. If there are stringy roots coming out the other side, you can cut those off too.
How to make Roasted Baby Beets:
You can print out the complete recipe at the end of this post. This is a method I learned from reading Bon Appetit magazine many years ago, and I've been making them this way ever since. You'll preheat your oven to 375 degrees F. Place your prepared beets in a roasting pan. Add 4 sprigs of fresh rosemary to the pan. Pour in enough water to barely cover the beets. Cover the pan tightly with foil, and roast the beets until tender – about 50 minutes. Peel them while they're still warm. They're cooked at this point, and can be eaten this way. But there's a more delicious way to finish them off. Keep reading!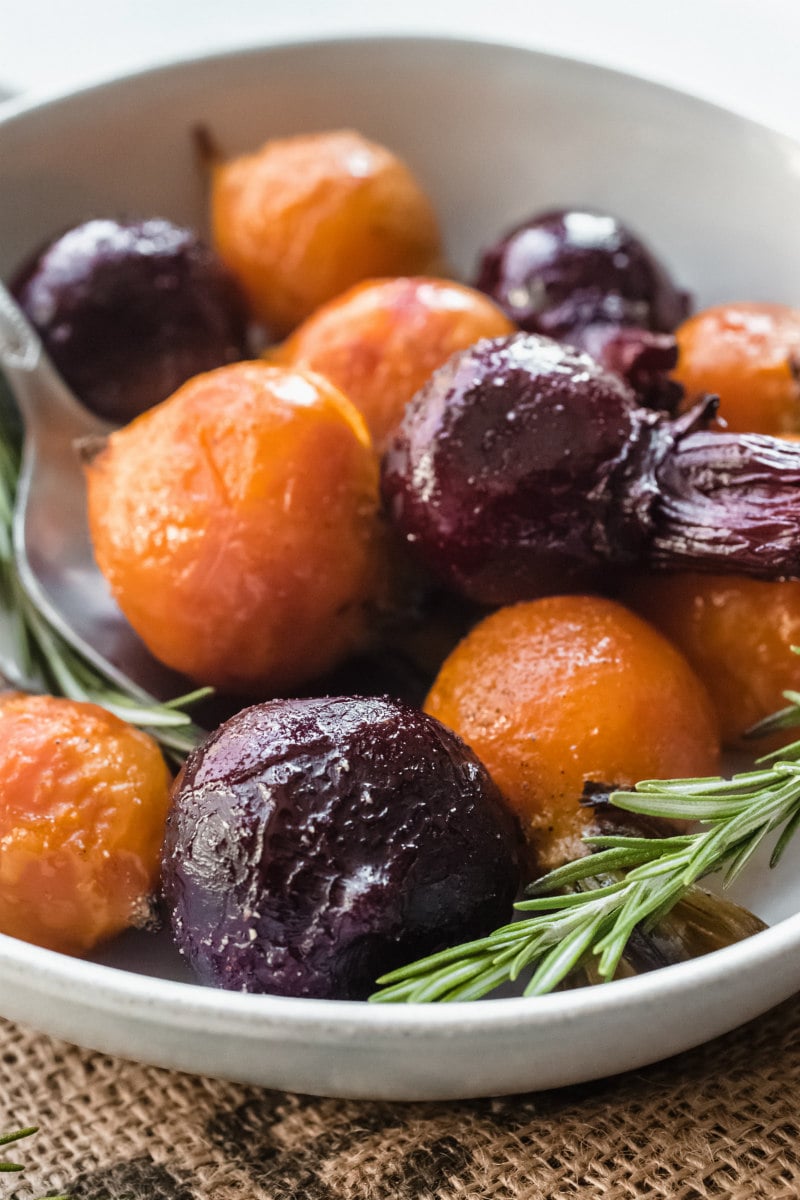 The second roasting:
To make the most fabulous roasted beets ever, there is a second step involved- roasting them again! In a 350 degree oven, you'll roast the cooked beets on a baking sheet after tossing them in melted butter and olive oil with a sprinkle of salt and pepper. The second roast is only for 20 minutes. They will come out of the oven with so much flavor!
Serve them as an excellent side dish of roasted baby beets garnished with fresh rosemary. Or chop them up and add them to salads for great added flavor and texture to the salads.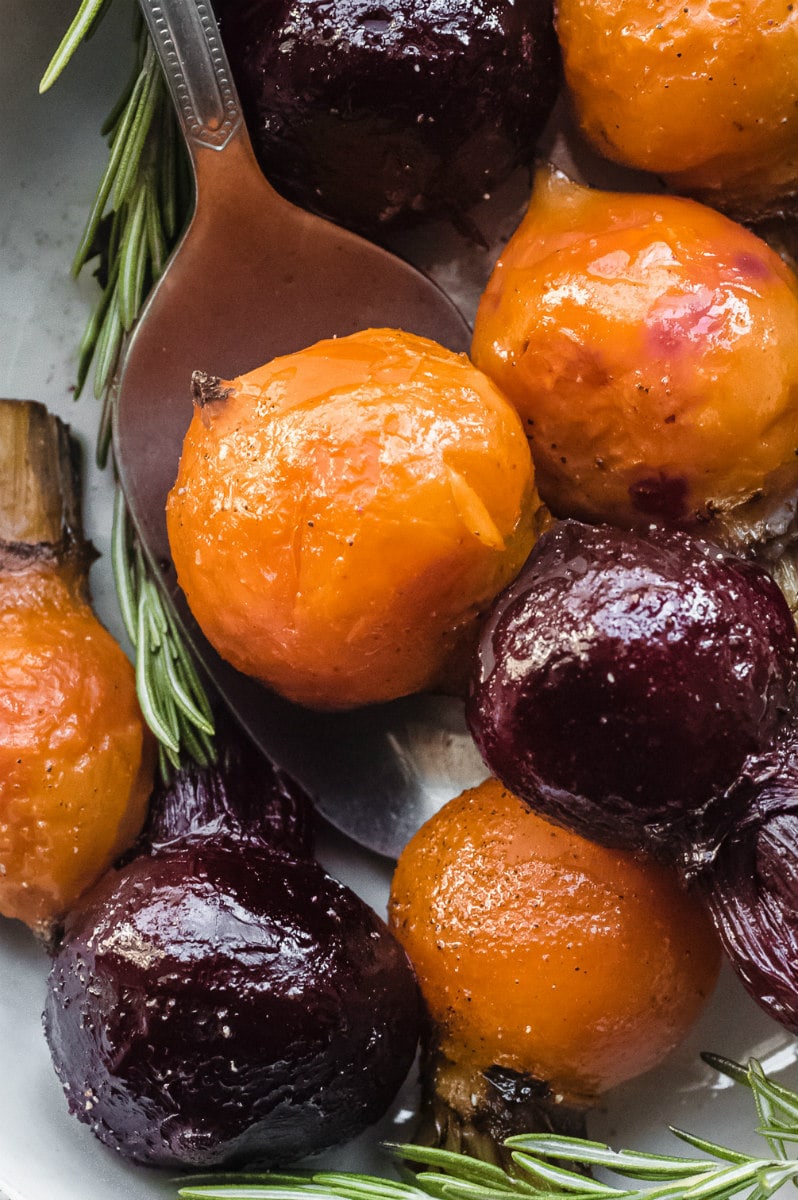 How long do roasted beets last in the refrigerator?
Roasted beets will last for 3 to 5 days in the refrigerator. To further extend the shelf life of roasted beets, freeze them! You can freeze beets in covered airtight containers or freezer zip bags. They should be fine in the freezer for up to 6 months.
Here are a few more recipes for roasted vegetables that you might like to try:
If you happen to be following the Weight Watchers WW plan, you'll find a link to the WW Points on the recipe card below.
Roasted Baby Beets
Beets are incredible when they are roasted!
Recipe Details
Ingredients
Thirty

1 to 1½-inch

baby beets

(about 5 bunches)

4

large

fresh rosemary sprigs,

plus additional sprigs for garnish

¼

cup

olive oil

1½

tablespoons

butter
Instructions
Leave beets unpeeled. Rinse the beets and trim, leaving 1-inch of the top greens attached.

Place the beets in a roasting pan. Add 4 rosemary sprigs and enough water to barely cover the beets. Cover the pan tightly with foil. Roast the beets until tender, about 50 minutes. Transfer the beets to a work surface. Peel while still warm; place on a rimmed baking sheet. (Can be made 1 day ahead. Cover; chill.)

When you are ready to prepare the beets for eating, make sure the oven is preheated to 350°F.

Melt the butter with the oil in a small saucepan. Pour over the beets on the baking sheet; toss to coat. Sprinkle with salt and pepper. Bake until heated through, stirring occasionally, about 20 minutes. Transfer to a bowl. Garnish with additional rosemary sprigs and serve.
Nutrition
Serving:
1
serving
,
Calories:
116
kcal
,
Carbohydrates:
12
g
,
Protein:
2
g
,
Fat:
7
g
,
Saturated Fat:
2
g
,
Cholesterol:
5
mg
,
Sodium:
111
mg
,
Potassium:
400
mg
,
Fiber:
4
g
,
Sugar:
8
g
,
Vitamin A:
105
IU
,
Vitamin C:
6
mg
,
Calcium:
21
mg
,
Iron:
1
mg
Thanks to Tara Liptak from the blog, Smells Like Home for the beautiful photography on this post.