If you love scallops as much as I do, you'll really enjoy this recipe for Seared Scallops with Lemon Orzo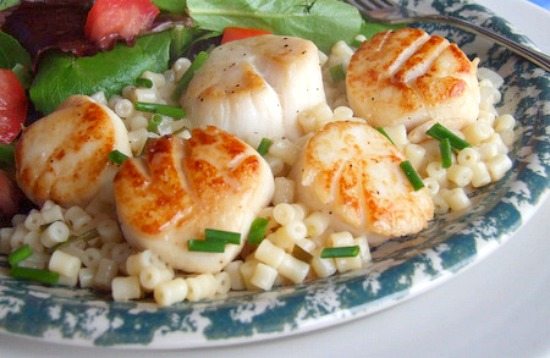 Yield:
Servings: 4 (serving Size: 4 1/2 oz. scallops + 3/4 cup pasta)
Prep Time: 25 min
Cook Time: 25 min
Ingredients:
1/2 cup pre-chopped onion
1 cup uncooked orzo (rice-shaped pasta) or other small pasta
1 cup fat-free, low-sodium chicken broth
1/2 cup dry white wine
1/4 teaspoon dried thyme
2 tablespoons chopped fresh chives
2 tablespoons freshly squeezed lemon juice
2 teaspoons olive oil
1 1/2 pounds sea scallops
1/4 teaspoon salt
1/4 teaspoon black pepper
Directions:
1. Heat medium saucepan over med-high heat. Coat pan w/ cooking spray. Add onion to pan; sauté 3 minutes. Stir in pasta, broth, wine and thyme; bring to a boil. Cover, reduce heat, and simmer 15 minutes or until liquid is absorbed and pasta is al dente. Stir in chopped chives and lemon juice. Keep warm.
2. Heat oil in a large skillet over med-high heat. Sprinkle scallops evenly with salt and pepper. Add scallops to pan; cook 3 minutes on each side or until desired degree of doneness. Serve with pasta mixture.
Tips:
*If you are preparing this recipe as GLUTEN-FREE, be sure to use a brand of chicken broth that is known to be GF, and serve over a bed of quinoa or other gluten-free grain instead of pasta (or use gluten-free pasta).
*The picture above shows an alternate pasta in the recipe: tubetti #62. If you sub this sort of pasta, you'll need to keep adding additional chicken broth until pasta tests done.
Nutrition:
Nutritional Information per serving:
Serving size: 4 1/2 oz. scallops + 3/4 cup pasta
Calories per serving: 361
Fat per serving: 4.3g
Saturated Fat per serving: .56g
Sugar per serving: 1.07g
Sodium per serving: 520.87mg
Fiber per serving: 1.67g
Protein per serving: 34.83g
Cholesterol per serving: 56.13mg
Carbohydrates per serving: 38.75g
WW POINTS per serving:
Points Plus Program: 8 Old Points Program: 7