Bacon- Wrapped Scallops with Spicy- Cilantro Mayonnaise
My favorite jeans don't fit me right now, I feel pudgy, and my skin isn't looking all that great. I blame it on bacon. Bacon has been making its way into a lot of my recipes lately. Although I love all-things-bacon with a fierce passion, it is not doing wonders for my girlish figure. I'd probably be okay with my usual balance of exercise if I didn't have an injury that is preventing me from burning my usual boatload of calories. Woe is me.
Lucky for you, I'm willing to take on the pudge to test out recipes like this. Because this one, my friends, is worth the pudge: Bacon-Wrapped Scallops with Spicy Cilantro Mayonnaise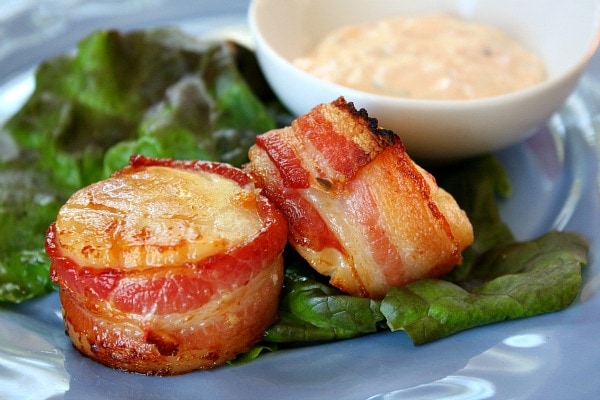 I served these up a a dinner party recently… a dinner party full of seafood, which I'll be sharing with you- the entire menu- in my post later this week. This is the recipe from that dinner party that is getting the featured spot. Yep, they were that good.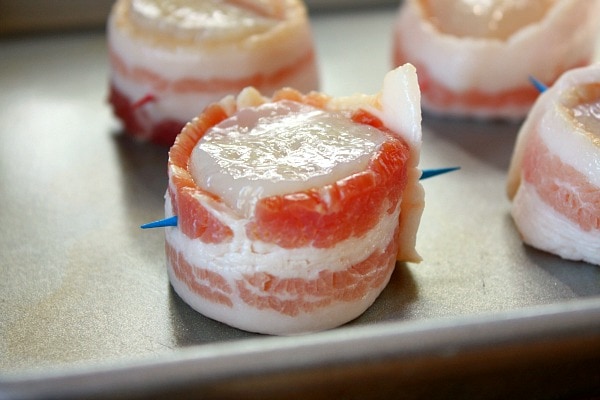 Just wrap each scallop with a half strip of bacon, and secure it with a wooden toothpick. I'd recommend using non-colored wooden toothpicks. The colored type that I used were cute and all, but I wasn't happy with the small amount of color it left behind on my lovely scallops.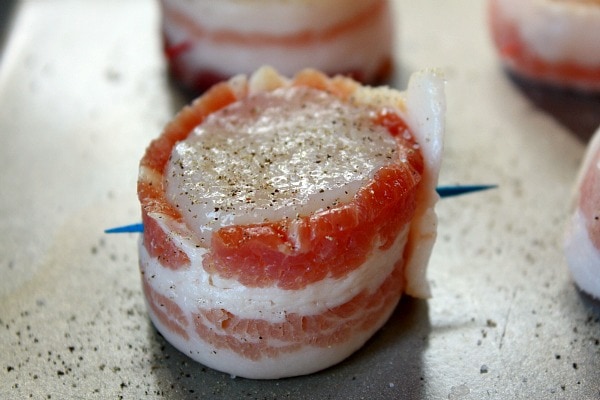 Give the scallops a generous sprinkle of sea salt and freshly ground black pepper. Broil them until that bacon has sizzled into its crispy-state.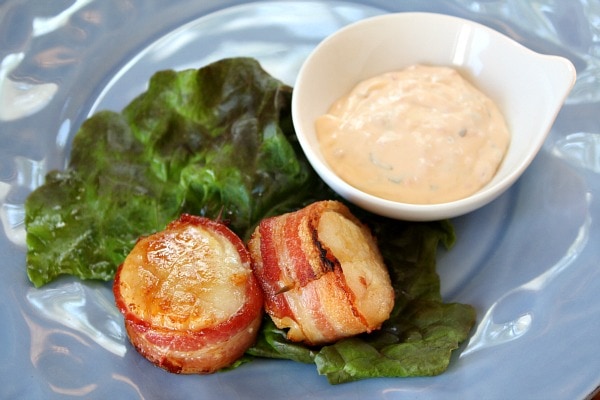 And serve them up with a very simply spiced dipping sauce… mayonnaise with chili paste, lime juice and cilantro. They were a big hit at my dinner party- such a big hit that most people ate too many and were no longer hungry for dinner. Two per person is just plenty 😉
Do you have access to good scallops and other seafood in your neck of the woods? My scallops were delivered to me overnight from Anderson Seafood, my go-to, internet-order seafood distributor. You just place your order online and its delivered to you fresh the next day- all packed in dry ice and cold packs.  It's high-quality seafood at its best.  And I don't say that about all of the products I use!
Yield: 8 servings
Prep Time: 30 min
Cook Time: 20 min
Bacon- Wrapped Scallops w/ Spicy Cilantro-Mayonnaise
These make a wonderful appetizer, but they also are great to nibble as a light dinner!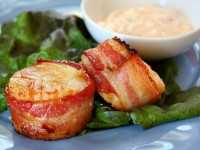 Ingredients:
Spicy- Cilantro Mayonnaise:
3/4 cup mayonnaise
1 1/2 tablespoons ground chili paste
1 medium lime, juiced
1 tablespoon finely chopped cilantro
Scallops:
1 1/2 pounds scallops, rinsed and dried
3/4 to 1 pound thin sliced bacon (not center cut), strips cut in half crosswise
sea salt & freshly ground black pepperlarge lettuce leaves, for serving
lettuce leaves, for serving
Directions:
1. Prepare the spicy cilantro mayo: In a medium bowl, combine mayonnaise, hot chili paste, lime juice and cilantro; stir well. Cover and refrigerate until ready to serve.
2. Prepare the scallops: Preheat your oven broiler. Spray a rimmed baking sheet with nonstick spray. Wrap each scallop with a piece of bacon and secure with a wooden toothpick. Place the bacon-wrapped scallops onto the prepared baking sheet and season them with salt and pepper. Cook them under the broiler for about 15 to 20 minutes, or until the bacon is cooked through- turning once mid-way through.
3. To serve, line a large platter with lettuce leaves and place the bacon-wrapped scallops on top. Serve with a dish of the spicy mayonnaise for dipping.
Tips:
*The number of scallops this recipe will yield depends entirely on the size of your scallops. I like to use large scallops. They shrink a little bit during the broiling process, but they make a nice and hearty appetizer. Tiny scallops just aren't very exciting.
*Ground chili paste can usually be found in your market's Asian product's aisle (I used one called Sambal Oelek). If you have something similar- maybe another spicy sauce, try substituting that (just add a little at a time until you reach your desired level of heat).
*Make ahead tip: Make the sauce ahead of time and refrigerate. Wrap all of your scallops and refrigerate, then just put them under the broiler when you're ready to serve!
40 Responses to "Bacon- Wrapped Scallops with Spicy- Cilantro Mayonnaise"
Leave a Comment