A totally delicious recipe for Caramelized Scallops with Smoked Chili Cream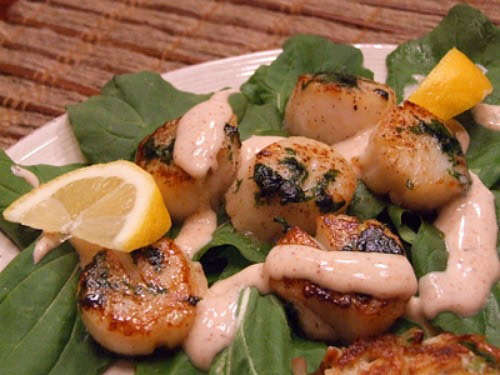 Caramelized Scallops w/ Smoked Chili Cream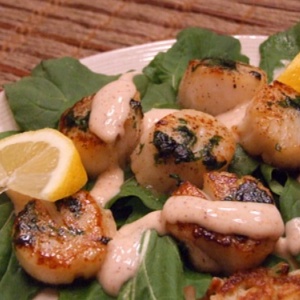 These delicious sweet scallops are topped with a delicious creamy sauce. I love them served over fresh greens.
Yield:
4 servings
Prep Time: 20 min
Cook Time: 15 min
Ingredients:
SMOKED CHILI CREAM:
2 teaspoons chipotle chili powder
juice of 2 fresh limes
3/4 cup sour cream
salt to taste
CARAMELIZED SCALLOPS:
2 pounds sea scallops (the larger the better)
2 Tablespoons fresh parsley, chopped
salt & pepper to taste
1/4 cup (about) extra-virgin olive oil
fresh greens (to place scallops on)
sliced lemons & chopped chives for garnish
Directions:
1. Prepare Chili Cream: Mix chipotle powder in lime juice and let it sit and "bloom" for 5 to 10 minutes, then whisk it into the sour cream. Add salt to taste; cover and refrigerate until ready to use.
2. Prepare Scallops: Arrange scallops on a cutting board with flat side down. Sprinkle the top liberally with parsley, salt and pepper.
3. Heat enough oil to cover the bottom of a large nonstick skillet until oil just begins to smoke. Reduce heat to medium-high and place scallops seasoned-side-down. Do not disturb them for 2 to 3 minutes. This allows the naturally present sugars in the scallops to caramelize. Turn and sear on the opposite side for 1 to 3 minutes longer, depending on the size of the scallop.
4. Place scallops on fresh greens and drizzle with chili cream. Garnish with lemon slices and chives. Serve immediately.
Tips: