This Sea Scallop Salad with Citrus Vinaigrette is a nice, fresh-tasting salad for summer.  It's simple, and it's elegant too.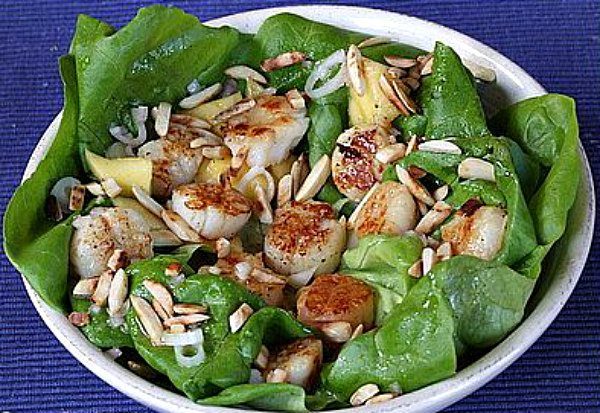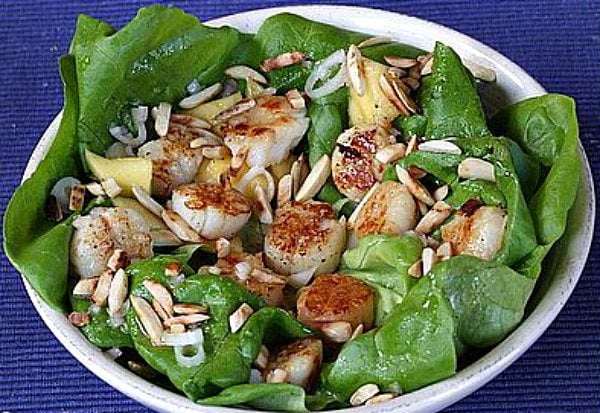 Tip:  Change things up and grill the scallops.  Substitute fresh orange slices for the mango.  Yum!
Sea Scallop Salad with Citrus Vinaigrette
Yield:
4 servings
Prep Time: 25 minutes
Cook Time: 2 to 3 minutes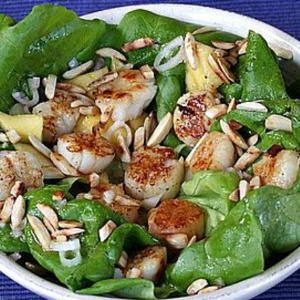 Ingredients:

VINAIGRETTE:

1/4 cup fresh orange juice
1 small shallot, finely chopped
2 teaspoons freshly grated ginger
1 medium lime, juiced
2 tablespoons freshly squeezed lemon juice
3 tablespoons olive oil
salt and freshly ground black pepper to taste

SALAD:

20 large sea scallops
2 tablespoons extra-virgin olive oil
salt and freshly ground black pepper to taste
4 large handfuls frisée or mixed baby salad greens
2 medium mangoes, peeled and chopped
5 whole green onions, trimmed and thinly sliced diagonally
1/2 cup slivered almonds, toasted

Instructions:

Prepare vinaigrette: Combine orange juice, shallot, ginger, lime juice, and lemon juice in a small bowl and mix well. Let stand for 10 to 15 minutes. Strain the juice mixture into a bowl, discarding the solids. Whisk the olive oil, salt and pepper into the juice mixture until blended.
Prepare salad: Rinse scallops and pat dry. Remove the "feet" (the small muscle sometimes found on the side of the scallop) and discard. Heat the olive oil in a large nonstick sauté pan until almost smoking. Add the scallops to the hot oil and sprinkle with salt and pepper. Cook for 1 minute and then gently turn each one over.  Cook 1 minute longer or until translucent in the center. Remove from the heat.
Toss the frisée, mangoes, scallions and almonds with the desired amount of vinaigrette in a salad bowl. Divide the frisée mixture evenly among 4 plates. Top each serving with 5 scallops and serve immediately with the remaining vinaigrette.
SOURCE:  RecipeGirl.com (via California Sol Food: Casual Cooking from the Junior League of San Diego)