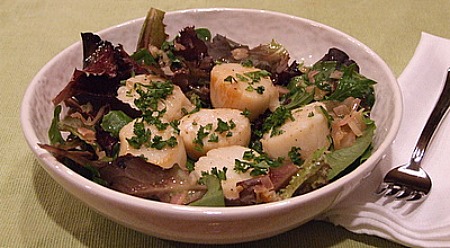 Lemon- Shallot Scallops Over Greens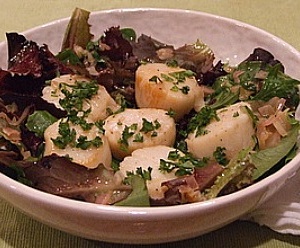 Yield:
6 servings
Prep Time:10 min
Cook Time:6 min
Ingredients:
2 teaspoons olive oil
1 1/2 pounds sea scallops
1/2 teaspoon salt
1/4 teaspoon black pepper
2 teaspoons butter
3 Tablespoons minced shallots
1/2 teaspoon minced garlic
1/4 cup dry white wine
1 Tablespoon freshly squeezed lemon juice
2 Tablespoons finely chopped fresh parsley
3 cups mixed salad greens
2 teaspoons extra virgin olive oil
Directions:
1. Heat oil in a large nonstick skillet over high heat. Sprinkle scallops with salt and pepper. Add scallops to pan, and sauté 2 minutes on each side. Remove cooked scallops from pan, and keep warm.
2. Melt butter in pan. Add shallots and garlic; sauté 30 seconds. Add wine and juice; cook 1 minute. Return scallops to pan; toss to coat. Remove from heat; sprinkle with parsley. Place greens in bowl, and toss with olive oil. Serve scallops over mixed greens.
Nutrition:
Nutritional Information per serving:
Serving size: 1/2 cup greens + 4 ounces scallops
Calories per serving: 153
Fat per serving: 5.2g
Saturated Fat per serving: 1.3g
Sugar per serving: .08g
Fiber per serving: .5g
Protein per serving: 19.5g
Cholesterol per serving: 40.81mg
Carbohydrates per serving: 4.5g
WW POINTS per serving:
Points Plus Program: 4 Old Points Program: 3.5
Source: RecipeGirl.com (via Wine, Food and Friends)