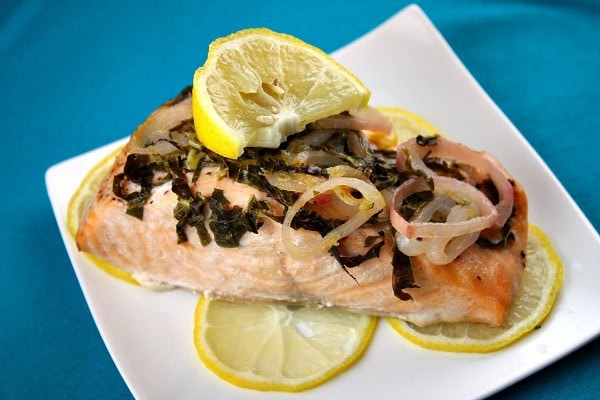 Salmon w/ Lemon & Basil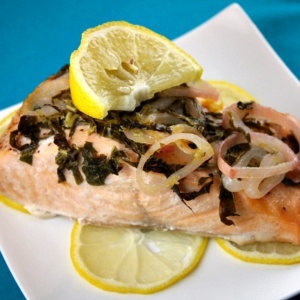 Yield:
4 servings
Prep Time: 15 min + marinating time
Cook Time: 25 min
Ingredients:
4 (6-ounce) fillets of salmon
coarse salt and ground pepper
2 cups packed fresh basil leaves, thinly sliced crosswise
1 large shallot, thinly sliced crosswise (about 1/4 cup)
grated zest of one lemon (2- 3 teaspoons)
2 Tablespoons freshly squeezed lemon juice
1 Tablespoon olive oil
lemon wedges for serving (optional)
Directions:
1. Lightly season salmon with salt and pepper; arrange in 9x13-inch baking dish, about 1-inch apart.
2. In a small bowl, stir together basil, shallot, lemon zest and juice, oil, 1/4 teaspoon salt, and a pinch of pepper. Dividing evenly, spread mixture over the salmon fillets. Cover with foil; place in refrigerator, and let marinate for 20 minutes.
3. Preheat oven to 325°F. Bake (still covered) until salmon is opaque throughout 20-25 minutes. Serve with lemon wedges, if desired.
Nutrition:
Nutritional Information per serving:
Serving size: 1 salmon fillet
Calories per serving: 308
Fat per serving: 11g
Saturated Fat per serving: 2g
Sugar per serving: .29g
Fiber per serving: 1g
Protein per serving: 34g
Cholesterol per serving: 39mg
Carbohydrates per serving: 18.5g
WW POINTS per serving:
Points Plus Program: 8 Old Points Program: 7.5