Great potato side-dish recipe! > Lemon and Herb Roasted New Potatoes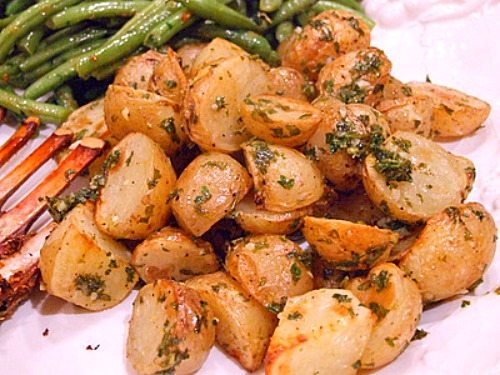 Lemon and Herb Roasted New Potatoes
Yield:
6 to 8 servings
Prep Time: 20 min
Cook Time: 25 min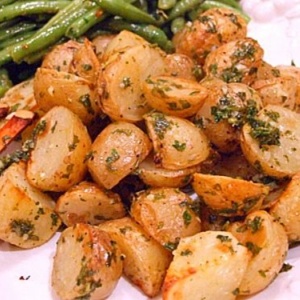 Ingredients:

3/4 cup loosely packed chopped fresh parsley
2 teaspoons coarsely chopped fresh rosemary
2 cloves garlic
1/2 teaspoon grated lemon zest
1 tablespoons freshly squeezed lemon juice
4 tablespoons extra-virgin olive oil, divided
1 teaspoon salt, divided
2 pounds new potatoes, halved
1/2 teaspoon freshly ground black pepper

Instructions:

1. Preheat oven to 425°F. Line a 15x10-inch jelly-roll pan with aluminum foil.

2. Process first 5 ingredients (through lemon juice) plus 2 Tablespoons oil and 1/2 teaspoon salt in a food processor or blender until smooth, stopping to scrape down sides. Set aside.

3. Toss together halved potatoes, 1/2 teaspoon pepper, remaining 2 Tablespoons oil, and remaining 1/2 teaspoon salt in a large bowl; spread potato mixture in a single layer in prepared pan.

4. Bake for 25 minutes or until potatoes are golden brown and tender, stirring after 10 minutes. Toss potatoes with lemon-and-herb mixture until evenly coated. Serve warm.