This recipe has been featured in a menu on the site- Easter Dinner Menu.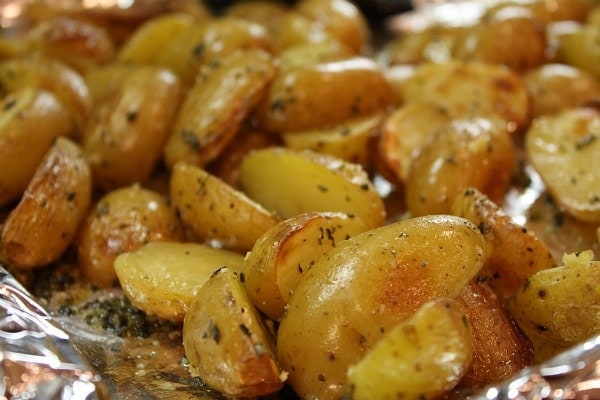 Lemon Salt- Roasted Potatoes
Lemon-scented herb salt makes a great seasoning for potatoes. Fresh herbs are a must!
Yield:
8 servings
Prep Time: 15 min
Cook Time: 35 min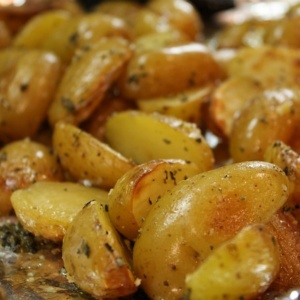 Ingredients:

2 large sage leaves, chopped
1 teaspoon chopped fresh rosemary
1 teaspoon chopped fresh thyme leaves
1 teaspoon finely grated lemon zest
1 Tablespoon kosher salt
4 pounds small potatoes (red or white), halved
2 Tablespoons extra-virgin olive oil
2 Tablespoons unsalted butter, melted
freshly ground black pepper, to taste

Instructions:

1. Preheat oven to 425 degrees F. Spray two rimmed baking sheets with nonstick spray.

2. In a small bowl, mix sage, rosemary, thyme, lemon zest and salt. Use a wooden spoon to press the herbs into the salt mixture. Keep pressing and mixing until flavors are melded together. (You can do this in a mini-food processor if you have one).

3. In a large bowl, toss the potatoes with the oil and butter and season with pepper. Spread potatoes in a single layer on the prepared baking sheets. Roast for 25 minutes. Remove baking sheets from the oven and sprinkle the potatoes with the herb salt. Toss well and return the potatoes to the oven for an additional 5 to 10 minutes, or until potatoes are tender and golden. Transfer to a bowl and serve warm.