Cider Roasted Chicken is a beautiful dinner recipe to make in the chilly fall months. It's comfort food that is on the healthier side of things. Sometimes we need things like that, right?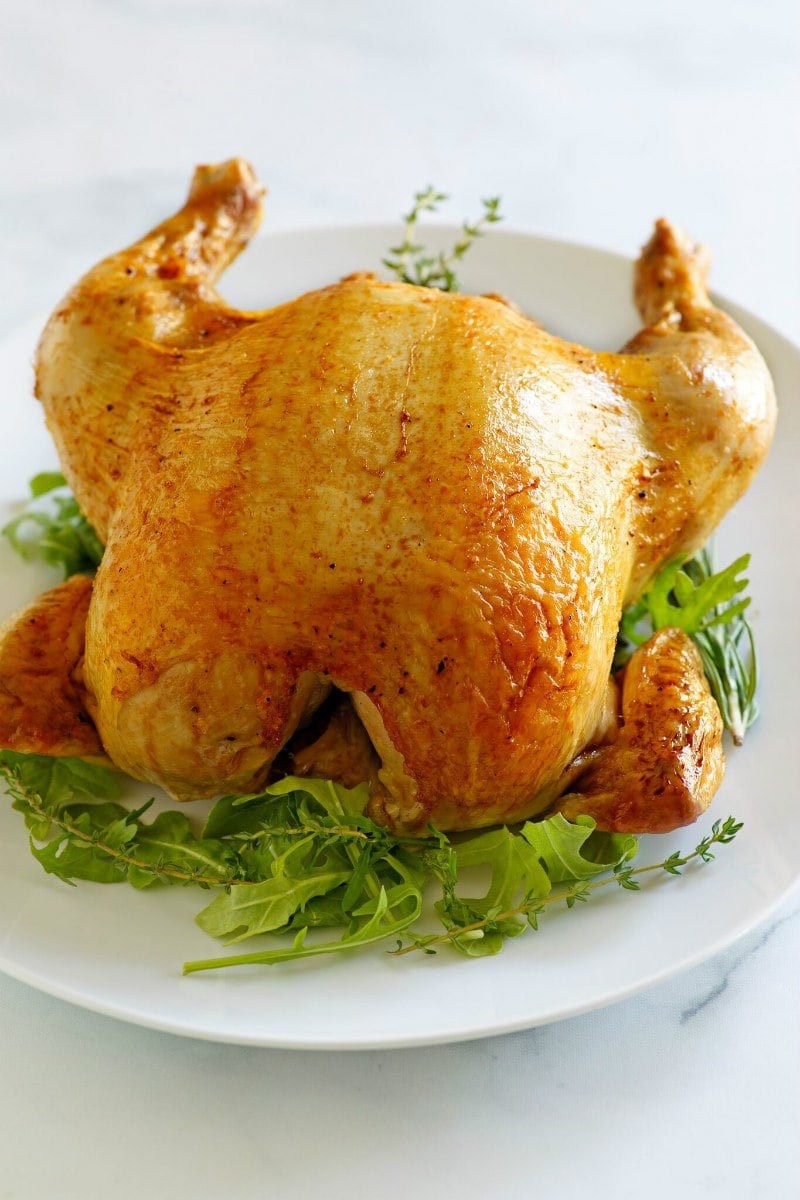 This chicken is marinated in an apple cider brine, and then basted during the roasting process with some apple cider that has been reduced to a syrup. Doesn't that sound amazing?
Fall arrives (very) soon, and you're going to want to get out all the apples and maple and pumpkin and start cooking. Add this cider roasted chicken to your dinner making bucket list.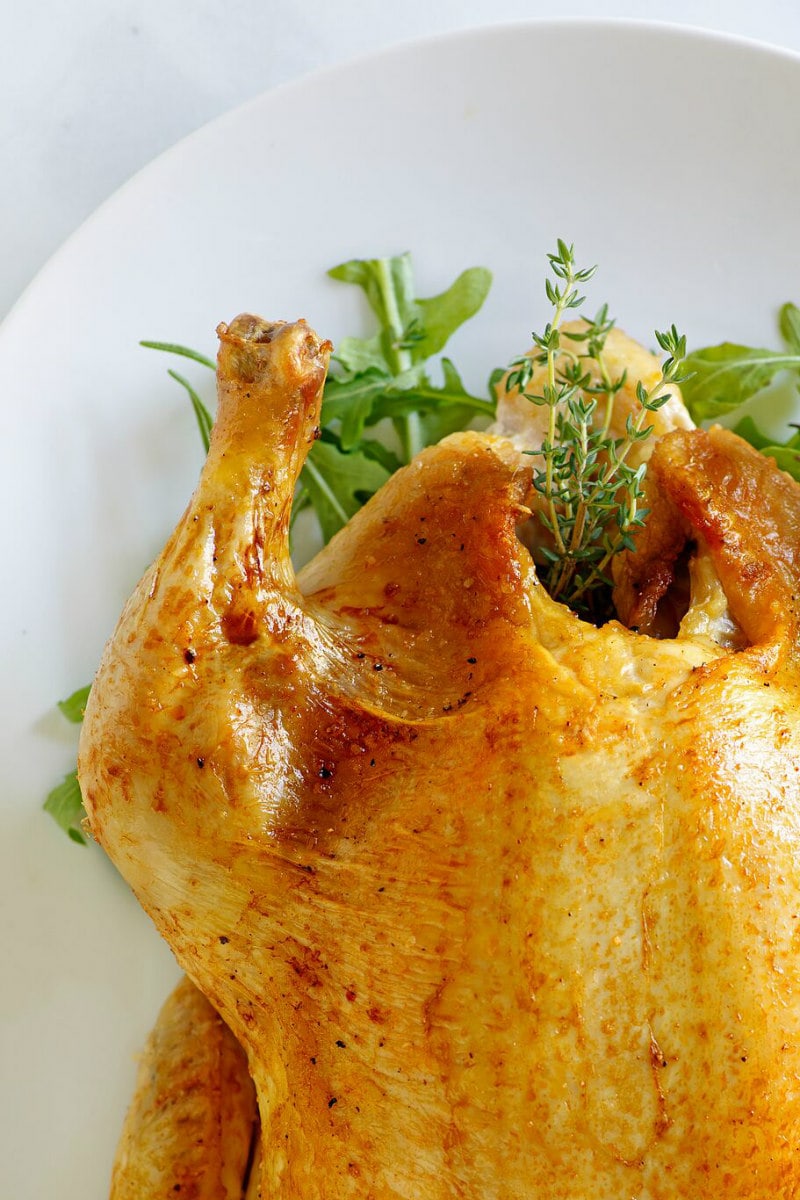 How do you roast a chicken at home?
We're so spoiled these days because it's so easy to pick up a chicken (already roasted) at the store. In fact, I'm going to guess that grabbing a roasted chicken from the store is quite often on most family's "easy dinner" lists.
I'd love for the world to know just how easy roasting your own chicken can be (with delicious results!) It's really not difficult to roast your own chicken, and I suggest you try it sometime for a Sunday night dinner.
In this recipe, you make a quick brine for your chicken. A brine is a soaking liquid that will help the chicken to maintain maximum juices while roasting. So make the brine in the morning, and then let the chicken soak in the brine much of the day (or you can do this the night before).
Then you're going to dry off the chicken, add onions/garlic/parsley to the cavity of the bird, and pop it into the oven to roast for 1 1/2 hours. While it's roasting, you'll reduce 2 cups of cider into a syrup by boiling it on the stove. Then you can go about your business until the chicken is done roasting.
The last step is pulling it out of the oven, slipping off the skin (unless you prefer to leave it on), and then basting the chicken with that delicious cider syrup. It goes back into the oven for 10 minutes, then one more baste before carving this cider roasted chicken and serving it. Note that the photos show the chicken with the skin left ON.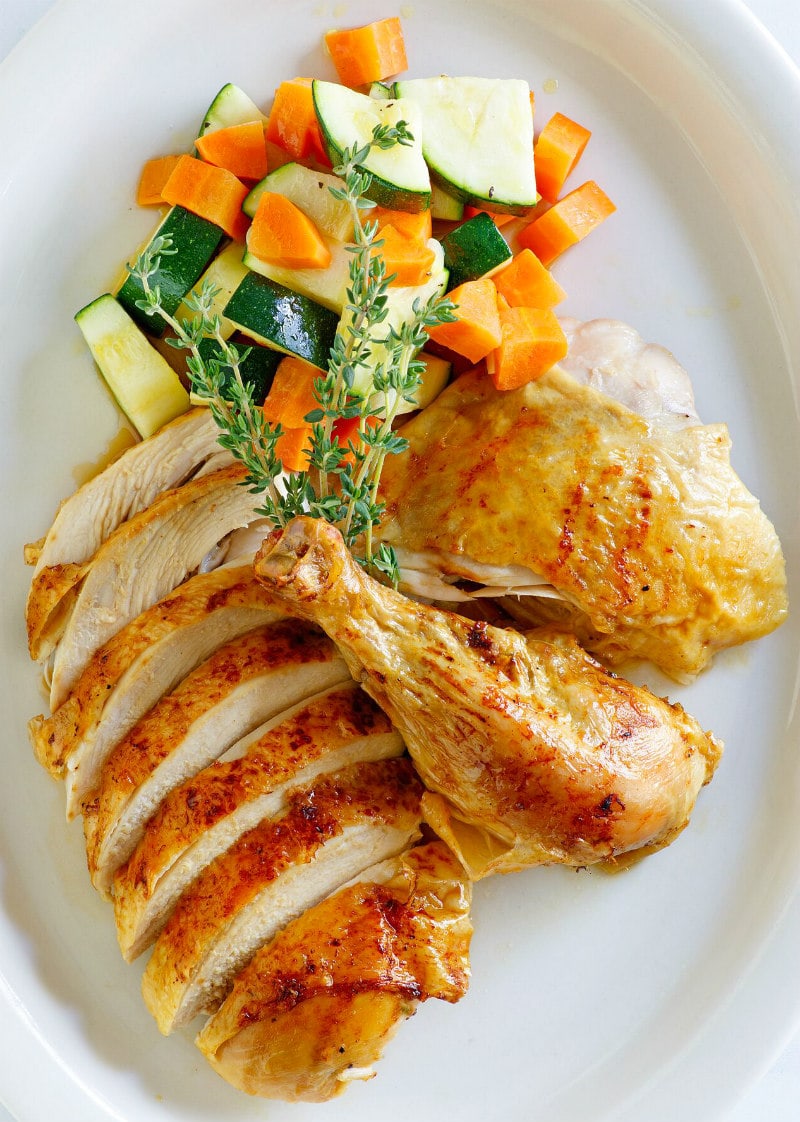 Cider Roasted Chicken
There it is! Cider roasted chicken carved to perfection. Legs, wings and thighs pulled off, and the breast cut into slices. That amazing cider syrup adds great flavor to regular 'ol chicken. And it looks far more appetizing than a roasted chicken from the market, doesn't it?
Try roasting your own chicken, and let me know what you think. Is it worth it? It's perfect for a sit-down dinner with the family.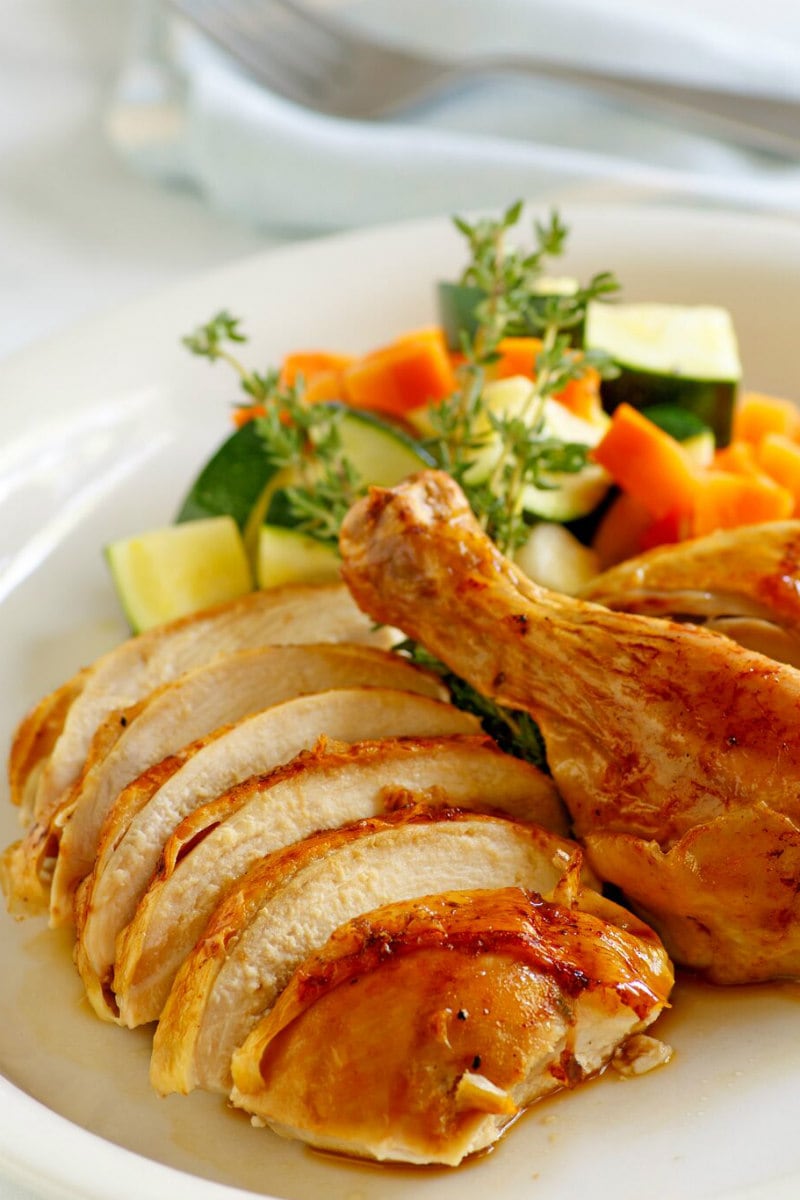 If you're looking for more delicious dinner recipes to make in the fall, you might be interested in making my Roasted Pumpkin Sausage Risotto or this Sweet Potato Soup with Bacon and Crispy Sage. One Pan Cranberry- Balsamic Roasted Chicken, Chicken with Apples and Cider, and Pork Chops with Cinnamon Apples and Butternut Squash are also delicious meals to try. And if you want to host a fall dinner party, check out my Harvest Dinner Party Menu!
Cider Roasted Chicken
This is the perfect fall-themed dinner. There is nothing like a home-roasted chicken!
Recipe Details
Ingredients
3

quarts

water

1

quart

apple cider

1/4

cup

Kosher salt

1

tablespoon

black peppercorns

1

bay

leaf

One

6-pound

chicken

2

cups

apple cider

1

large

onion,

peeled & halved

4

sprigs

flat-leaf parsley

4

cloves

garlic,

peeled
Instructions
Combine first 5 ingredients in a saucepan; bring to a boil, stirring until salt dissolves. Remove from heat; cool completely. Remove and discard giblets and neck from chicken. Rinse chicken with cold water; pat dry. Trim excess fat. Pour the brine into a 2- gallon zip-top plastic bag. Add the chicken; seal. Refrigerate 8 hours or overnight, turning the bag occasionally.

Preheat oven to 400 degrees F.

Bring 2 cups of cider to a boil in a small saucepan over medium-high heat. Cook until the cider has thickened and reduced to 1/4 cup (about 15 minutes). Set aside.

Remove the chicken from the bag; discard the brine. Pat the chicken dry with paper towels. Place the onion halves, parsley and garlic into the cavity of the chicken. Lift the wing tips up and over the back; tuck under the chicken. Tie the legs. Place the chicken on the rack of a broiler pan. Bake for 1½ hours, or until a thermometer registers 175°. Remove from the oven (leave oven on). Carefully remove and discard the skin (unless you'd like to keep the skin on as shown in the photos). Baste the chicken with half of reduced cider; return to 400° oven for 10 minutes. Remove from the oven; baste with the remaining cider reduction. Transfer the chicken to a platter.

Place a zip- top bag inside a 2 cup glass measure. Pour the drippings into a bag; let stand 10 minutes and fat will rise to the top. Seal the bag; carefully snip off 1 bottom corner of bag. Drain the drippings into a small bowl, stopping before the fat layer reaches the opening; discard the fat. Serve jus over chicken.
Notes
Nutritional information on this one may not be perfectly accurate due to the brining method and the fact that dark meat and breast have varied calorie count. Info was figured with skin removed.
Nutrition
Serving:
1
serving (1/8 of the chicken)
,
Calories:
344
kcal
,
Carbohydrates:
9
g
,
Protein:
26
g
,
Fat:
21
g
,
Saturated Fat:
6
g
,
Cholesterol:
106
mg
,
Sodium:
3657
mg
,
Potassium:
377
mg
,
Sugar:
6
g
,
Vitamin A:
245
IU
,
Vitamin C:
5.3
mg
,
Calcium:
46
mg
,
Iron:
1.6
mg