Here's a delicious and healthy, family-friendly meal to serve for dinner: Chicken with Apples and Cider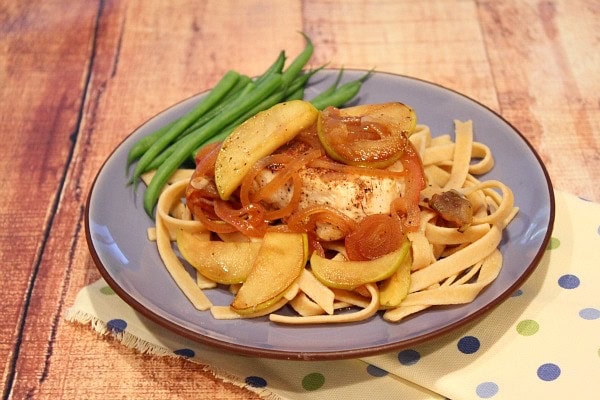 Just as a lot of folks are doing at this time of year, I'm opting to exercise more and eat a little lighter. When I go for that mindset, my family isn't always totally into it, so I opt to cook meals that are definitely lighter but not noticeably so.
I guess what I'm trying to say is that it's completely possible to cook a "lighter" meal that is 100% delicious and noteworthy without presenting it as "something that works with your diet" or "low fat." Some family members might be freaked out by that concept. So I just go ahead and make dinner (a little lighter) and serve it to my family. They never know, the meal is fabulous, and everyone benefits by consuming a healthier dish.
This recipe comes from a cookbook I've had on my shelf forever: Weight Watcher's New Complete Cookbook. I'm not on WW (just simply watching my daily calorie intake), but it's a good resource to draw from when looking for lighter meals. If you happen to be following the Weight Watchers WW plan, you will find a link to the WW Points on the recipe card at the end of this post.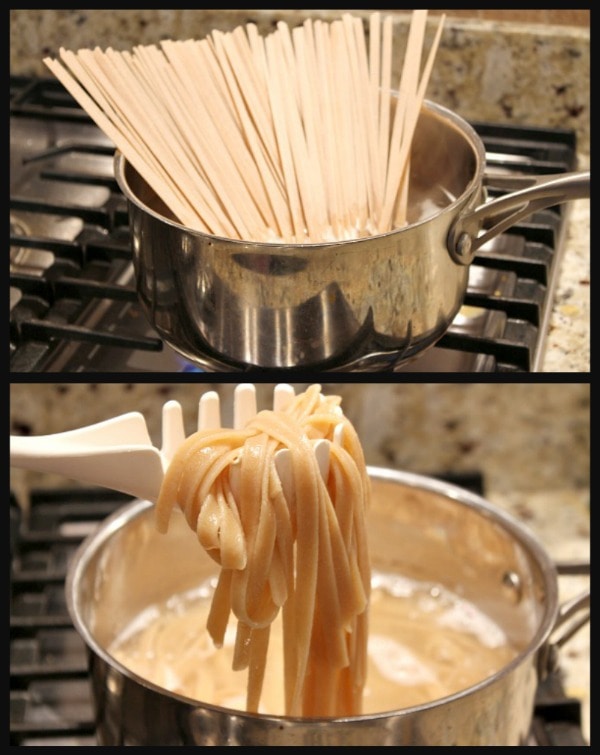 Preparation of the meal begins with pasta (yes, you can still eat pasta when eating light!) I chose to use Delallo Whole Wheat Linguine. It's the best whole wheat pasta brand on the market because it doesn't taste overly whole grain and weird. My family seems to like it, and I know it's better for us than plain ol' white pasta. They have the Delallo brand at my local grocery store (Raley's) and I have also spotted it at Walmart and Whole Foods.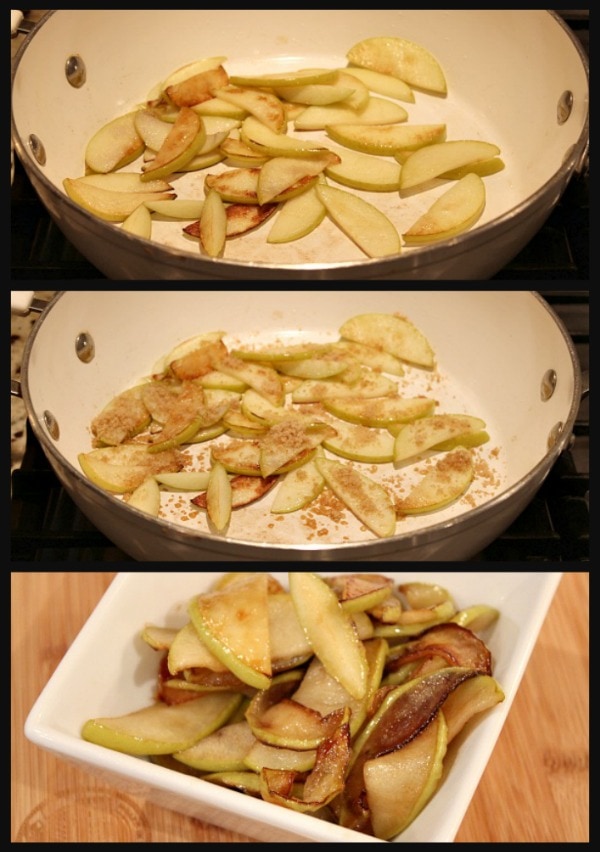 While the pasta is cooking, prepare the apples. They are sautéed in a little bit of oil, then sprinkled with brown sugar until tender. I wanted to stop right here and eat the apples!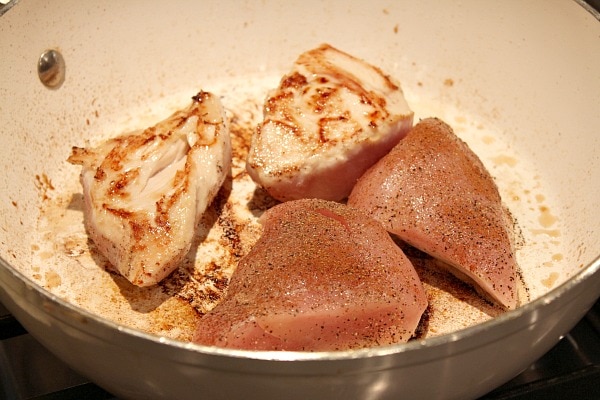 I had two large boneless chicken breasts. When I cut them in half, they were about 4 ounces and that's the serving size for this recipe. It may seem like a small amount, but I assure you that if you serve it on the pasta and include a vegetable too, it's plenty of chicken.
My husband and my 5 foot 9″ middle schooler were plenty happy. The chicken is sprinkled lightly with cinnamon, salt and pepper.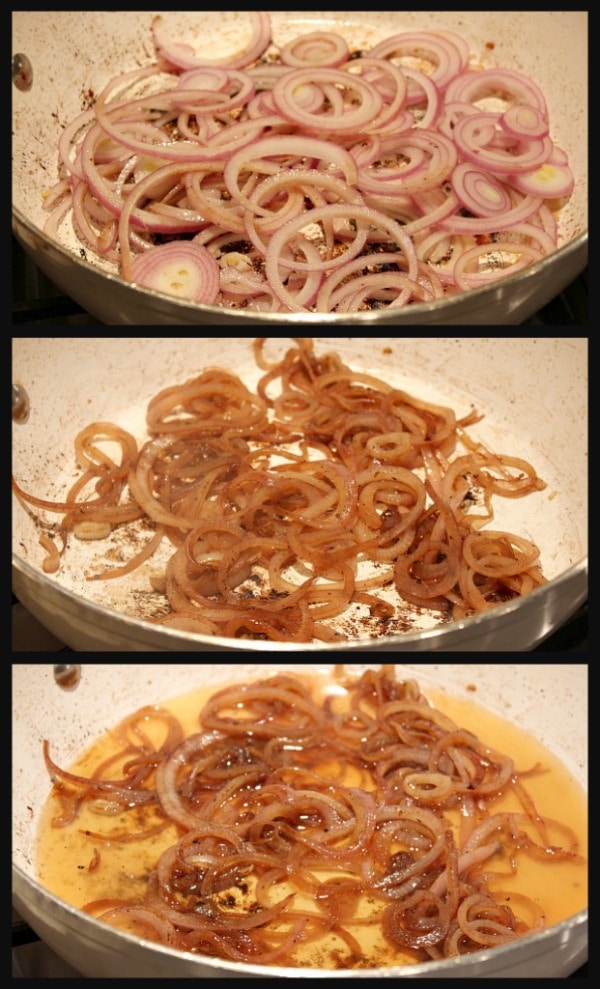 Now for the onions…I used a red onion. You can certainly use a white onion too. The onions are cooked until softened, then add the apple cider or juice and apple cider vinegar too.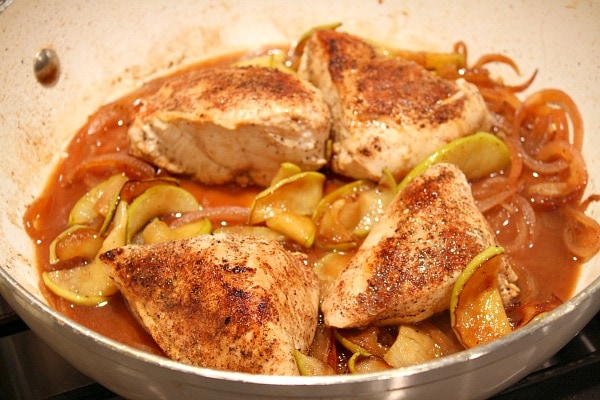 The chicken is added back in (and cooked a little longer until completely done, and finally the apples too!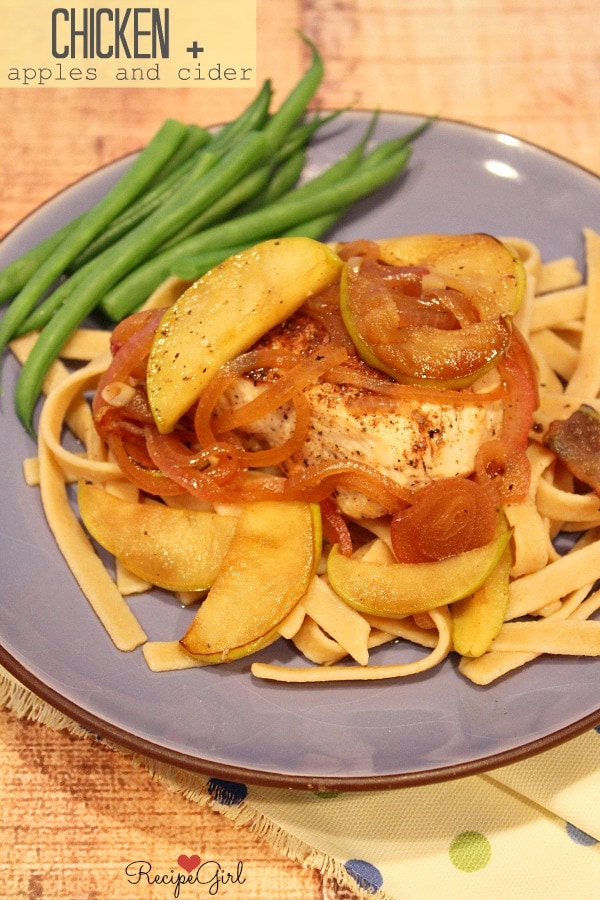 Serve over noodles with onions, apples and sauce drizzled over. It's a "lighter" meal to serve for dinner… but your family will have no idea that you've "healthified" dinner for sure. The cinnamon taste is definitely not overwhelming (that would be weird). It's just enough to pair nicely with the sauce and the apples. Enjoy!
Chicken with Apples and Cider
This is a favorite dinner recipe that's both healthy and delicious with surprising flavor combinations.
Recipe Details
Ingredients
2

tablespoons

canola or vegetable oil,

divided

1

medium

Granny Smith Apple,

cored and sliced

1

tablespoon

brown sugar

Four

4 ounce

chicken breasts

¼

teaspoon

ground cinnamon

¼

teaspoon

salt

¼

teaspoon

pepper

1

medium

red or yellow onion,

thinly sliced

½

cup

apple cider or apple juice

(no sugar added)

¼

cup

cider vinegar

2

cups

hot cooked whole wheat pasta

(or any pasta)
Instructions
First things first! Make sure your pasta is cooking while you prepare the rest of this meal. Then, in a large nonstick skillet over medium heat, heat 1 tablespoon of the oil. Sauté the apple until lightly browned, about 5 minutes. Sprinkle with brown sugar and cook and additional 3 to 5 minutes, just until tender. Remove apples from the pan to a bowl.

Place the chicken on a plate and sprinkle with cinnamon, salt and pepper (on one side is fine). Heat the remaining tablespoon of oil and cook the chicken 4 to 5 minutes on each side, just until browned. Remove the chicken from the pan and onto a plate.

Add the onion to the pan and cook (covered) over medium heat 6 to 8 minutes, or until very tender (stir once in a while). Add the cider and vinegar, then reduce heat and simmer 2 minutes. Return the chicken to the skillet and continue to simmer until the chicken is cooked through and the liquid is slightly reduced, 4 to 5 minutes (I like to cover the pan here so the chicken can cook more quickly).

Return the apples to the skillet and heat through. For each serving, place ½ cup noodles on a plate and top with one piece of chicken and ¼ cup sauce.
Nutrition
Serving:
1
serving
,
Calories:
359
kcal
,
Carbohydrates:
38
g
,
Protein:
29
g
,
Fat:
11
g
,
Saturated Fat:
1
g
,
Polyunsaturated Fat:
3
g
,
Monounsaturated Fat:
5
g
,
Trans Fat:
0.04
g
,
Cholesterol:
73
mg
,
Sodium:
284
mg
,
Potassium:
620
mg
,
Fiber:
2
g
,
Sugar:
12
g
,
Vitamin A:
60
IU
,
Vitamin C:
6
mg
,
Calcium:
35
mg
,
Iron:
2
mg
Here are a few more chicken recipes you might enjoy:
Disclosure: There are Amazon affiliate links within this post. Any mention of brands is organic- I tend to mention brands that I enjoy.