Perfect recipe for a fall dinner:  Roasted Pumpkin Sausage Risotto with Feta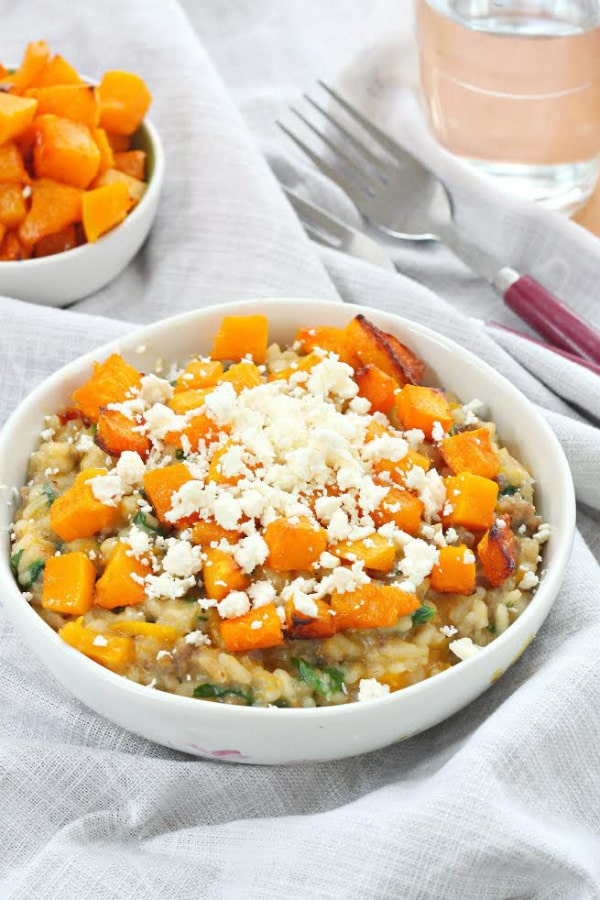 Roasted Pumpkin Sausage Risotto with Feta
Yield:
4 servings
Prep Time: 45 minutes
Cook Time: 45 minutes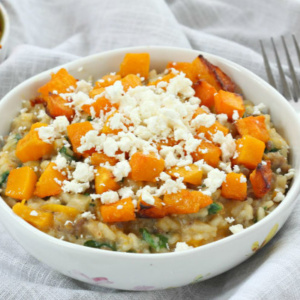 Ingredients:

3 1/4 cups peeled, cubed pumpkin
1 tablespoon extra-virgin olive oil
1/2 teaspoon chopped fresh garlic
1 medium onion, diced
1/2 pound ground Italian sausage
2 cups Arborio rice (risotto)
4 cups vegetable broth
1 cup baby spinach leaves
6-ounces feta cheese, crumbled
salt and pepper to taste

Instructions:

Preheat oven to 400 degrees F. Brush a baking dish with olive oil.
Place the pumpkin in a vegetable steamer over 1 inch of boiling water, and cover. Cook until tender but still slightly firm. Transfer the pumpkin to the prepared baking dish, and brush with oil. Season with salt and pepper. Bake until golden brown.
Meanwhile, heat the olive oil in a saucepan. Cook onion, garlic and sausage until onion is tender and sausage is cooked. Stir in the rice, and cook for 1 to 2 minutes. Slowly add the vegetable broth 1/2 cup at a time, stirring frequently and allowing all of the liquid to be absorbed before adding more broth. Continue cooking until the rice is tender to bite, and then season with salt and pepper to taste.
Mash 1/2 of the pumpkin and cut the other half into cubes. Stir the mashed pumpkin into the risotto along with the spinach. Ladle risotto into bowls, and top with pumpkin cubes and feta crumbles.

Nutrition:

If you are serving this recipe as GLUTEN-FREE, just be sure to use brands of risotto, vegetable broth and sausage that are known to be GF.
SOURCE: RecipeGirl.com