This Pumpkin Manicotti with Béchamel Sauce is such a delicious and comforting meal for the cooler months of fall.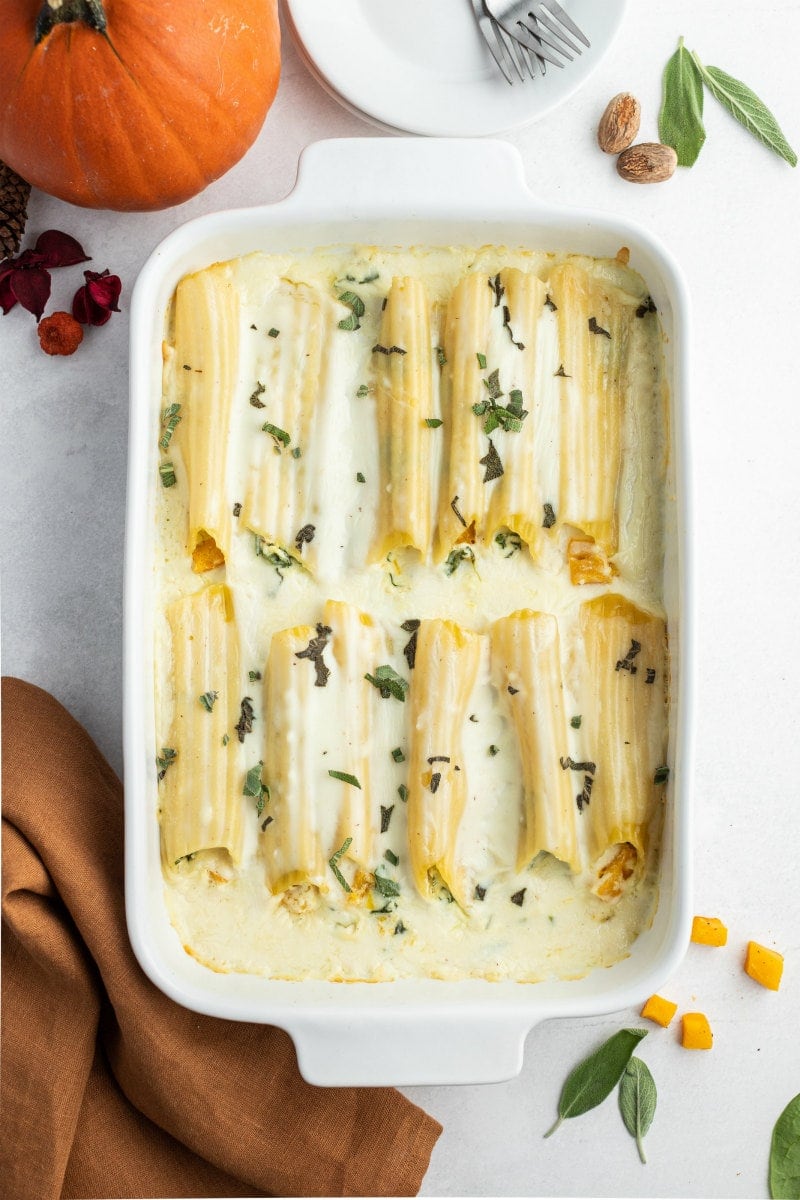 I had so much fun creating this recipe back in 2007, and it has been a quiet, fan-favorite ever since. One of my good friends says she makes it every single year around this time. The béchamel cream sauce is incredibly good with this pumpkin manicotti!
Wanting to create a great fall pasta dish, I decided to go with chopped pumpkin added to the filling of this cheese manicotti. Be sure to buy a pumpkin that is suitable for eating- a sugar pie pumpkin. They're a smaller variety that is used for making homemade pumpkin pie. You can substitute chopped butternut squash, if you prefer.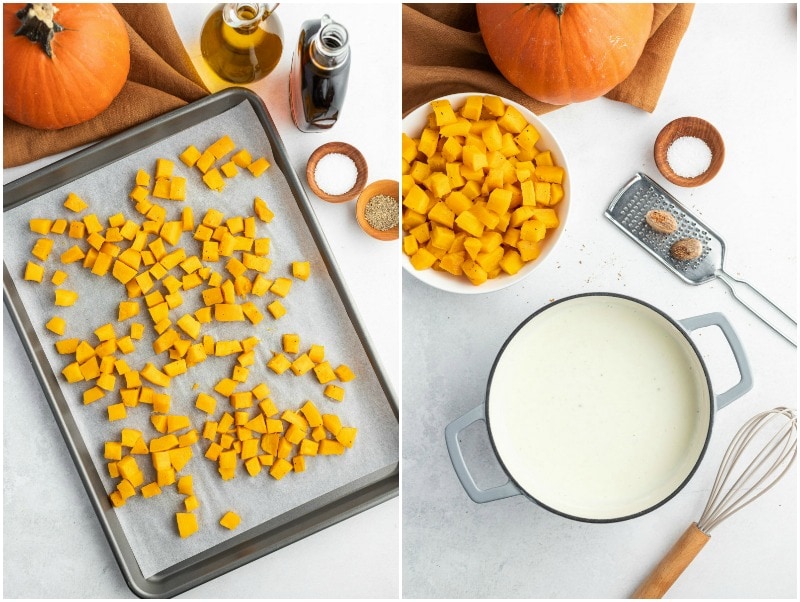 How to Make Pumpkin Manicotti:
I use fresh pumpkin (sugar pie pumpkin) in my Pumpkin Manicotti. I roast it up with a little bit of olive oil and maple syrup. A creamy, white béchamel sauce is the perfect choice to accompany the flavors of pumpkin and sage in the filling.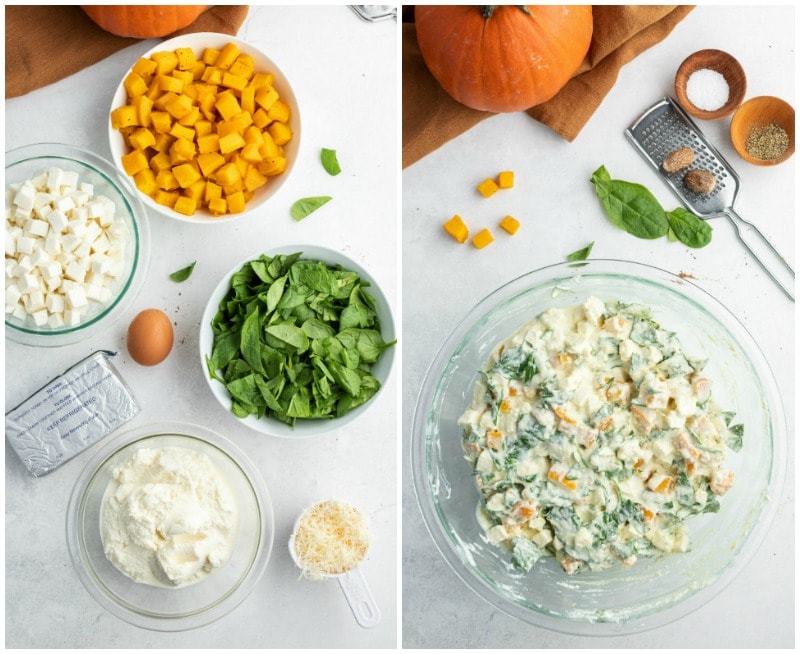 Then I mix it with some 'typical' manicotti filling ingredients… ricotta cheese, Parmesan cheese, cream cheese (not so typical), chopped spinach, etc. and add some chopped fresh sage in there too (instead of traditionally used basil).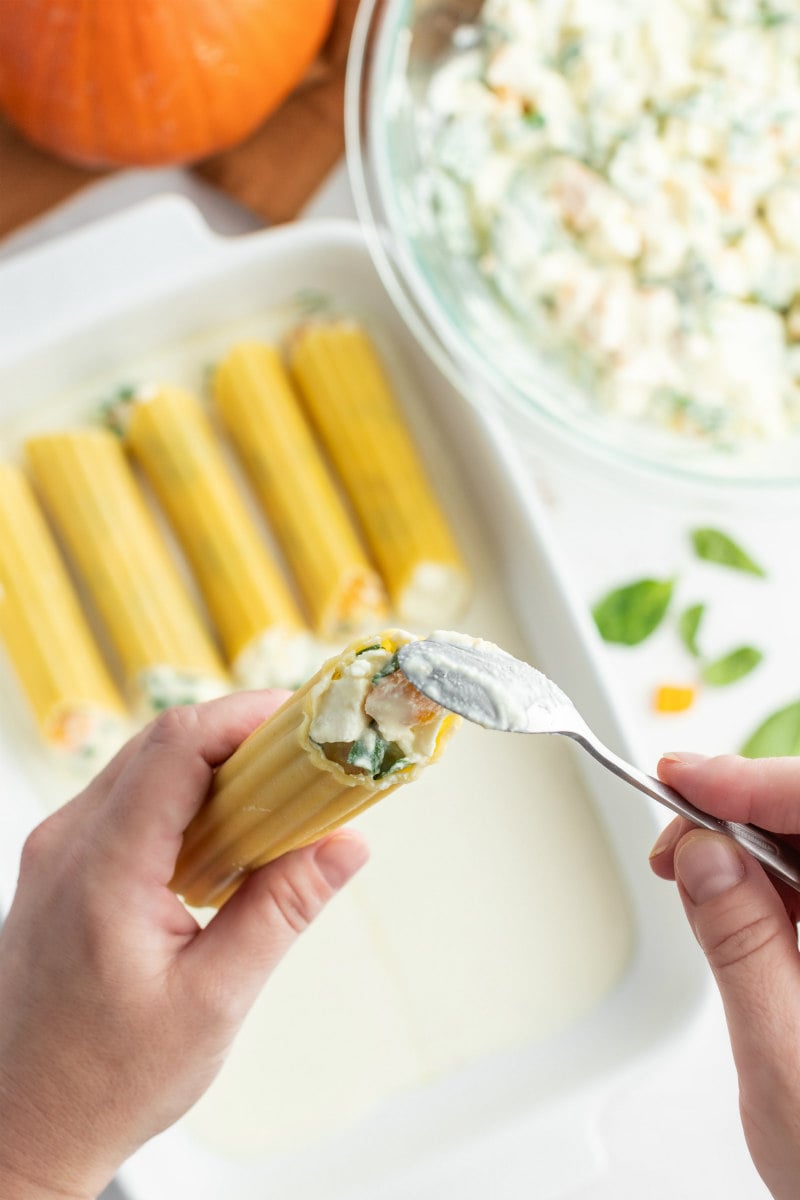 You'll start the assembly of the manicotti by making the béchamel sauce and putting a thin layer of it in your baking dish. Here I show you how you can use a small spoon to get the filling into each of the manicotti noodles. I have another method that I sometimes use for filling the noodles that I also use for my Spinach and Cheese Stuffed Manicotti recipe. I scoop the stuffing into quart-sized zip bags, snip the end and squeeze the filling into the noodles. It works really well, and you don't have to struggle with the mess of trying to spoon it in.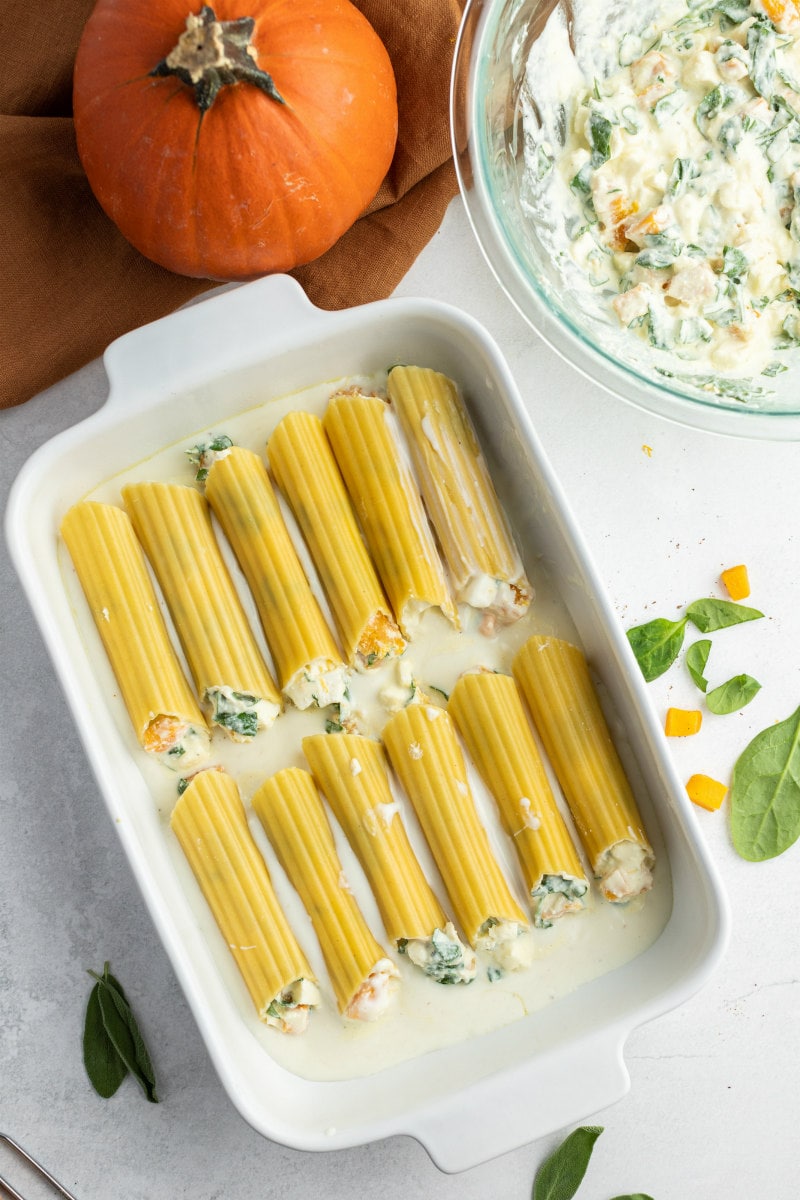 Snuggle the filled manicotti noodles side by side in the baking dish.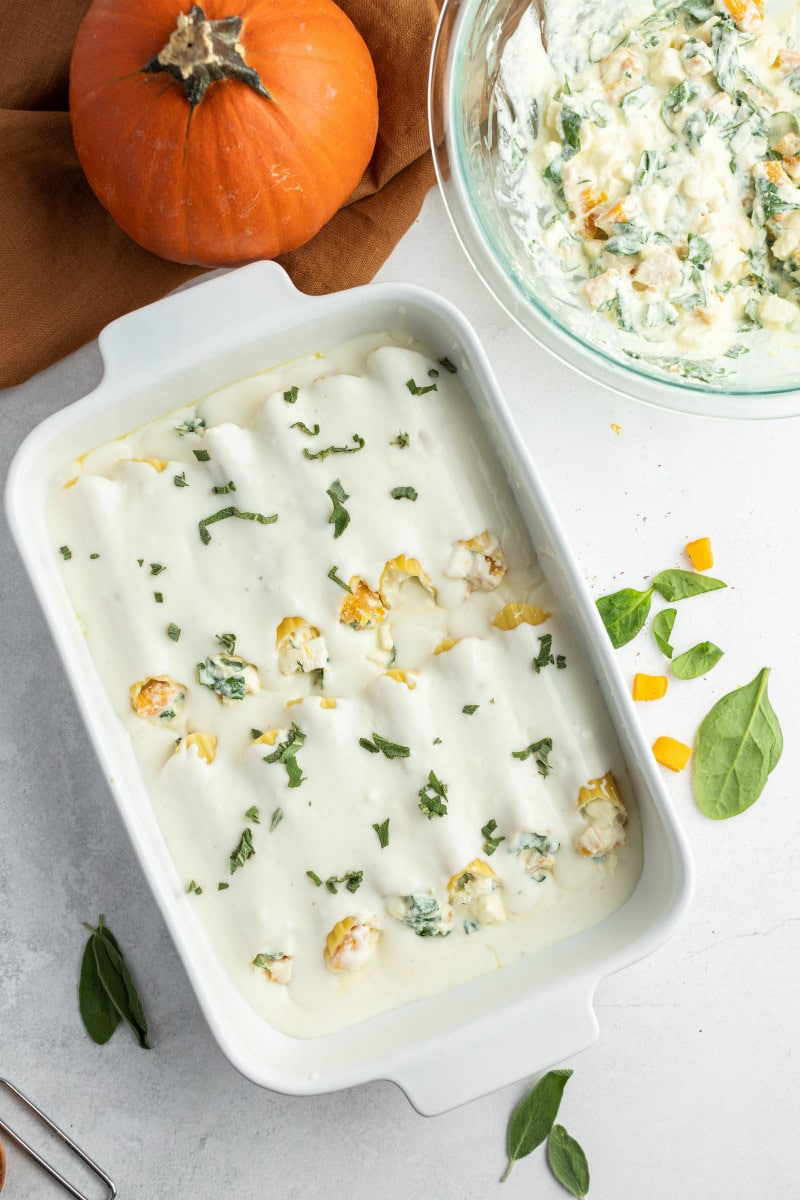 The rest of the béchamel sauce is spooned on top. There should be enough to cover all of the pumpkin manicotti. You'll add a little chopped fresh sage to finish it off. It's then covered and baked for an hour.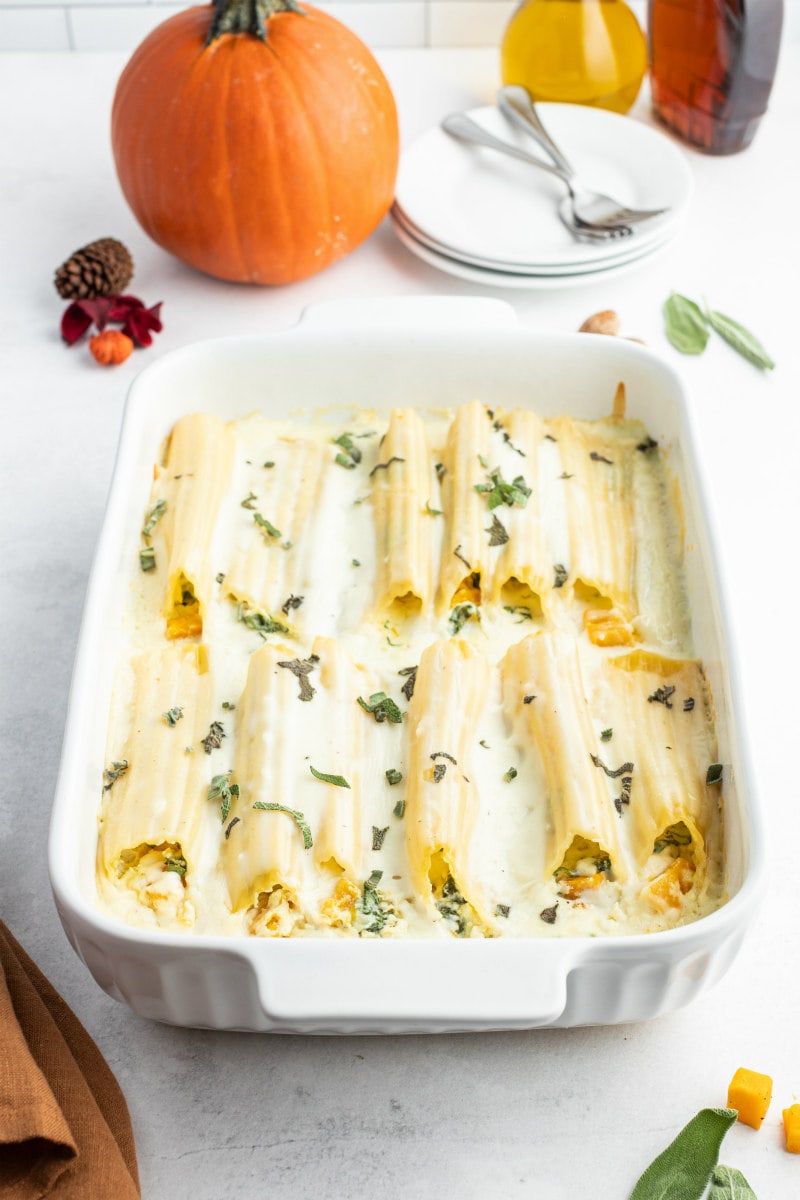 When it emerges from the oven, it will be hot and bubbly.
This manicotti turns out to be a really excellent fall dinner. The roasted pumpkin is perfectly textured and wonderful with the melted mozzarella cheese and sage, as well as the creamy, nutmeg-tainted sauce.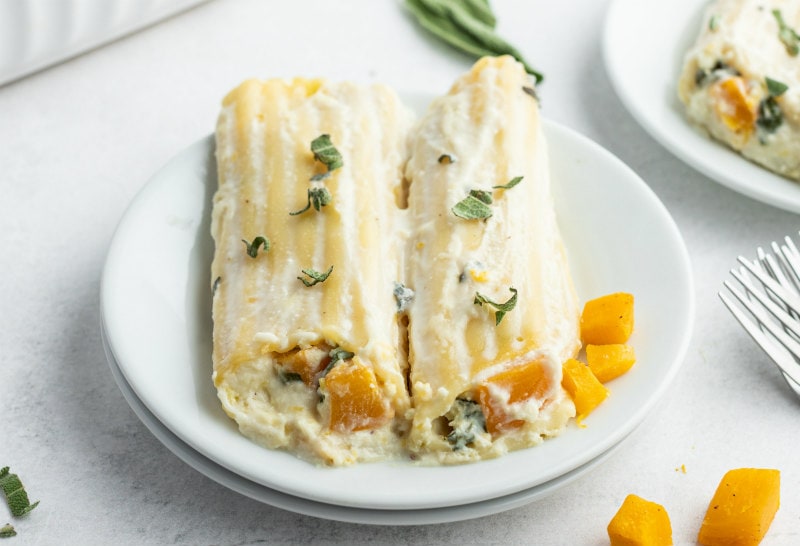 If you're looking for more fall pasta recipes, you might also enjoy my Creamy Pumpkin Pasta with Sweet Italian Sausage or these Butternut Squash Stuffed Shells. Fall Rotini Pasta Salad and Creamy Butternut Squash Alfredo Pasta are also really great pasta recipes to make during the fall months.
Pumpkin Manicotti with Bechamel Sauce
This Pumpkin Manicotti is a great fall comfort food dish. Pumpkin, sage and cheeses are stuffed into manicotti shells and topped with the most delicious creamy white sauce!
Recipe Details
Servings:
14
servings (2 manicotti per serving)
Ingredients
ROASTED PUMPKIN:
1

small

sugar pie pumpkin

(peeled, seeds scraped out & diced into 1/2-inch pieces)

2

tablespoons

extra virgin olive oil

1

tablespoon

maple syrup

salt and freshly ground black pepper
BECHAMEL SAUCE:
5

tablespoons

butter

4

tablespoons

all purpose flour

2

cups

whole milk

2

cups

2% low fat milk

2

teaspoons

salt

1/2

teaspoon

ground nutmeg

(freshly grated is best!)
FILLING:
2

cups

(packed) chopped fresh spinach

16

ounces

low fat ricotta cheese

16

ounces

ball mozzarella cheese,

chopped into 1/4-inch cubes

8

ounces

reduced-fat cream cheese

1/2

cup

shredded Parmesan cheese

1

large

egg

salt and freshly ground black pepper
NOODLES:
2

8-ounce boxes

manicotti noodles,

prepared to al dente, and set aside to cool
TOPPING:
1/2

cup

chopped fresh sage
Instructions
ROAST THE PUMPKIN:
Preheat oven to 400 degrees F. In a large bowl, toss the pumpkin (about 4 cups) with the olive oil and maple syrup. Spray a baking sheet with nonstick spray. Spread the coated pumpkin cubes onto the tray and sprinkle with salt and pepper. Roast for 10 minutes; toss and then roast for 10 more minutes (until slightly tender). Let cool.
PREPARE THE SAUCE:
In a medium saucepan, heat the butter over medium-low heat until melted. Add the flour and stir until smooth. Over medium heat, cook until the mixture turns a golden sandy color, about 6 to 7 minutes. Meanwhile, heat the milk in a separate pan until just about to boil. Add the hot milk to the butter mixture 1 cup at a time, whisking continuously until very smooth. Bring to a boil. Cook 10 minutes, stirring constantly, then remove from heat. Season with salt and nutmeg, and set aside until ready to use.
PREPARE THE FILLING:
In a large bowl, mix all of the filling ingredients together. Stir in the cooled, roasted pumpkin cubes.
ASSEMBLE THE MANICOTTI:
Spray a 13x9-inch pan with nonstick spray. Stuff the noodles with filling using small cocktail fork or spoon (or see *Recipe Notes below).

Spoon a layer of sauce on bottom of pan, then lay stuffed manicotti noodles side by side on top of sauce. Cover with remainder of sauce. Sprinkle with fresh sage.

Cover with foil and bake for 50 minutes. Remove foil and bake an additional 10 minutes.
Notes
*Another idea for filling the noodles… put filling ingredients in a couple of quart-sized bags. Snip the corner, rubber band the top of the bag and squeeze into the cooked noodles.
*All of the noodles might not fit into a 9x13-inch pan. You may need an additional 8x8-inch pan to make room.
Nutrition
Serving:
1
serving
,
Calories:
432
kcal
,
Carbohydrates:
37
g
,
Protein:
21
g
,
Fat:
22
g
,
Saturated Fat:
12
g
,
Cholesterol:
78
mg
,
Sodium:
784
mg
,
Potassium:
432
mg
,
Fiber:
2
g
,
Sugar:
8
g
,
Vitamin A:
3990
IU
,
Vitamin C:
5
mg
,
Calcium:
437
mg
,
Iron:
2
mg