Pumpkin Manicotti with Bechamel Sauce
This recipe has been featured in a How-To post on The Recipe Girl blog: Pumpkin and Spinach Manicotti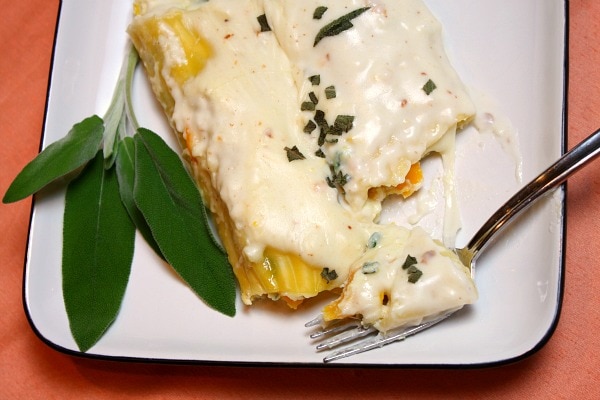 Yield: 6 to 8 servings
Prep Time: 50 min
Cook Time: 1 hr, 45 min
Pumpkin Manicotti w/ Bechamel Sauce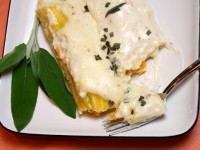 Ingredients:
2 boxes manicotti noodles, prepared to al dente & set aside to cool
ROASTED PUMPKIN:
1 sugar (pie) pumpkin, peeled, seeds scraped out & diced into 1/2-inch pieces
2 Tablespoons extra-virgin olive oil
1 Tablespoon maple syrup
salt and pepper
FILLING:
8 ounces reduced-fat cream cheese
1 pound low fat ricotta cheese
1/2 cup shredded Parmesan cheese
1/4 cup finely chopped fresh sage
2 cups (packed) chopped fresh spinach
2 Tablespoons breadcrumbs
1 pound ball of mozzarella cheese, chopped into 1/4-inch cubes
1 large egg
Salt and pepper
BECHAMEL SAUCE:
5 Tablespoons butter
4 Tablespoons all-purpose flour
2 cups whole milk
2 cups low fat milk
2 teaspoons salt
1/2 teaspoon freshly grated nutmeg
TOP:
1/2 cup chopped fresh sage
Directions:
1. Roast the pumpkin: Preheat oven to 400 degrees F. Toss pumpkin with olive oil and salt & pepper. Spray baking sheet with nonstick spray. Spread coated pumpkin cubes onto tray and sprinkle with salt and pepper. Roast for 10 minutes; toss and then roast for 10 more minutes (until slightly tender). Let cool.
2. While pumpkin is roasting, prepare sauce: In a medium saucepan, heat butter over medium-low heat until melted. Add flour and stir until smooth. Over medium heat, cook until the mixture turns a golden sandy color, about 6 to 7 minutes. Meanwhile, heat milk in a separate pan until just about to boil. Add the hot milk to the butter mixture 1 cup at a time, whisking continuously until very smooth. Bring to a boil. Cook 10 minutes, stirring constantly, then remove from heat. Season with salt and nutmeg, and set aside until ready to use.
3. In a large bowl, mix all filling ingredients together. Stir in cooled, roasted pumpkin cubes.
4. Spray a 13x9-inch pan with nonstick spray. Stuff noodles with filling using small cocktail fork or spoon (or see *Tips below).
5. Spoon a layer of sauce on bottom of pan, then lay stuffed manicotti noodles side by side on top of sauce. Cover with remainder of sauce. Sprinkle with fresh sage.
6. Cover with foil and bake for 50 minutes. Remove foil and bake an additional 10 minutes.
Tips:
*Another idea for filling the noodles… put filling ingredients in a couple of quart-sized bags. Snip the corner, rubber band the top of the bag and squeeze into the cooked noodles.
*All of the noodles might not fit into a 9x13-inch pan. You may need an additional 8x8-inch pan to make room.
Comments