Chicken Cordon Bleu Lasagna is my new favorite lasagna recipe. It's a unique take on the classic lasagna recipe. There is no red sauce in sight. It's a white sauce lasagna with all of the flavors of chicken cordon bleu.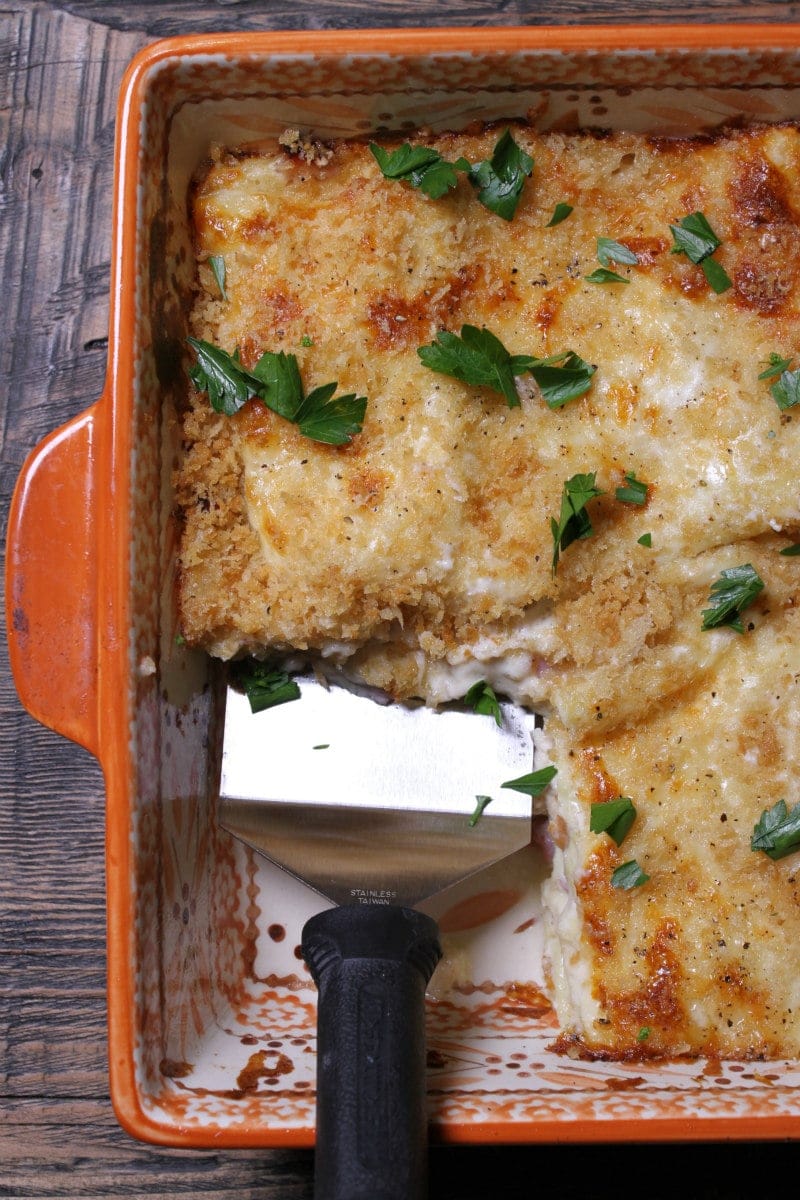 My family loved this unique take on lasagna – chicken, ham and various cheeses, along with a white sauce. It's a fantastic dinner recipe!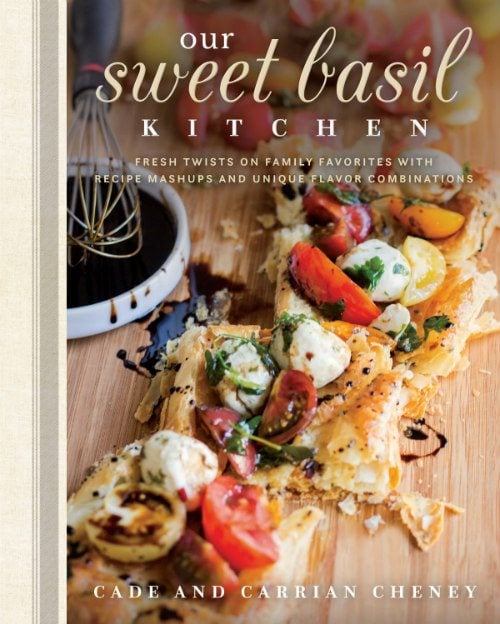 This recipe comes from a new cookbook: Our Sweet Basil Kitchen by Cade and Carrian Cheney. I've followed their blog for many years, and they really know how to do great recipes! I'm excited for their first book.
Their book is full of family-friendly recipes. Here are a few recipes that I've bookmarked to make: Blackberry Crisp Baked Oatmeal, Peach Cobbler Baked French Toast, Strawberry- Almond Granola, Pe Pasta Salad, Mango Chicken Salad, Creamed Corn, Sweet Potato Rolls, Easy Sausage Alfredo, Coconut Chicken Curry, Smoky Sloppy Joes, Grilled Avocado Tacos, Dulce de Leche Banana Cream Pie, Deep Fried Peaches and Key Lime Bars.
My son made a recipe from the book and shared it on his RecipeBoy blog: Perfect Waffles. They truly are perfect!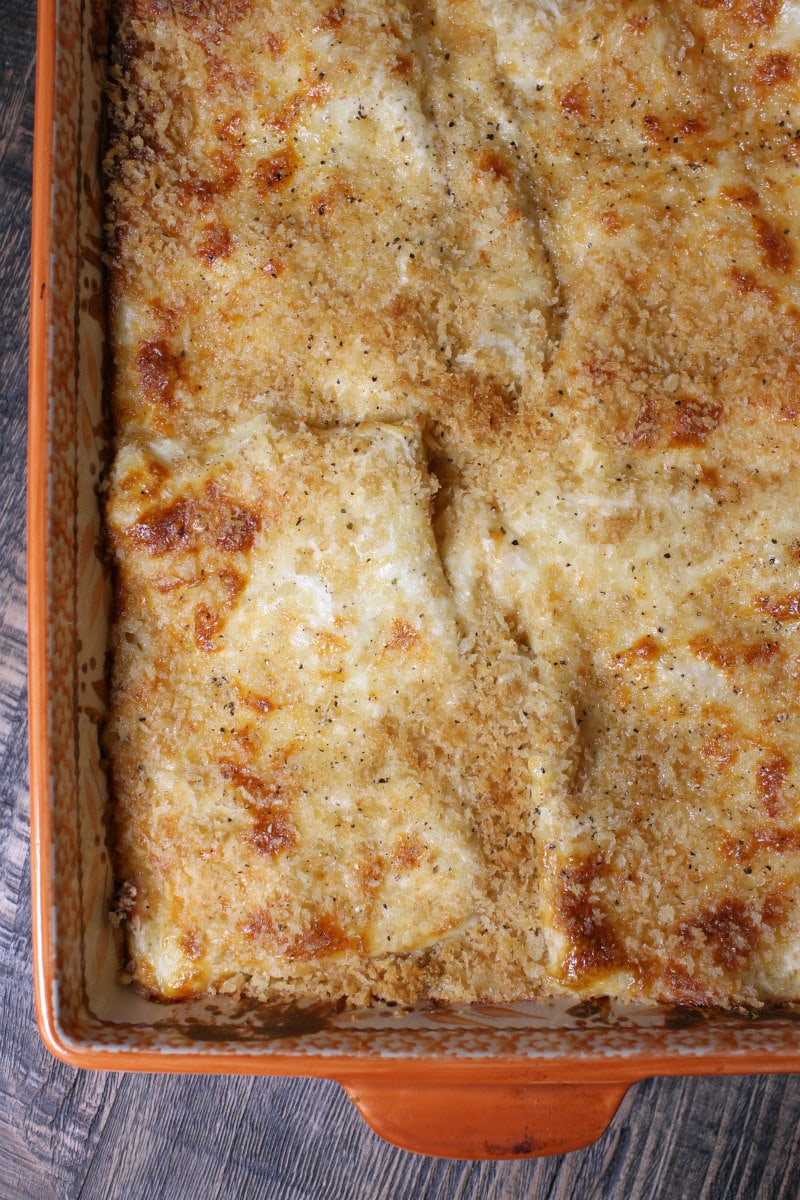 Chicken Cordon Bleu Lasagna
This baked lasagna turns out a crispy cheese layer on top, with a creamy, cheesy interior. It's not your typical lasagna recipe for sure.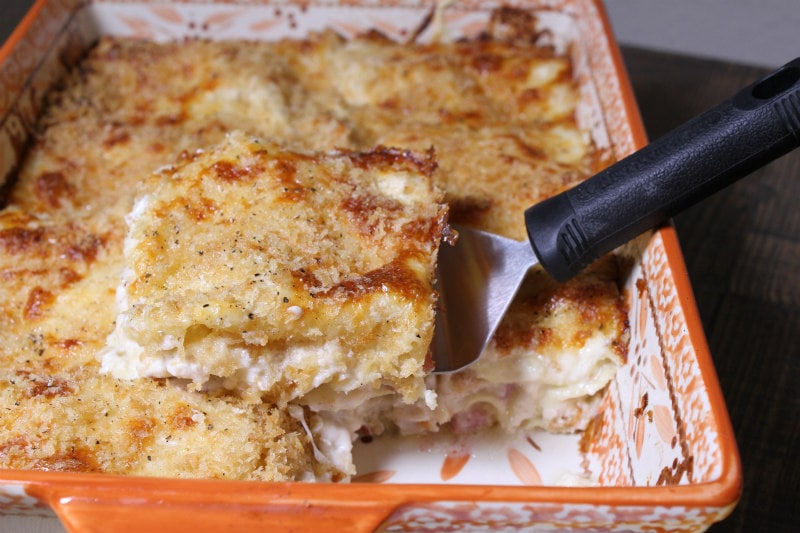 I love that you can cut slices that aren't mushy and falling apart. Neat slices make neat plating.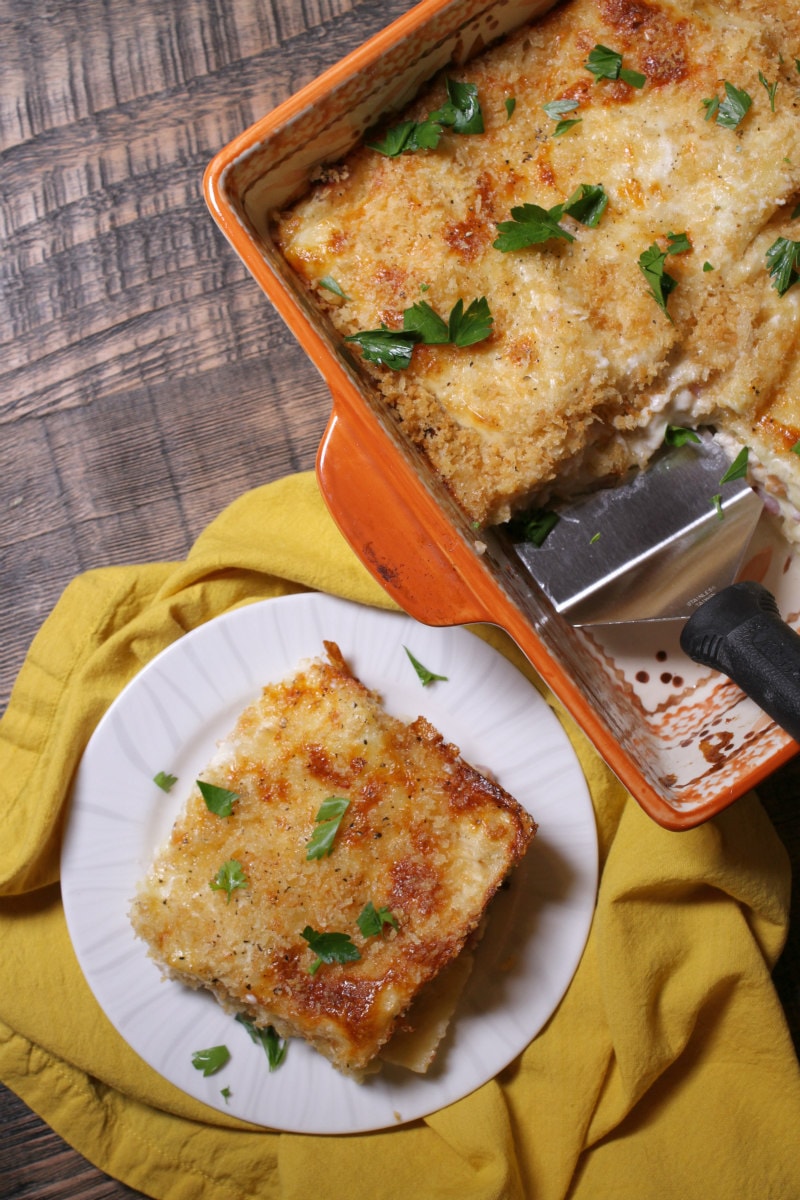 It's definitely a decadent recipe. Plan to eat one indulgent piece, and make a big salad to go with it!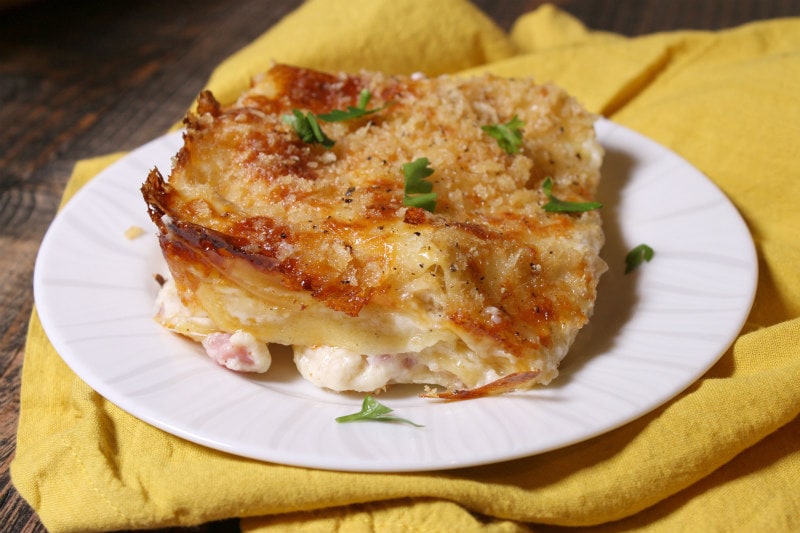 This might be your family's new favorite dinner recipe. It's hearty with all of that added chicken and ham, and there isn't anything weird in it that the kids might complain about. Enjoy!
Here are a few more lasagna recipes you might enjoy:
Chicken Cordon Bleu Lasagna
Totally unique and delicious lasagna recipe!
Recipe Details
Ingredients
7

tablespoons

unsalted butter,

divided

1

tablespoon

minced garlic

1/4

cup

all purpose flour

2 1/2

cups

milk

1

cup

heavy cream

1

bay leaf

1/2

teaspoon

salt

1/2

teaspoon

ground nutmeg

1/4

teaspoon

black pepper

2 1/3

cups

shredded Swiss cheese,

divided

3/4

cup

grated Pecorino Romano cheese,

divided

2/3

cup

panko breadcrumbs

1

9-ounce box

oven-ready lasagna noodles

(12 noodles)

3

cups

cooked, chopped chicken

2

cups

cooked, chopped ham

1 1/2

cups

shredded mozzarella cheese

chopped fresh Italian parsley,

for garnish
Instructions
Preheat the oven to 400 degrees F. Spray a 9x13-inch pan with nonstick spray.

Melt 5 tablespoons butter in a large pot over medium heat. Add the garlic and cook, stirring occasionally, for 1 minute. Whisk in the flour and cook 1 to 2 minutes until nutty and fragrant but not brown. Whisk in the cream and milk. Add the salt, bay leaf, and nutmeg and simmer 10 minutes.

Stir in 1/2 cup of the Romano cheese and 1/3 cup of the Swiss cheese, and cook an additional 5 minutes. Remove from the heat.

Melt the remaining 2 tablespoons of butter in a nonstick skillet over medium heat. Once melted, add the bread crumbs and stir occasionally until lightly golden, 1 to 2 minutes. Set aside.

To assemble the lasagna: Spoon 1/3 cup of the sauce over the bottom of the prepared baking dish. Use 4 lasagna noodles to cover the bottom of the dish. Spoon 2/3 cup sauce on top of the noodles, followed by half of the chicken and ham, 1/2 cup Swiss cheese and a sprinkle of the Romano. Repeat with another set of 4 noodles, 2/3 cup sauce, the rest of the chicken and ham, 1/2 cup Swiss and another sprinkle of Romano. Finish by layering 4 more noodles, the rest of the sauce and the remaining cheese, this time including the mozzarella.

Cover the pan with a sheet of foil that has been sprayed with nonstick spray, and bake 20 minutes. Remove the foil, top with buttered bread crumbs, and bake an additional 20 minutes, until the cheese is gooey and noodles are soft. Let rest 10 minutes before serving.
Nutrition
Serving:
1
serving
,
Calories:
555
kcal
,
Carbohydrates:
19
g
,
Protein:
36
g
,
Fat:
36
g
,
Saturated Fat:
20
g
,
Cholesterol:
152
mg
,
Sodium:
789
mg
,
Potassium:
358
mg
,
Sugar:
4
g
,
Vitamin A:
1080
IU
,
Vitamin C:
0.4
mg
,
Calcium:
475
mg
,
Iron:
1.5
mg