This Lazy Low Fat Lasagna recipe is one for those who are trying to eat light.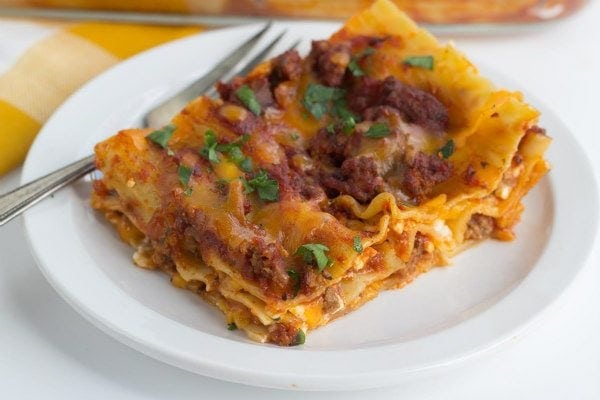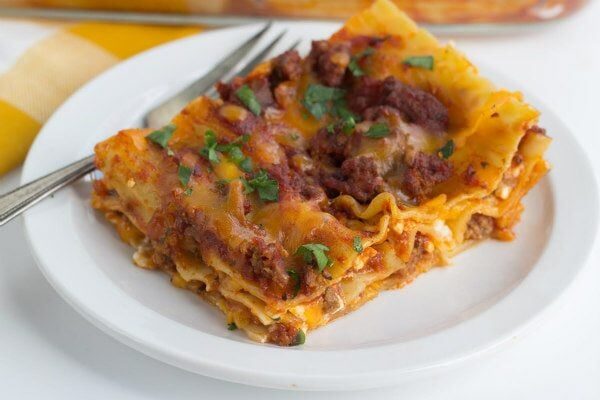 You'll notice that it's a rather flat-looking lasagna.  That doesn't mean it's awful, I promise.  It's just a thinner, more simple, "lazy" version of classic lasagna.
It's missing the classic ingredient of ricotta, using fat free cottage cheese in its place.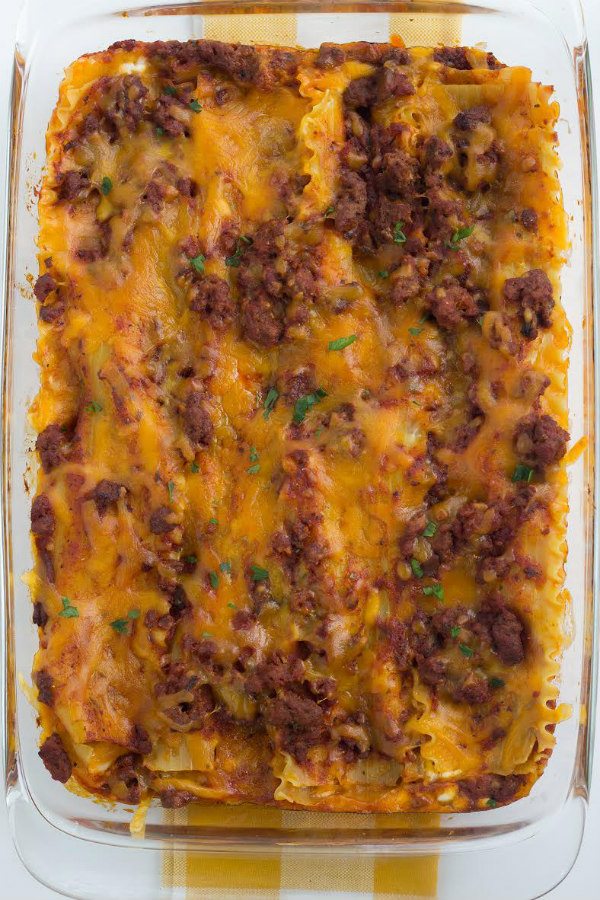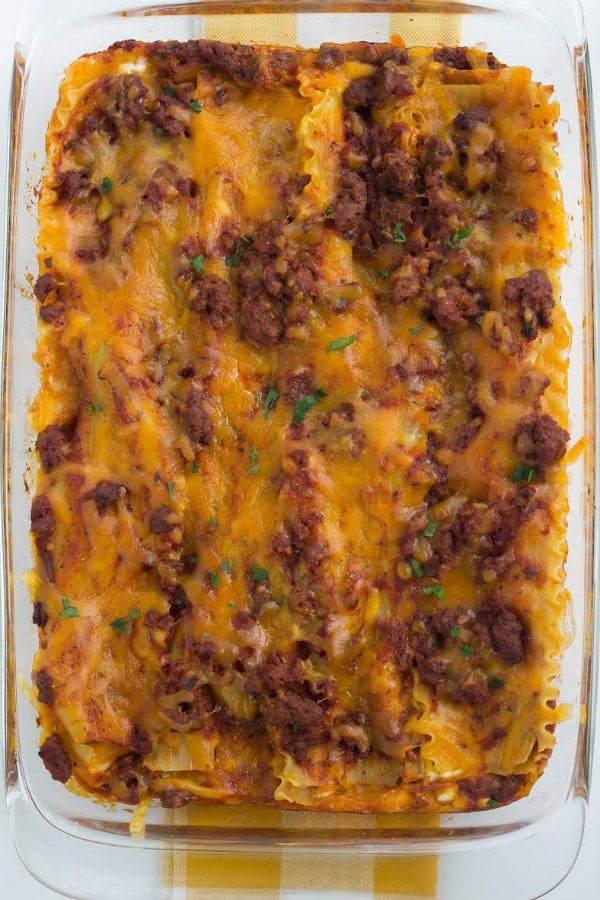 The kids at our family dinners love this simple low-fat lasagna. The distinctive flavor of the cheddar cheese attracts the adults as well. You can use skim mozzarella in place of the cheddar if you're desiring a more classic lasagna flavor.
Lazy Low Fat Lasagna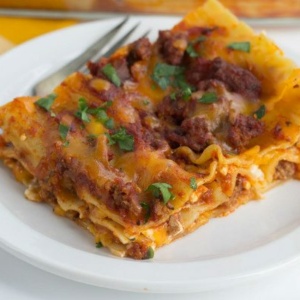 Yield:
9 servings
Prep Time:25 minutes
Cook Time:45 minutes
Ingredients:
1 pound 95% lean ground beef (or 99% fat free ground turkey)
26 ounce jar fat-free marinara sauce
16 ounce carton fat-free cottage cheese
2 tablespoons grated Parmesan cheese
8 ounce package no-boil lasagna noodles
1 cup (4 ounces) pre-shredded reduced-fat mild cheddar cheese (or skim mozzarella), divided
chopped fresh parsley, optional
Directions:
Preheat oven to 350°F.
Cook ground beef or turkey in a large nonstick skillet over medium-high heat until browned, stirring to crumble. Drain well, and return meat to skillet. Add sauce; bring to a boil. Reduce heat, and simmer 5 minutes. Combine cottage cheese and Parmesan cheese in a bowl.
Spread 1/2-cup meat mixture in bottom of a 13x9-inch baking dish coated with cooking spray. Arrange 4 noodles over meat mixture; top with half of cottage cheese mixture, 1 cup meat mixture and 1/3 cup cheddar cheese. Repeat layers, ending with noodles. Spread remaining meat mixture over noodles. Cover and bake for 30 to 35 minutes until noodles are tender. Uncover; sprinkle with 1/3 cup cheddar or mozzarella cheese, and bake 5 additional minutes or until cheese melts.
Let stand for 10 minutes before cutting into 9 servings. Garnish with parsley, if desired.
Nutrition:
Nutrition Facts (Amount Per Serving- 1/9th of the lasagna- using beef) Calories 246, Total Fat 6g, Saturated Fat 2g, Cholesterol 38mg, Sodium 528mg, Potassium 529mg, Carbohydrates 20g, Dietary Fiber 0.63g, Sugar 8g, Net Carbohydrates 19g, Protein 26g
Weight Watchers Freestyle SmartPoints per serving (using turkey): 6
Weight Watchers Freestyle SmartPoints per serving (using beef): 7
SOURCE:  RecipeGirl.com (adapted slightly from Cooking Light)
Here are a few more lasagna recipes you might enjoy: