I tend to be a bit of a pumpkin fanatic, so you might begin to see some pumpkin-flavored things on the blog in the month of November. Not exclusively pumpkin, of course, but you'll note some hints of some pumpkin deliciousness here and there. I admit succumbing to "pumpkin puree panic" this fall.  Last year, you see, there was a known shortage of pumpkin puree… and so this year I picked up a case of pumpkin puree early in September (just to be sure I'd have enough this year).  I've already plowed through that case of pumpkin puree, mostly making loaves upon loaves of my all-time favorite Pumpkin Bread recipe for the neighborhood.  But that's ok… it appears that pumpkin puree is plentiful for the fall of 2010.  Phew.
Here's a fall dinner that is both family friendly and delicious:  Creamy Pumpkin Pasta (I add in sweet Italian sausage, too).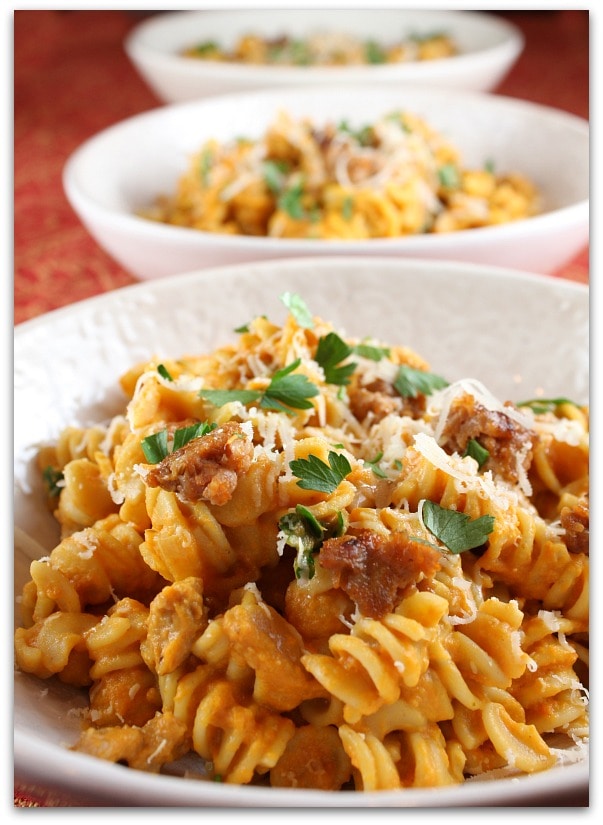 I'm crazy about this recipe because the sauce is wonderfully creamy, but it's not too heavy either. Yes, you can lighten this up and use light sour cream. I venture to say that you can even try using fat free half & half in place of heavy whipping cream too.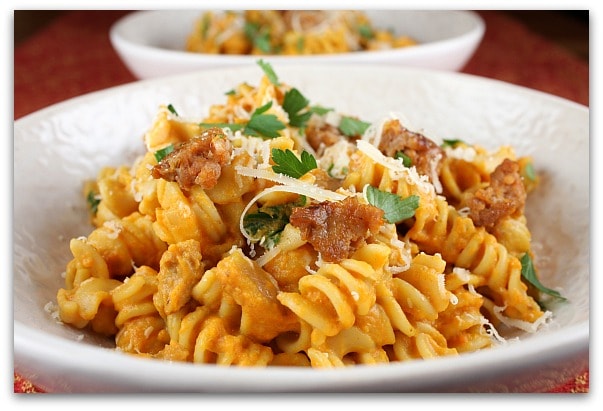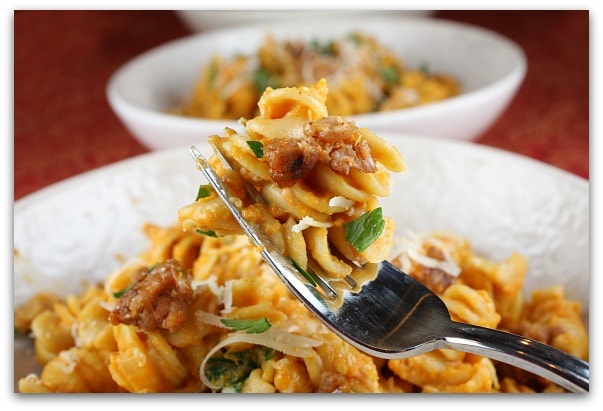 The best part about this recipe is that my family loved it… even the quick-to-critique-RecipeGirl's-cooking little 9 year old loved this pasta. The pumpkin flavor doesn't come through largely, which is a good thing since the last thing you probably want to eat is a mouthful of unsweetened pumpkin with your pasta. But rather it comes though as a velvety textured sauce instead. A good dose of freshly grated Romano cheese tops off this pasta dish and gives it that flavor bang that pairs nicely with the sauce.
This recipe can be found here: Creamy Pumpkin Pasta
Come back (often) this month to see what other kinds of pumpkin-themed recipes I've got up my sleeve. It won't all be pumpkin though… I like cranberries, too 🙂