Welcome guests around your dinner table with this Harvest Dinner Party Menu, with delicious recipes celebrating the season of bounty!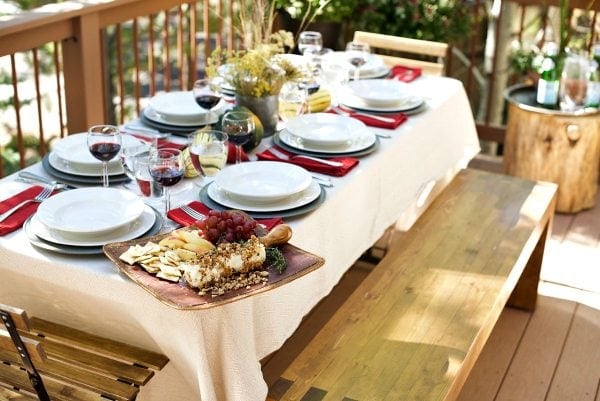 Fall is my favorite time of the year to entertain, and setting the table with harvest squash, pears, and beautiful colors, plus a Harvest Dinner Party Menu makes celebrating the season of bounty even better!
It's the perfect time of year to invite a small group of friends for an intimate dinner!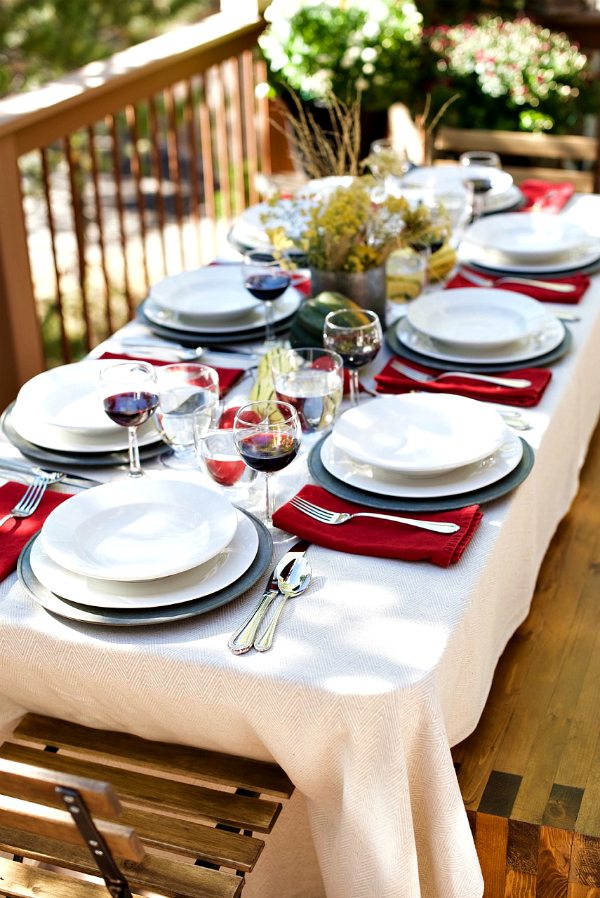 Set a harvest-inspired table with natural elements.
Create a harvest menu, with majestic squash, pumpkins, apples, pears, and other bounty from your local Farmer's Market!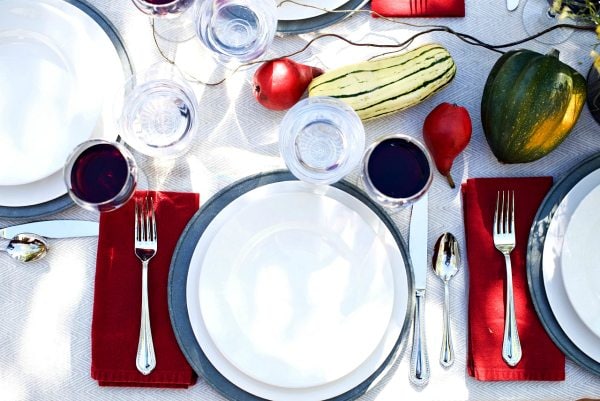 Setting the table is your chance to let your creativity shine through.
I wanted my dinner to be special, but also relaxed and casual, so it features beautiful seasonal produce in its natural state, allowing the true beauty of squash and beautiful red pears to "shine."
Linen tablecloth: If you don't have one, you can use a piece of burlap or brown craft paper, or create a runner out of a drapery panel folded in half.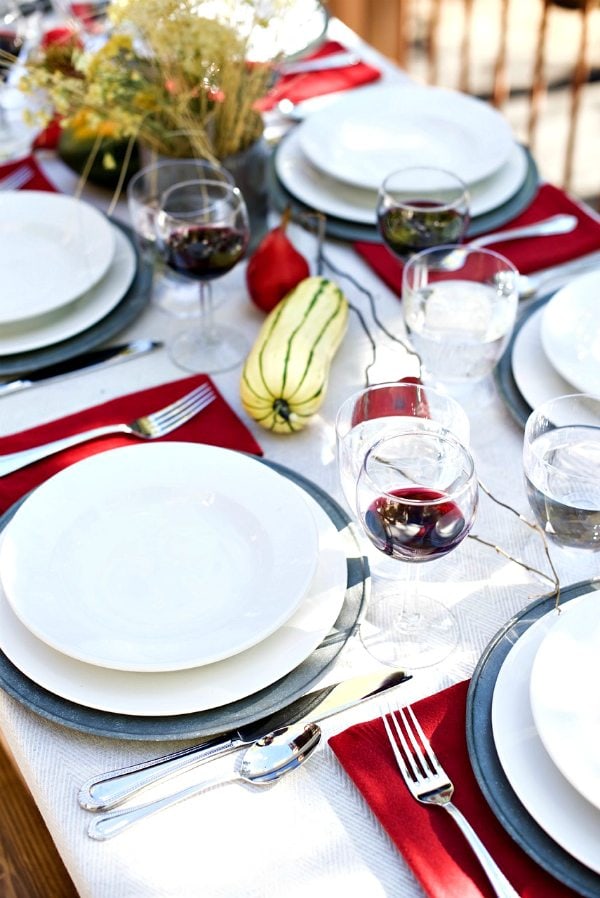 Set out 2 or 3 medium gourds or squash and red pears.
Use a variety of sizes, shapes and colors (sticking to your coordinated palette), and lay them evenly down the center of the table in groups of 3 or 4.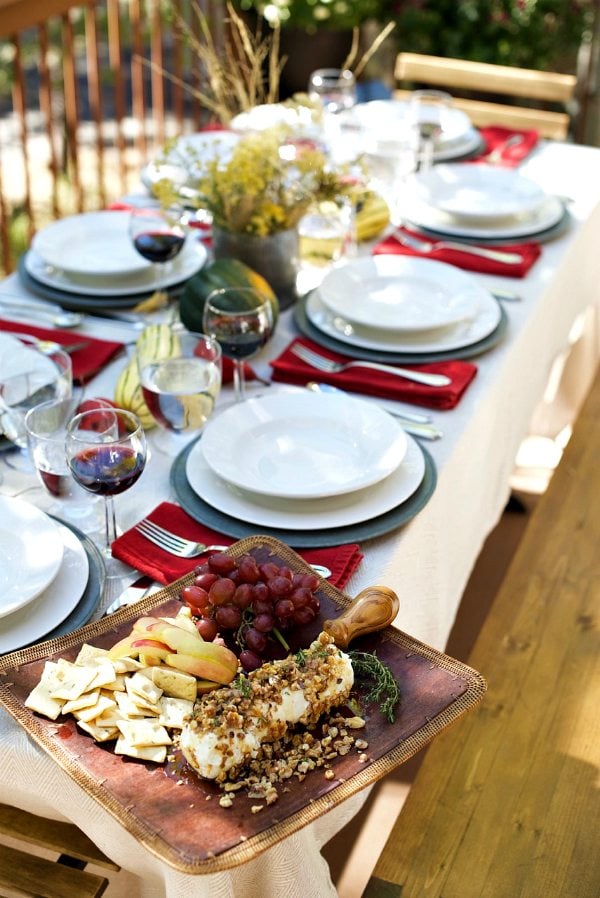 White pantry plates: I like to use solid white plates when I am employing a variety of colors on the table. The white helps to ground the table, and adds some much-needed simplicity to the bountiful centerpiece.
Red cloth napkins: Let the centerpiece be the focus of the table, but have the linen napkins give a pop of color, that ties in well with the red pears.
Harvest Dinner Party Menu
Not only should your table reflect the bounty of the season, but your menu should, too. When you're at the farmers' market selecting your centerpiece squash and pears, look around for more produce to enhance this seasonal menu!
The menu I've compiled below is a balance of fresh and flavorful seasonal recipes!
Appetizer: Walnut-Crusted Goat Cheese (with grapes)
Soup: Creamy Butternut Squash Soup
Salad: Spinach Quinoa with Apple Salad
Bread: Soft Yeast Rolls
Main Course: Crock Pot Roast Beef Dinner
Dessert: Pumpkin Cheesecake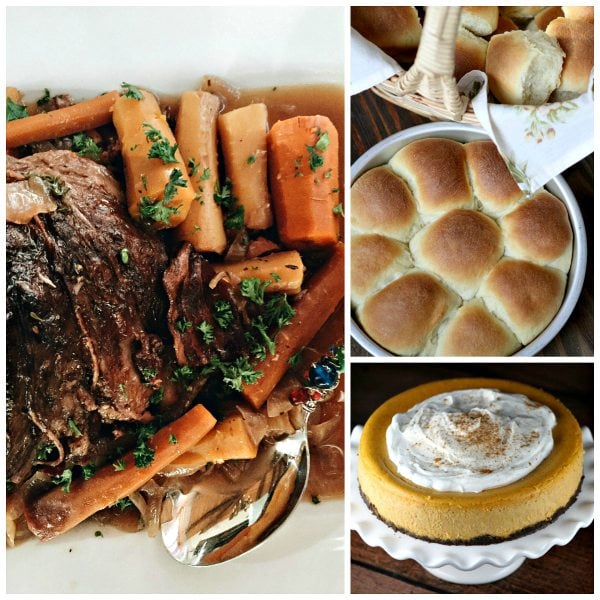 With a heart full of thanksgiving, you'll be able to host a harvest dinner party with ease … and have a great time, too!