Here are some simple tips for How to Make a Charcuterie Board.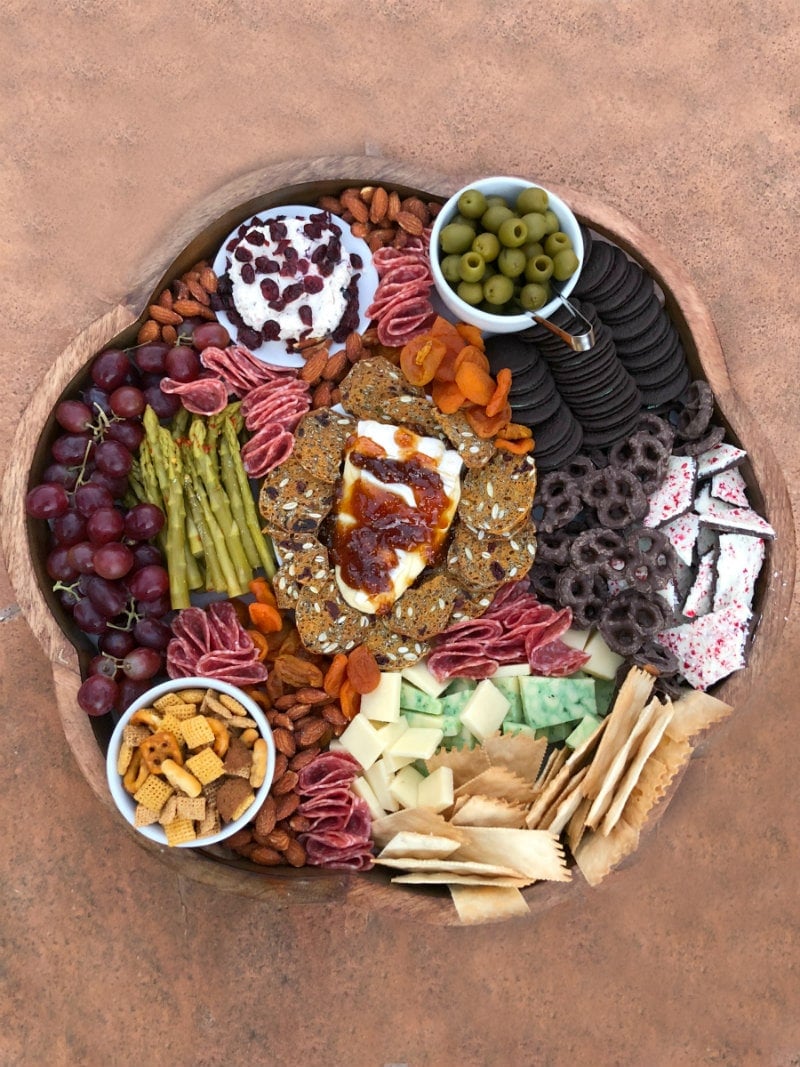 Charcuterie Boards are all the rage these days!  Have looked on Instagram?  Everyone seems to be doing them.  I've learned everything I know about How to Make a Charcuterie Board from my good friend Sandy of ReluctantEntertainer.com.  Sandy's website is all about easy recipes, hospitality, charcuterie, and bringing people together.  It's my go-to website for easy entertaining ideas.  Her post on How to Make an Epic Charcuterie Board is a great inspiration for all things charcuterie!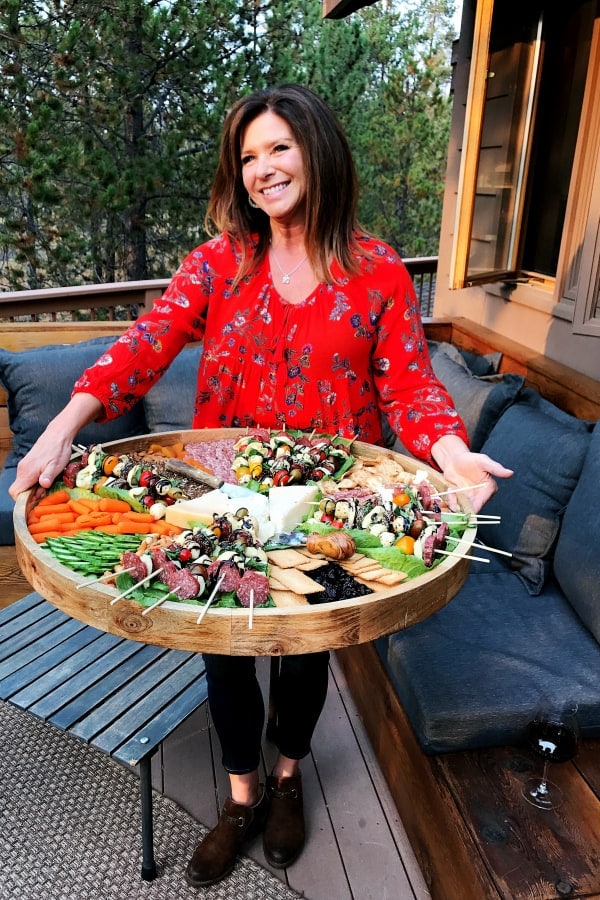 Sandy lives in Oregon and has a beautiful home surrounded by trees.  She has created a great space for entertaining, and she welcomes people into her home quite often.  Charcuterie boards created by Sandy have been circulating the internet for a few years now, and her Instagram is full of them.  In the photo above, she is holding a Charcuterie Board that features her Tortellini Sausage Skewers Appetizer.  Isn't it absolutely the best Charcuterie Board you've ever seen?? So pretty!
Sandy continues to come up with creative ideas for charcuterie boards– a few of my favorites: Meat Cheese and Olive Charcuterie Board, Scrambled Egg Brunch Charcuterie Board, Pumpkin Spice Chex Party Mix Board, How to Make a Giant Chocolate Cheese Board, Holiday Kid Friendly Charcuterie Board and Cozy Minimalist Charcuterie Board.  Bright and pretty, full of delicious goodies, and perfect for parties, she is the charcuterie board expert!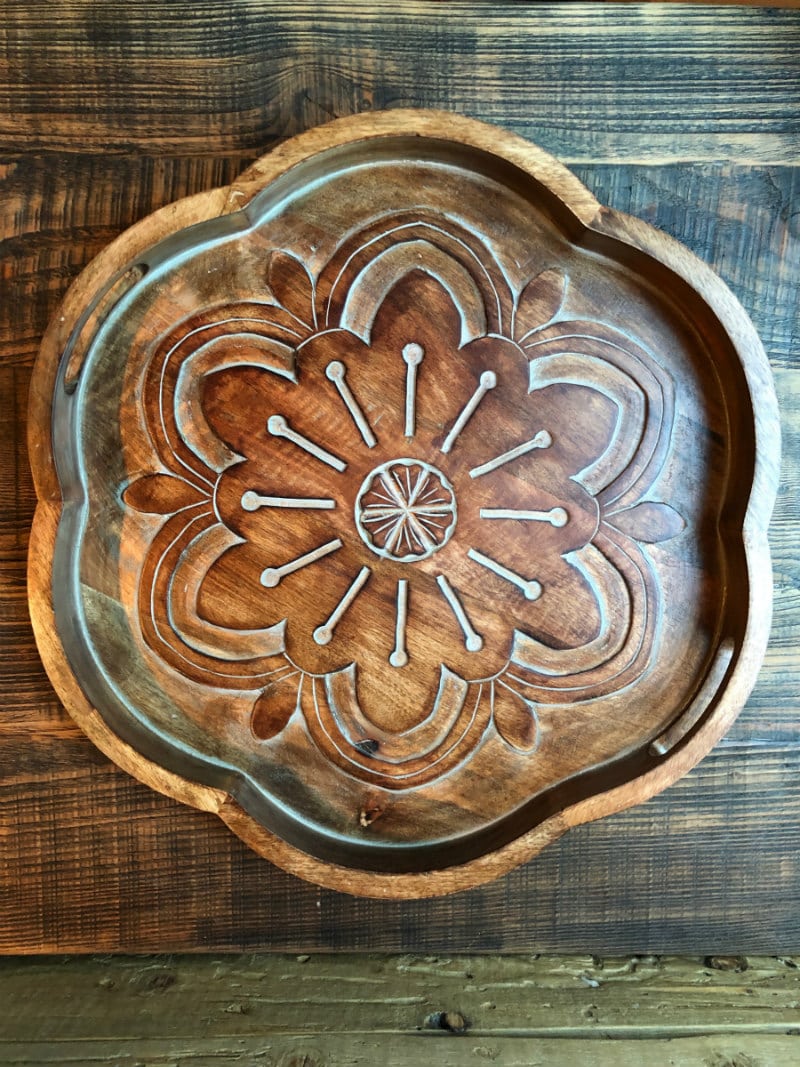 Where can you buy a charcuterie board?
The best thing about charcuterie is that you can be creative with how you display it and what you display it on.  I bought my board at Pier One.  Their stock is constantly changing, so it's likely they don't carry this particular one anymore.  But you can certainly find things that are similar, or shop HomeGoods, World Market, Crate and Barrel or any kind of store that has a nice entertaining selection.
These boards can be quite expensive, but don't feel like you have to go all out and get something so pricy.  You can use a platter or a cutting board too.  You'll be covering the whole area with food, so don't fret too much about what you choose for the base.  I love mine because it's pretty enough to have on display in my kitchen when I'm not using it.  Many wooden board are not "food safe," so if you're not sure, protect it with some parchment paper before you display your food on it.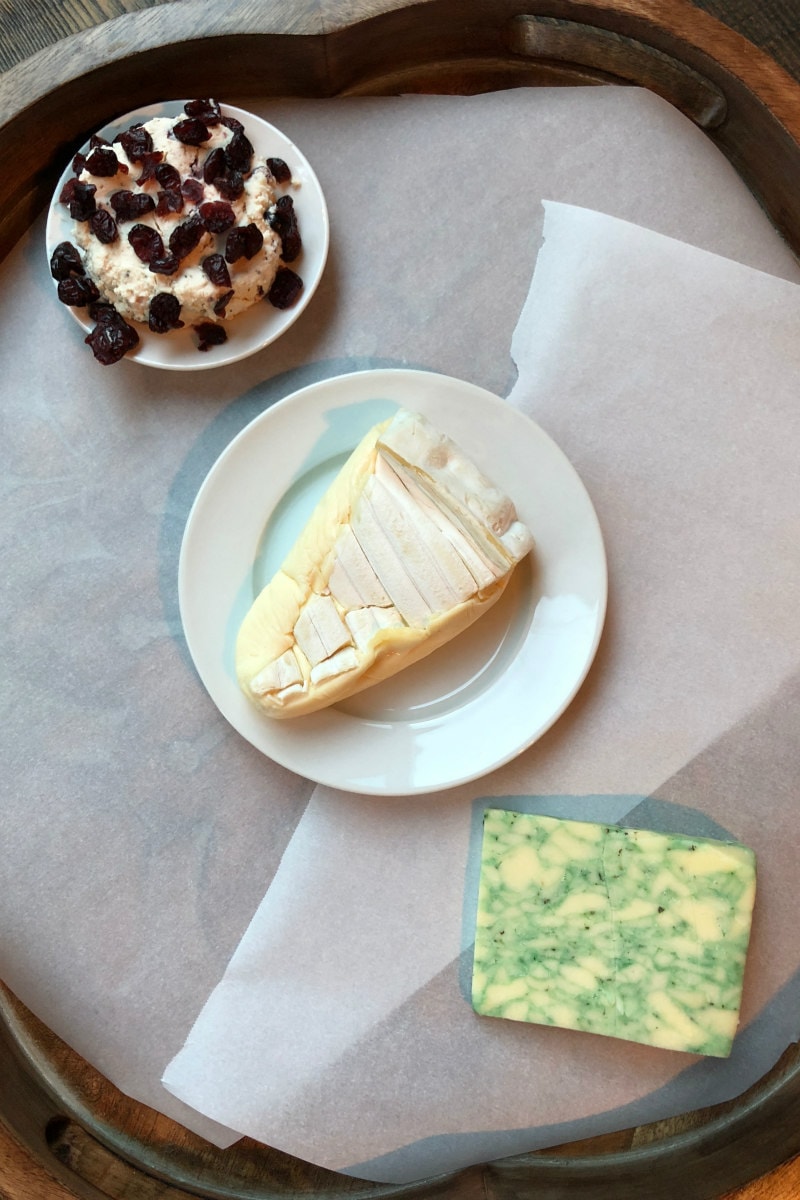 How to make a Charcuterie Board?
Sandy (ReluctantEntertainer.com) taught me that you should start in the middle with some kind of focal point.  A round of cheese is a nice choice.  For this board, I chose a round plate with a good wedge of soft brie.  I wasn't going to heat the brie, but I knew it would be soft and spreadable when it came to room temperature.  A couple more cheeses added to the board- a soft cranberry and a sage-derby- made it perfect.
If you have a pretty good crowd to serve, you might consider using a 6-inch round brie.  Cut the top off, spread some jam and nuts inside, put the top back on, and just heat it up in the microwave to get everything softened.  So delicious!
I like to include a few bowls of different things on my board.  Everyone likes Chex Mix, and olives are a good choice too.  If you have small spoons and tiny tongs, it's nice to include those on your board so you don't have so many people reaching for the food on the board and perhaps leaving germs behind.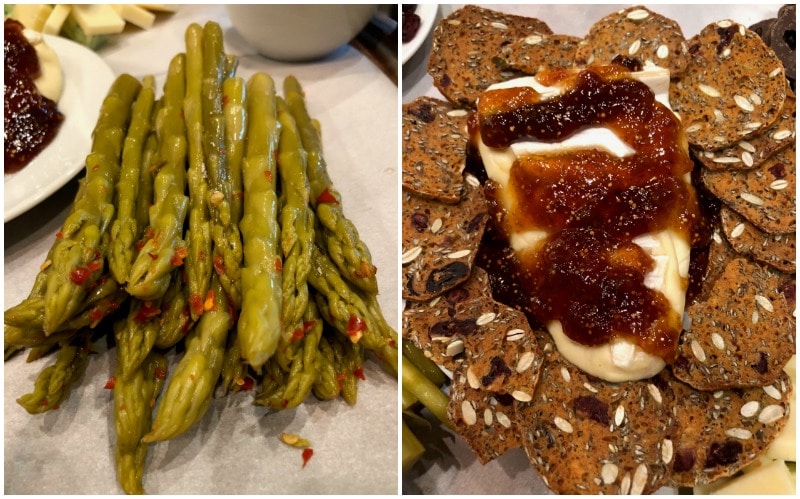 Marinated asparagus (pickles are nice too!) are always a favorite.  And finally, I drizzled some warm fig jam on my brie and added some interesting, grainy crackers to surround it.  My Baked Brie with Blueberry Sauce would be really delicious to put in the middle of a Charcuterie Board.
It's not always typical to include sweets on your charcuterie board, but I always like to include a little corner with a dessert option.  Anything small that's grab-and-go is perfect.  Chocolate is always a favorite.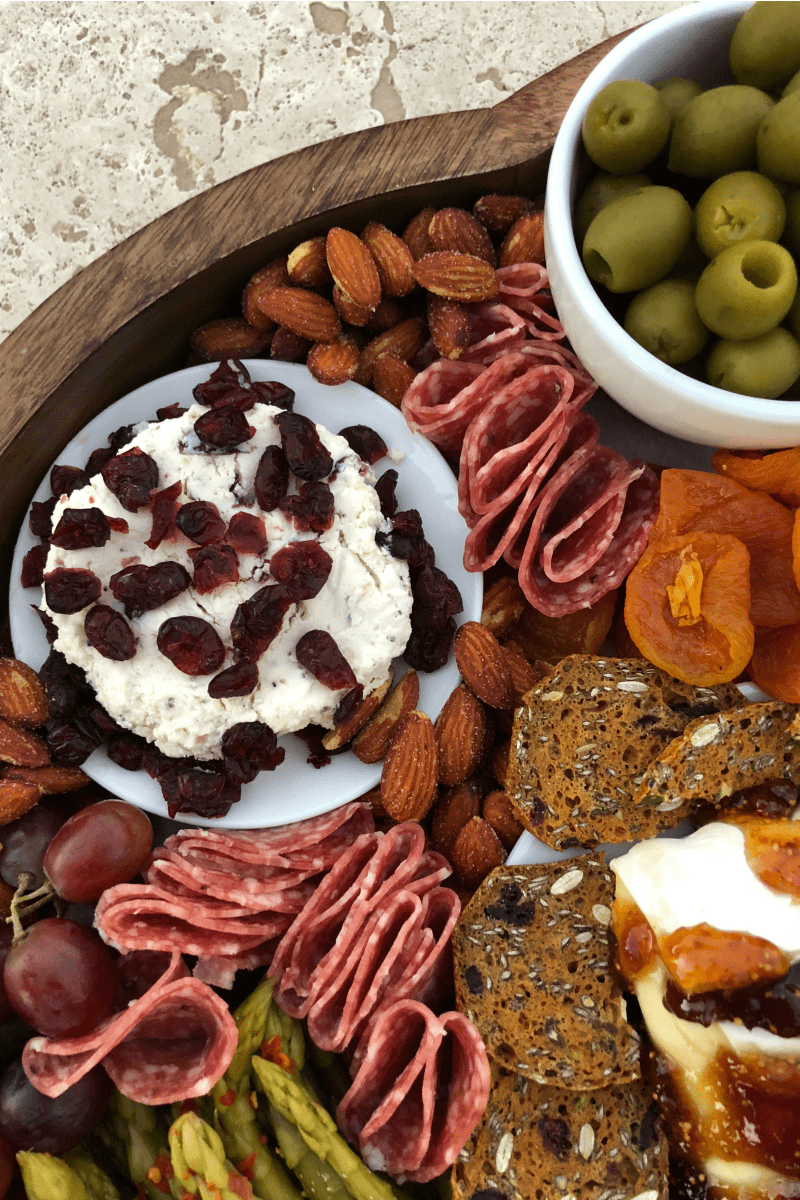 Once you have all of the main goodies you want to use on your board, then you can work on filling in the empty space.  My favorite things to fill up the holes on a charcuterie board are salami flowers, grapes, nuts, and dried fruits.
For the salami flowers, fold a piece of salami in half twice.  Keep holding it while you do three more.  All of those stacked, you can place in an empty spot on your board and the salami "flowers" will open up a bit and fill in the space!  It's nice to have salami in different spots all over your board so it's easy for people to grab.
Cut little bunches of grapes in threes and fours, and place those all over the board too.  Nuts and dried fruits can be sprinkled in the rest of the open spots.  Then you're all filled in and ready to serve your charcuterie board!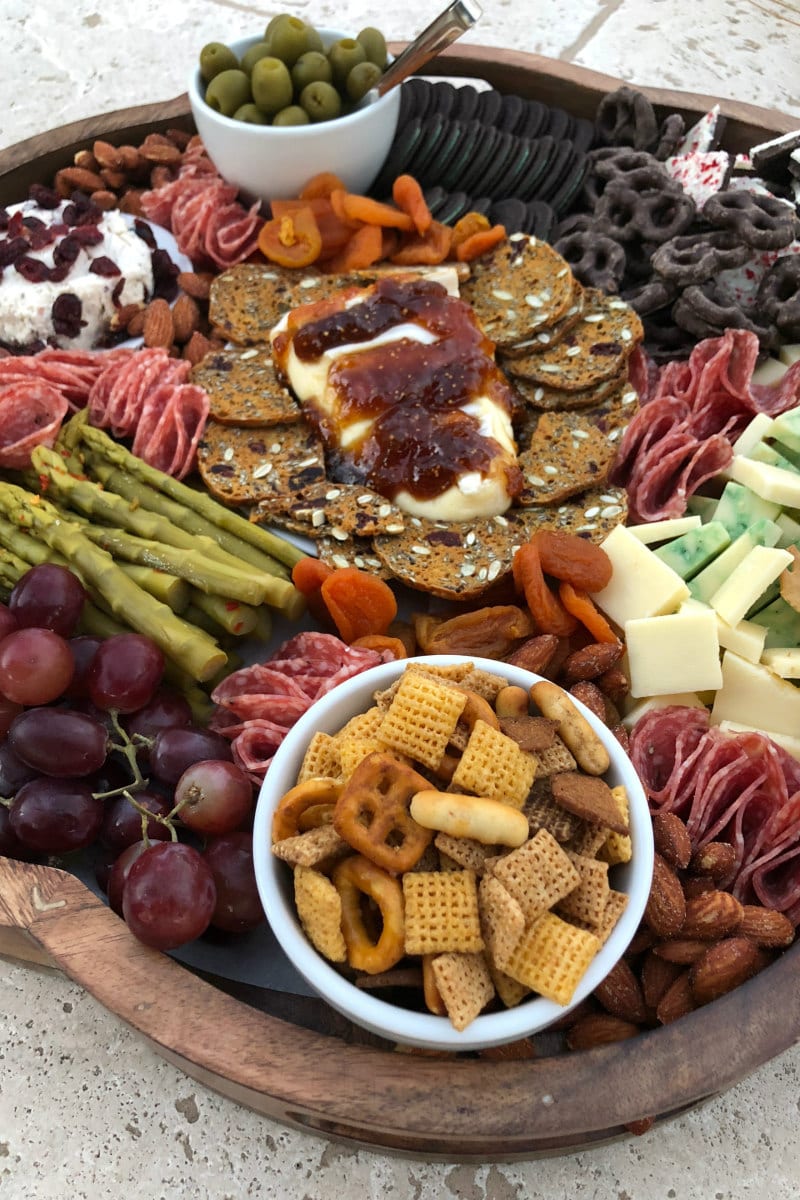 What other things can you add to a Charcuterie Board?
Can you make a Charcuterie Board ahead of time?
Yes!  For this board, I made it two hours ahead of the party, and I placed a little piece of plastic wrap over the cheeses.  Everything else on the board was perfectly fine sitting at room temperature until the party began.  You could also leave a couple of spots open for the cheese and then plan to add them to the board right before your party.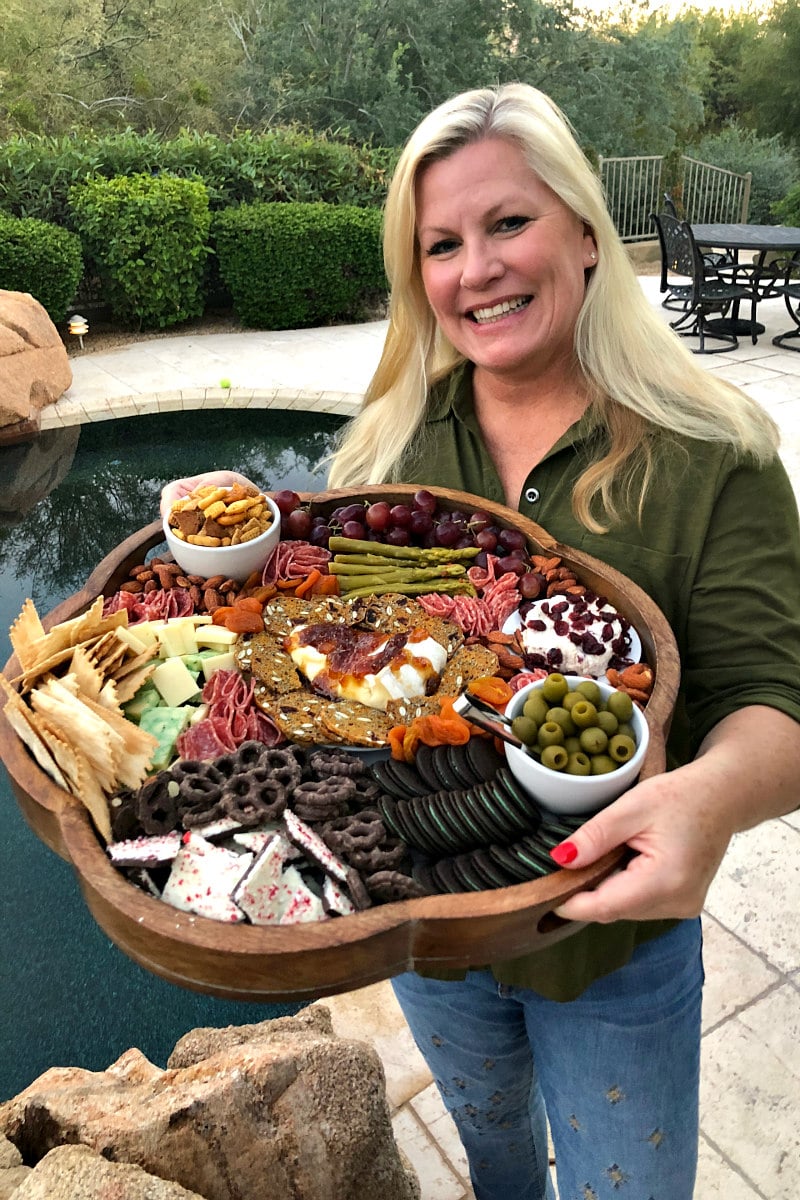 Since my friend Sandy famously displays her charcuterie boards on her outside deck, I thought I'd do the same.  These things are heavy!!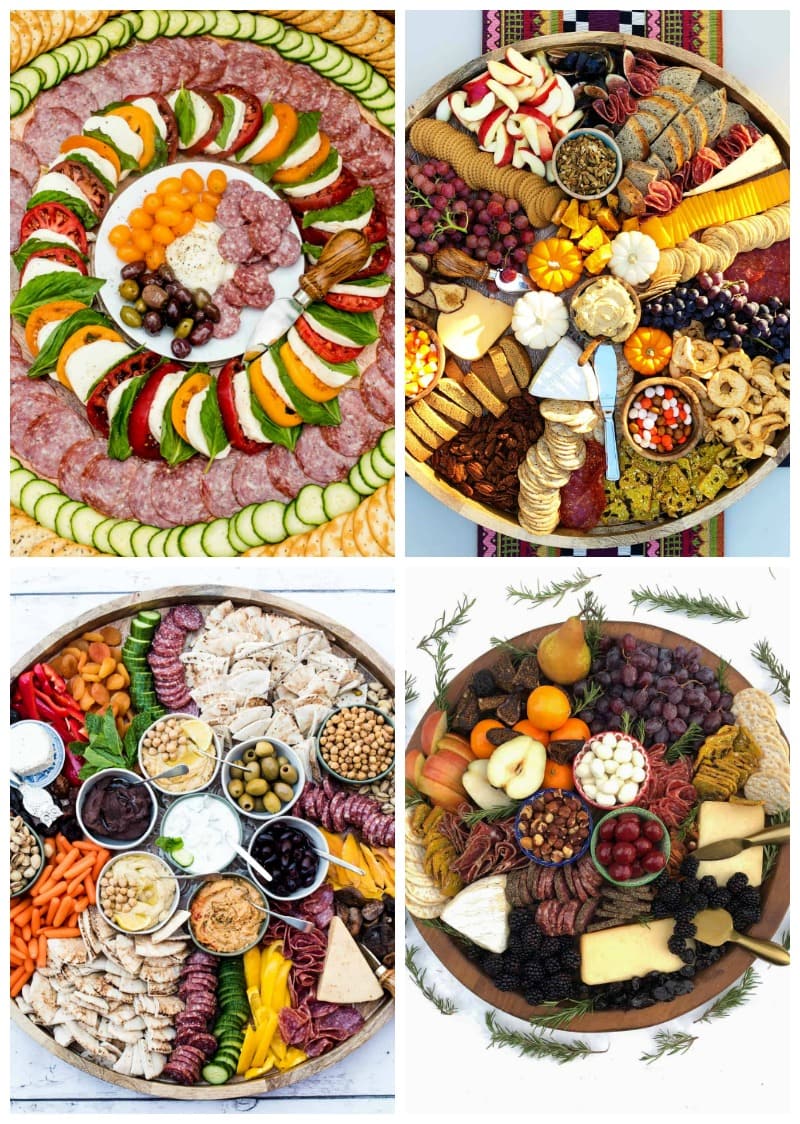 If you want to learn more about charcuterie from the charcuterie expert, visit Sandy's site:  ReluctantEntertainer.com.  A good place to start is to visit this post:  How to Make and Epic Charcuterie Board. Pictured above are just a few of her gorgeous charcuterie board creations: Salami Caprese Charcuterie Board, Fall Epic Charcuterie Board, Epic Greek Charcuterie Board, and Winter Rustic Charcuterie Board,
Click to watch the video below– showing you how to make a charcuterie board.  My friend Sandy and I teamed up on camera to share our tips for how to create a beautiful display of charcuterie.  It's so much fun to make one with a friend!