My favorite party to host is one with a Mexican theme. Since we're in Southern California, Mexican ingredients are abundant, and Mexican food is the favorite of just about everyone. If you're hosting a Mexican party, use Mexican blankets or bright colors for decor. Try to find a sombrero to use as an avenue for holding tortilla chips. Don't ever buy the stuff at the market that they try to pass off as 'guacamole.' It's not guacamole. You and your guests will be so much happier with homemade, and it's really easy to make. Chips are best when they come directly from a Mexican restaurant. Ask your local taco shop or restaurant if they will sell you a bag or two of chips… usually they will.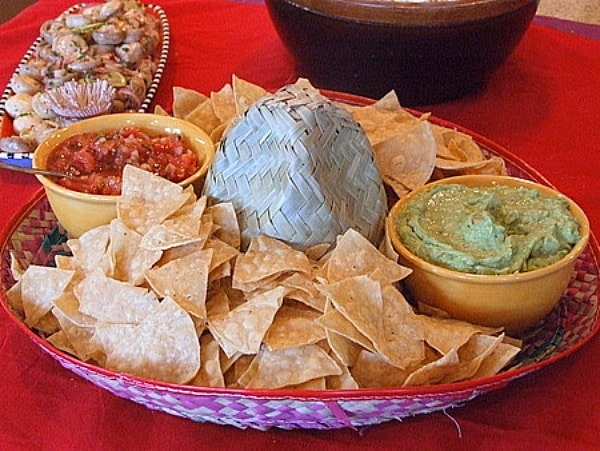 Putting together a make-your-own taco bar is easy too, and don't forget to include the Margaritas! I also like to set up a Margarita bar with someone in charge making nonstop pitchers.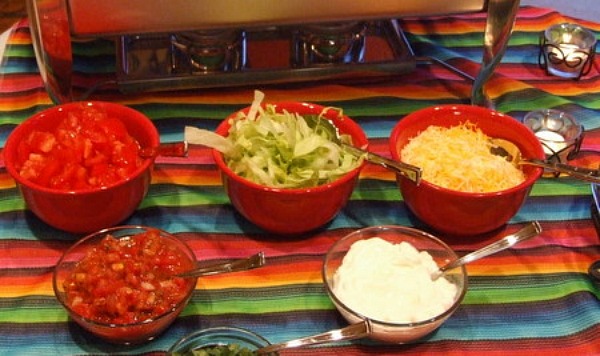 *This party is meant to be a casual, serve-your-self kind of party (rather than a sit-down dinner). If any of your guests like to cook, send them a recipe link and have them help out with the food!
*As always, feel free to substitute recipes, leave some out or use the whole menu.
Here's our Cinco de Mayo party menu:
Click on recipe titles below to view recipe/photo and print them out.
beverages
Spotted Gecko Margaritas
Old Town Margaritas
Mexican beer (purchased)
appetizers:
Salsa (purchased or homemade), guacamole, & chips (purchased)
Chipotle & Lime Marinated Mushrooms
salad:
Mexican Chopped Salad with Honey-Lime Dressing
side:
Fiesta Rice
main:
Slow-Cooked Carnitas Tacos
Creamy Chicken Enchiladas
dessert:
Margarita Cake
Mexican Chocolate Shortbread Cookies
Click here for a printable .pdf menu of this dinner party:
cinco-de-mayo-party-menu