Mexican Chopped Salad with Honey-Lime Dressing
This recipe has been featured in a post on The Recipe Girl blog: Mexican Chopped Salad.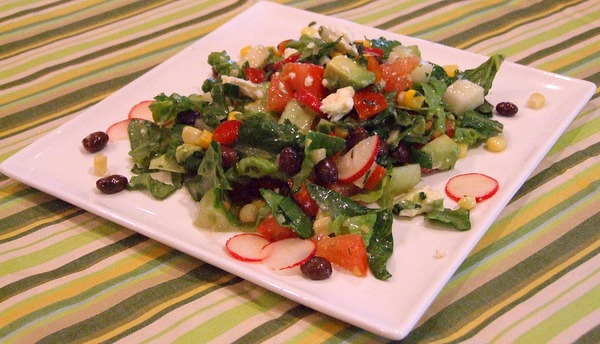 Yield: 4 servings
Prep Time: 20 min
Mexican Chopped Salad w/ Honey-Lime Dressing
I've always found that it's tough to find good side dishes to Mexican dinners that aren't really heavy. This is a great salad to accompany fish tacos!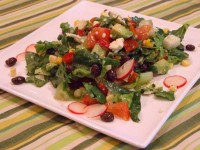 Ingredients:
SALAD:
2 1/2 cups chopped romaine lettuce
1 (15.5 ounce) can black beans, rinsed & well-drained
3/4 cup chopped seeded tomato
3/4 cup chopped peeled jicama
3/4 cup fresh corn kernels, uncooked (or use frozen or canned)
3/4 cup thinly sliced radishes
1 large avocado, diced
1 large red bell pepper, chopped
1/4 cup crumbled reduced-fat feta cheese
HONEY- LIME DRESSING:
1/4 cup fresh lime juice
2 Tablespoons olive oil
2 Tablespoons honey
2 Tablespoons finely chopped fresh cilantro (or more to taste)
1 clove garlic, peeled & minced
1 teaspoon chopped jalapeño pepper (use canned for less heat)
Directions:
Toss all salad ingredients in a large bowl. In separate bowl, mix dressing ingredients. Pour dressing over mixture and toss again. Season with salt and pepper to taste.
Source: RecipeGirl.com (Adapted from Self)
2 Responses to "Mexican Chopped Salad with Honey-Lime Dressing"
Leave a Comment