Mexican Chocolate Shortbread Cookies
This recipe has been featured in a menu on this website: Cinco de Mayo Dinner Party Menu.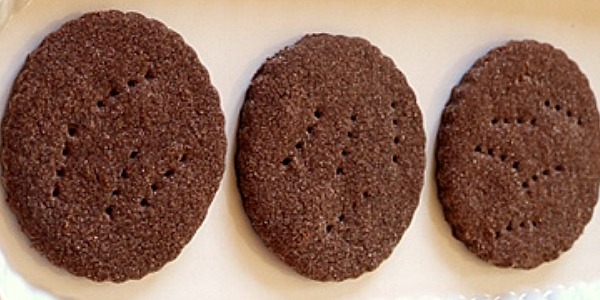 Yield: 2 dozen cookies
Prep Time: 30 min + chilling time
Cook Time: 40 min
Mexican Chocolate Shortbread Cookies
These are a nice chocolate shortbread cookie. They have just a hint of spice in them and they're perfect with a scoop of good vanilla ice cream.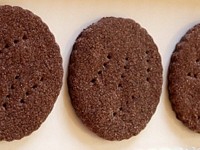 Ingredients:
2 cups all-purpose flour
2/3 cup lightly packed unsweetened cocoa powder
1 Tablespoon pure ancho chile powder
1/2 teaspoon ground cinnamon
1/2 teaspoon salt
1/4 teaspoon freshly ground black pepper
1 cup unsalted butter, at room temperature
10 Tablespoons granulated sugar, plus additional sugar for coating the cookies
2 teaspoons vanilla extract
Directions:
1. Sift together flour, cocoa, ancho powder, cinnamon, salt, and pepper, then sift again. In a medium bowl, use an electric mixer to cream together the butter and the 10 Tablespoons sugar until light. Mix in the vanilla, then add the flour mixture. At this point, stir and knead the dough with your hands (it will be dry and crumbly at first) until it is smooth and supple.
2. Between 2 sheets of waxed paper, roll the dough out as evenly as possible to a thickness of 1/4-inch. Chill for 30 minutes.
3. Meanwhile, position racks in the upper and lower thirds of the oven and preheat to 275°F. Lightly coat two cookie sheets with shortening.
4. Cut out the cookies with a 2-inch round cutter. Pierce each cookie twice with the tines of a fork. Spread the coating sugar on a small plate. Lightly press the top of each cookie into the sugar so that the sugar clings to the dough. Arrange the cookies, sugar side-up, on the prepared sheets, spacing them about 1-inch apart.
5. Bake the cookies, exchanging the position of the sheets on the racks from top to bottom and from front to back, until the cookies are crisp and firm, about 40 minutes.
6. Remove from the oven and cool the cookies on the sheets on racks for 5 minutes. Transfer to paper towels and cool completely.
7. Store the cookies airtight at room temperature. They will be better the day after they are baked and will keep for about 1 week.
Leave a Comment