This recipe has been featured in a post on The Recipe Girl blog: Pumpkin Shortbread Cookies (Good Coffee Dunkers). Additional note: This recipe has gotten some mixed reviews. It produces a shortbread cookie that is not super sweet at all. I think it's best used as a biscuit to dunk in coffee and not necessarily for eating one after the other. If you're looking for something more cookie-like, play with this base recipe and let me know if you come up with something great!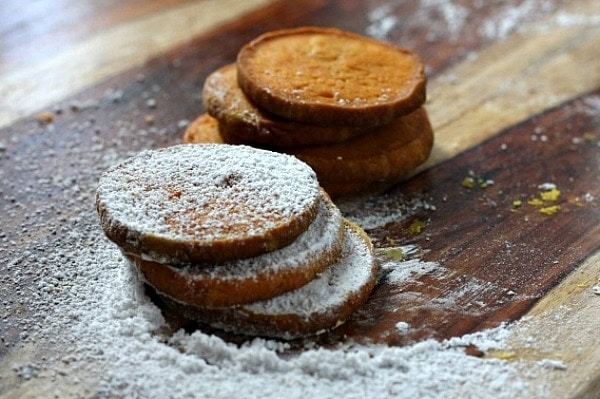 Pumpkin Shortbread Cookies
Yield:
30 to 40 cookies
Prep Time: 25 min + chill time
Cook Time: 20 min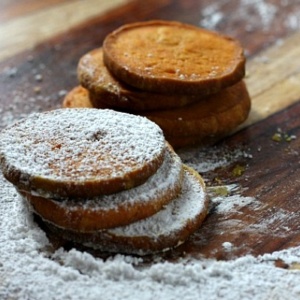 Ingredients:

2 sticks (1 cup) unsalted butter, at room temperature
3/4 cup powdered sugar
2 1/4 cups all-purpose flour
1/4 tsp. salt
1 cup unsweetened pumpkin puree
1 tsp. vanilla extract
1/2 tsp. ground cinnamon
1/4 tsp. ground ginger
1/8 tsp. ground allspice or cloves
1/8 tsp. ground nutmeg
a few drops of orange food color (completely optional)
additional powdered sugar, to top the cookies (also optional)

Instructions:

1. Using an electric mixer, beat butter until creamy. Add powdered sugar and mix until incorporated. Mix in flour and salt. Add pumpkin puree, vanilla and spices. Beat until everything is mixed well. The dough may end up to be a bit sticky.

2. Scoop shortbread dough onto a floured surface. Sprinkle a bit more flour on top; split into two portions and gently roll into logs. Place in plastic wrap or parchment paper, wrap and refrigerate for several hours until dough is more firm (can refrigerate overnight).

3. When you're ready to bake the cookies, preheat oven to 350 degrees F. Line baking sheets with parchment paper or silpat (or spray w/ nonstick spray).

4. Using a non-serrated knife, slice dough into 1/4-inch-thick discs. If you're not getting the shape you want, gently shape edges into a rounded shape with your fingers as you place the cookies on baking sheet. Bake 20-25 minutes, or until cookies are lightly browned on the edges. Immediately move cookies to a wire rack; let cool for 10 minutes, then sift powdered sugar over the tops of the cookies, if desired.

Tips:

*Don't melt the butter for this recipe. It's really important that's it's just at room temperature and not too soft.
*If you find the dough to be too sticky to work with while rolling, just sprinkle on a little more flour until it's not so sticky.