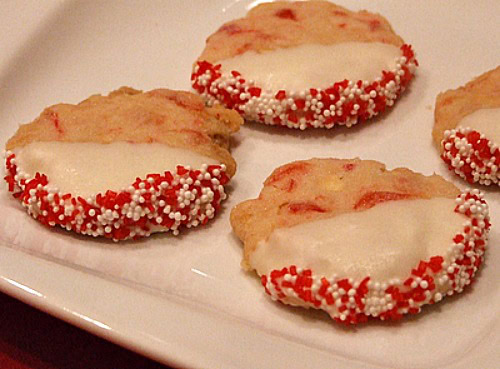 White Chocolate Cherry Shortbread Cookies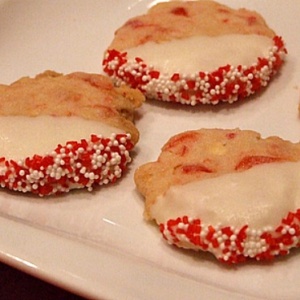 Yield:
3 dozen cookies
Prep Time:45 min
Cook Time:12 min
Ingredients:
1/2 cup maraschino cherries, drained and finely chopped
2 1/2 cups all-purpose flour
1/2 cup granulated white sugar
1 cup (2 sticks) cold butter, cut into pieces
One 4-ounce white chocolate bar, finely chopped (I use Ghirardelli)
1/2 teaspoon almond extract
2 to 3 drops red food coloring, optional
8 ounces additional chopped white chocolate (or Wilton's vanilla disks)
2 tsp shortening
white nonpareils and/or red edible glitter (optional)
Directions:
1. Preheat the oven to 325°F. Line baking sheets with parchment paper or silpat mats.
2. Spread the cherries on paper towels to drain well. Chop finely; set aside.
3. In a large bowl, whisk together the flour and sugar. Using a pastry blender, cut in the butter until the mixture resembles fine crumbs. Stir in the drained cherries and 4 ounces (2/3 cup) of the chopped chocolate. Stir in the almond extract and, if desired, food coloring. Knead the mixture with your hands until it forms a smooth ball.
4. Shape the dough into 3/4-inch balls. Place the dough balls 2-inches apart on the prepared cookie sheets. Using the bottom of a drinking glass dipped in water and then sugar, flatten the dough balls to 1 1/2-inch rounds.
5. Bake 12 to 14 minutes or until the centers are set. Cool for 1 minute on the cookie sheet, then transfer the cookies to a wire rack and let cool completely.
6. Place the remaining chopped chocolate or disks + shortening in a glass bowl or measuring cup. Heat and stir in 30 second intervals in the microwave until melted and smooth (or melt in a small saucepan over low heat on the stove). Dip half of each cookie into the melted chocolate, allowing excess to drip off. If desired, roll dipped edge in nonpareils and/or edible glitter. Place cookies on waxed paper until the chocolate is set.
Tips:
*To store: Layer cookies between waxed paper in an airtight container; cover. Store at room temperature for up to 3 days or freeze for up to 3 months.