This recipe has been featured in a post on The Recipe Girl blog: Christmas Cookie Exchange- Red Velvet Shortbread Cookies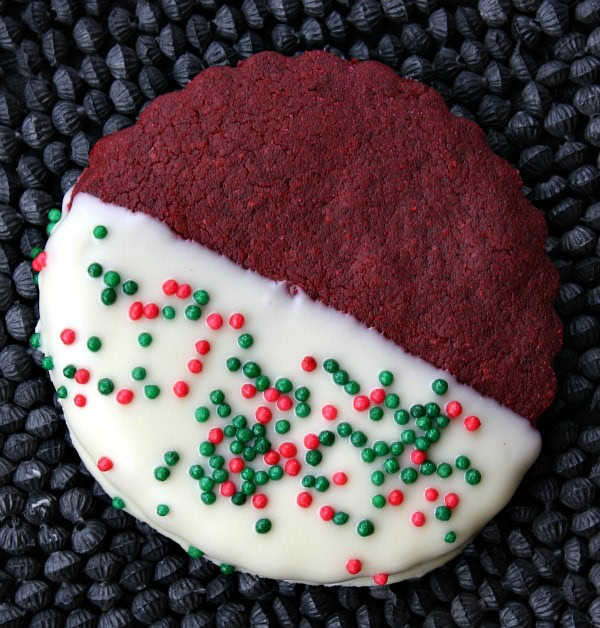 Red Velvet Shortbread Cookies
Yield:
24 cookies
Prep Time: 40 min
Cook Time: 20 min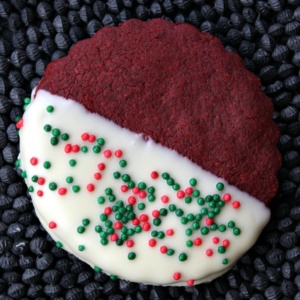 Ingredients:

1 1/4 cups all-purpose flour
1/3 cup granulated white sugar
2 tablespoons unsweetened cocoa powder
1/4 teaspoon salt
1/2 cup butter, (cold) cut up into chunks
1 tablespoon red food coloring
3 ounces white chocolate (with cocoa butter), coarsely chopped
1 1/2 teaspoons shortening
festive sprinkles

Instructions:

1. Preheat oven to 325 degrees F. In a food processor, combine flour, sugar, cocoa powder, and salt. Cover and process with on/off turns until combined. Add butter and red food coloring. Process with on/off turns until mixture resembles fine crumbs. Then continue to process until mixture begins to clump together.

2. Scoop dough onto a lightly floured surface and knead lightly until nearly smooth. Roll or pat dough to a 1/2-inch thickness. Using a floured 1-1/2-inch round cutter, cut out dough. Place cutouts 1 inch apart on an ungreased cookie sheet. Press scraps together and reroll.

3. Bake in the preheated oven for 20 to 25 minutes or until centers are set. Transfer cookies to a wire rack; let cool.

4. In a heavy small saucepan, melt white chocolate and shortening over low heat, stirring constantly. Dip half of each cookie into melted chocolate. If desired, sprinkle with festive sprinkles, nonpareils or chopped pistachios. Let stand on waxed paper until set.

Tips:

Cooking Tips:
*I made the dough using a food processor, which was easiest because it takes a bit of processing to allow the crumbs to clump together and become the proper consistency for rolling. If you'd like to try the hand-mixing method: In a medium bowl, stir together flour, sugar, cocoa powder, and salt. Using a pastry blender, cut in butter and food coloring until mixture resembles fine crumbs and starts to cling together (it will take a while for the dough to come together). Form mixture into a ball, kneading until smooth.
*I used gel paste food coloring to color my cookies (instead of the liquid food coloring). It's more concentrated, and you can add more of it to get a deeper color without adding liquid to the mixture. Don't overdo it though, or you'll end up with red stained fingers as you eat your cookies!
*For storing: Place cookies in a single layer in an airtight container; cover. Store at room temperature for up to 3 days or freeze for up to 3 months.
*These cookies are a shortbread-type cookie and not a real sweet cookie. They don't have that bang of red velvet flavor that you might be hoping for. I'd say they are more of a pretty cookie... and the white chocolate drizzle helps make them sweeter and more festive.