Introducing a festive choice for your holiday cookie platters:  Red Velvet Gooey Butter Cookies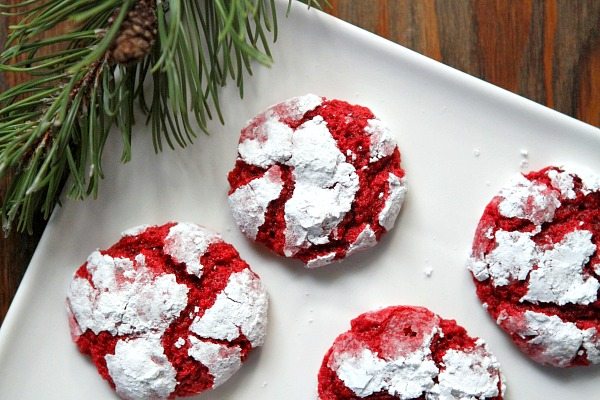 Since I've always been completely enamored with Red Velvet (red food coloring and all!!), it seemed like the right thing to do to share a red velvet cookie recipe with you for this holiday season.  These cookies are properly chewy and rich and wonderful.  They'll be perfect for holiday cookie platters or cookie exchanges.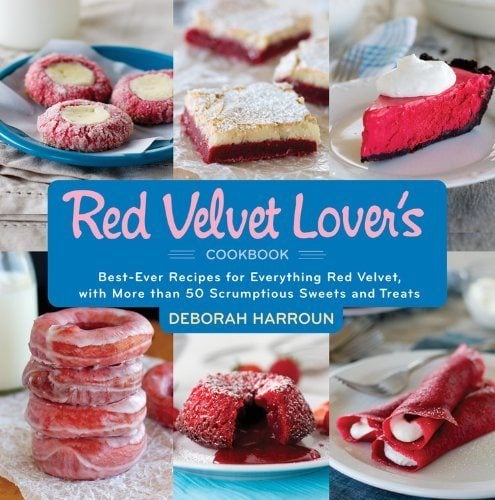 This recipe comes from a new book by Deborah Harroun:  Red Velvet Lover's Cookbook.  First of all, Deborah is a good friend of mine who writes the blog Taste and Tell.  She shares so many awesome ideas for family-friendly recipes.  She's one of the most creative bloggers I know!  And this is her first book- yippee!  If you are a fan of the ever-popular red velvet cake (my absolute favorite), you'll love to have this book and try out some of the other innovative ideas for incorporating the red velvet flavor!  You'll find recipes for things like Red Velvet Crepes, Red Velvet Waffles, Red Velvet Cheesecake, Red Velvet Gooey Butter Bars, Red Velvet Truffles and so much more.  It's a fun book to have in your cookbook collection, for sure!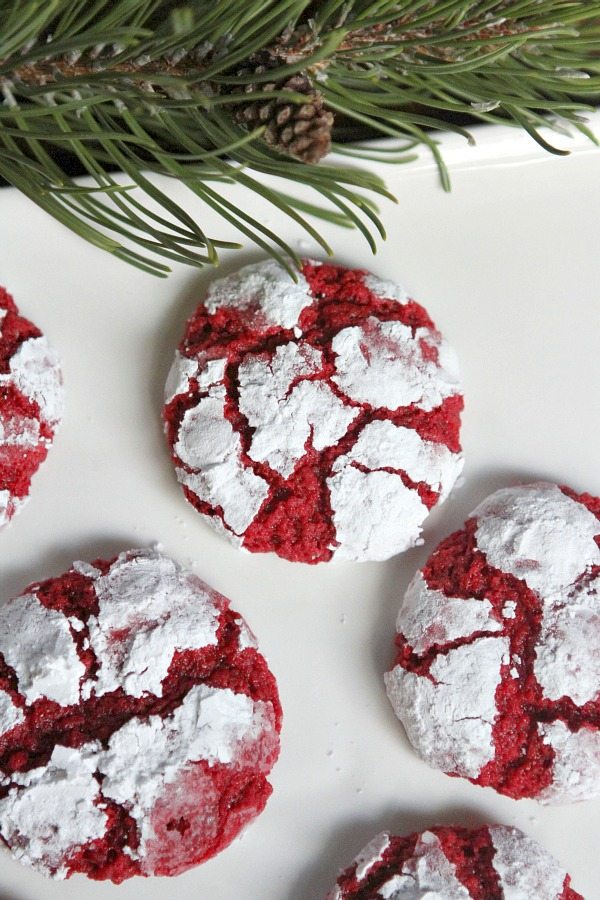 Aren't they so completely festive?  I love the crackle.  I love the powdered sugar, snowy adornment.  And I love the chewy, gooey, red velvet flavor of these cookies!  They are perfect for Christmas.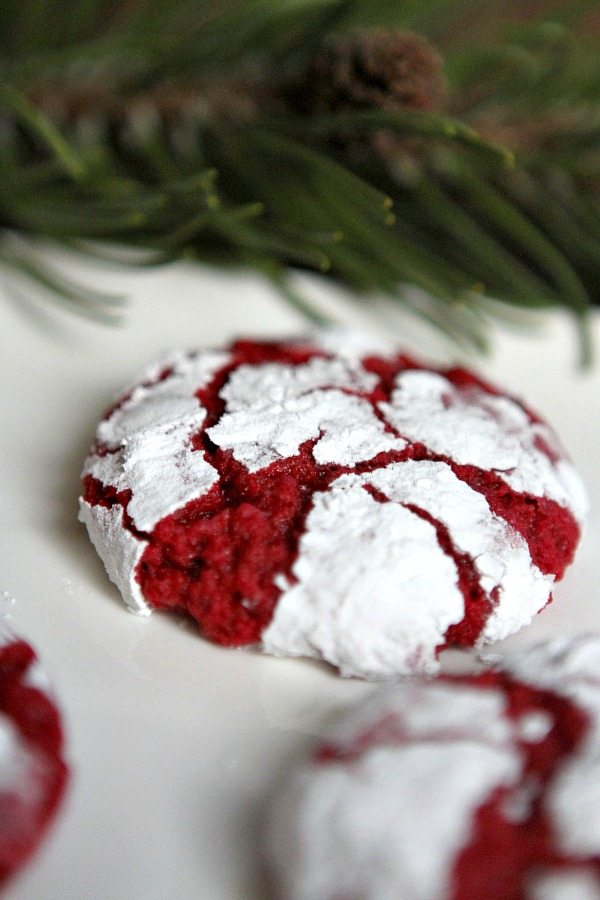 You need a big, tall glass of extremely cold milk to go with your cookies, right?  Of course you do!  But sadly, not everyone has access to milk.  Milk is one of the most requested items at food banks, yet it is rarely donated (isn't that totally awful??)    Of the 46 million Americans food banks serve, the average person gets less than 1 gallon of milk per year.  This makes me so sad since kids need milk so much.  My 13-year old son drinks a gallon within a couple of days.  The entire dairy industry from dairy farmers to dairy processors has come together and joined with Feeding America food banks to help get milk to those who need it most.  Visit www.santasmilkdrive.com to donate.  Simply type in your zip code and the donation you make will be distributed to a food bank in your own area, so you know your good will is doing good in your very own community!  
Enjoy your new cookie recipe, and make some new families feel good with MILK!  XO
Red Velvet Gooey Butter Cookies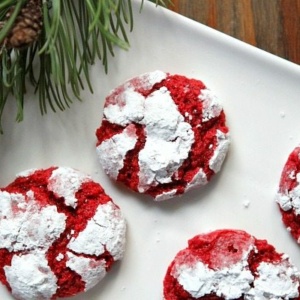 Yield:
3 dozen
Prep Time:30 min + chill time
Cook Time:12 min
Ingredients:
2 1/4 cups Gold Medal® All-Purpose Flour
2 cups granulated white sugar
2 tablespoons unsweetened cocoa powder
2 teaspoons baking powder
1/4 teaspoon salt
8 ounces cream cheese, softened
4 tablespoons (1/2 stick) unsalted butter, softened
1 large egg
1 tablespoon red liquid food coloring
1/2 cup powdered sugar
Directions:
1. Whisk the flour, granulated sugar, cocoa, baking powder, and salt in a bowl to combine.
2. Beat the cream cheese and butter in a large bowl with an electric mixer until smooth. Beat in the egg and food coloring.
3. Add the dry ingredients to the creamed mixture and mix until the dough comes together. Cover with plastic wrap and chill the dough for at least 2 hours.
4. When ready to bake, preheat the oven to 350 degrees F. Line two baking sheets with parchment paper. Place the powdered sugar in a shallow bowl.
5. Roll the dough into balls (about 1 tablespoon each). Roll the dough balls in the powdered sugar, then place on the baking sheets at least 3 inches apart. Bake until the edges of the cookies are set, 10 to 12 minutes. Transfer the cookies to racks to cool completely. Store the cookies in an airtight container for up to 3 days.
Here are a few more red velvet cookie recipes you might enjoy from some of my favorite blogs:
Red Velvet Cheesecake Cookies by Two Peas and Their Pod
Red Velvet Milky Way Cookies by Picky Palate
Red Velvet Cut-Out Cookies by Created by Diane
Red Velvet Hamantaschen by What Jew Wanna Eat
Red Velvet Shortbread Cookies by RecipeGirl
Disclosure: I received a copy of the Red Velvet Lover's Cookbook for review. All opinions shared are my own. There are Amazon affiliate links included within this post.