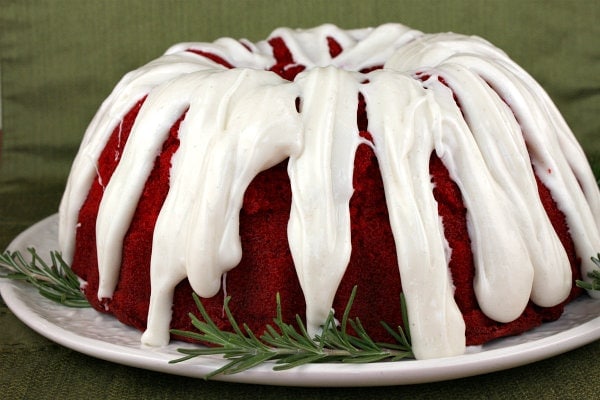 Red Velvet Bundt Cake with Cinnamon- Cream Cheese Glaze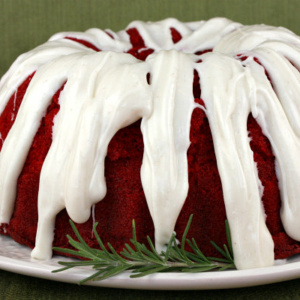 Yield:
12 to 14 servings
Prep Time: 35 min
Cook Time: 40 min
Ingredients:
CAKE:
1 cup (2 sticks) unsalted butter, at room temperature
1 3/4 cups granulated white sugar
2 1/2 cups cake flour
1 1/4 teaspoons salt
2 large eggs
1 cup buttermilk
1 teaspoon vanilla extract
1 teaspoon baking soda
1 1/2 teaspoons vinegar
1 1/2 teaspoons unsweetened cocoa powder
1 ounce red food coloring (use 2 ounces if you desire a deeper red color)
GLAZE:
2 cups powdered sugar
1/2 cup (4 ounces) softened cream cheese
1/2 teaspoon of ground cinnamon
1 to 2 tablespoons milk (to thin out)
Directions:
1. Preheat oven to 350 degrees F. Spray bundt cake pan generously with cooking spray; then dust lightly with flour.
2. With an electric mixer, blend butter and sugar in a large bowl; set aside.
3. Sift together flour and salt; set aside.
4. Mix the eggs, buttermilk, vanilla, baking soda and vinegar in a separate bowl.
5. Alternate adding flour mixture and buttermilk mixture to the butter mixture. Mix well after each addition.
6. In a small bowl, mix red food coloring and cocoa powder; add to the cake batter and mix just until combined.
7. Pour batter into prepared bundt pan and bake for 35 to 45 minutes, or until toothpick comes out clean. Baking time will vary based on the size of your pan.
8. Allow to cool for about 30 minutes before turning bundt pan over onto rack to remove from the pan. Let cool completely before adding glaze.
9. When you're ready to add the glaze, use large spatula or flat cookie sheet to slide under the cake and move it to a platter. Use electric mixer to blend glaze ingredients. Add just enough milk to make the glaze thin enough so that it will drip down the sides of the cake, but not so thin that it will drip off of the cake. If you accidentally get it too thin, just add more powdered sugar. Spoon the glaze onto the top of the cake and let it ooze down the sides.
10. Refrigerate until ready to serve.
Tips:
*In the cake pictured above, 2 ounces of red food coloring were used.
*If you have any trouble with the cake coming out of the pan, loosen the sides with a thin, sharp knife. When you turn it onto the rack, use the handle of a knife to tap the bottom of the pan- all over- and it should loosen up and fall onto the rack.