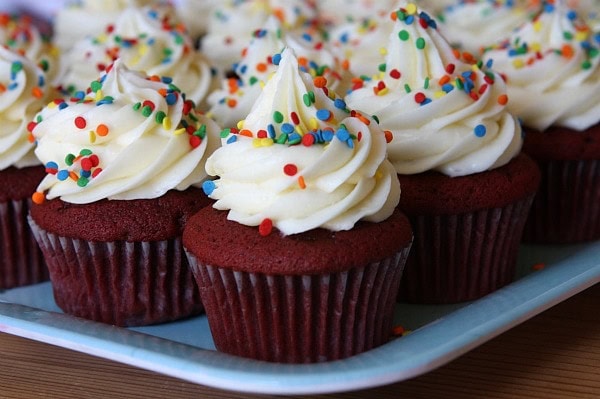 Red Velvet Birthday Cupcakes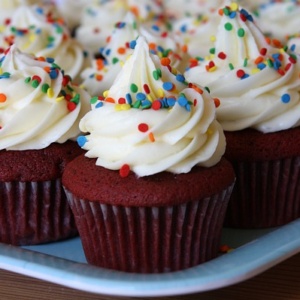 I made these for a friend who was hosting a couple dozen girls at a pool birthday party. They were a big hit!
Yield:
24 cupcakes
Prep Time: 20 min
Cook Time: 22 min
Ingredients:
2 1/2 cups all-purpose flour
1/2 cup unsweetened cocoa powder
1 teaspoon baking soda
1/2 teaspoon salt
1 cup butter, at room temperature
2 cups granulated white sugar
4 large eggs
1 cup sour cream
1/2 cup milk
1 ounce (2 Tablespoons) red food coloring
2 teaspoons vanilla extract
Directions:
1. Preheat oven to 350 degrees F. Line 2 cupcake tins with paper liners (24).
2. In a medium bowl, whisk together flour, cocoa powder, baking soda and salt; set aside.
3. In a large bowl, use an electric mixer to combine butter and sugar. Beat on medium speed for 3-4 minutes, or until light and fluffy. Add eggs, one at a time, beating until incorporated before adding the next. Mix in sour cream, milk, food coloring and vanilla. Gradually beat in flour mixture on low speed just until blended. Don't over-mix. Scoop batter into muffin cups, filling each about 3/4 full.
4. Bake 18 to 22 minutes, or until toothpick inserted into the center of a cupcake comes out clean. Cool in pans for about 15 minutes, then remove to a wire rack to cool completely before frosting. I like to frost these with cream cheese frosting.
Tips:
*I like to use regular sour cream (not light). That extra fat helps keep these cupcakes moist. If you use regular sour cream, it's okay to use nonfat or low fat milk.
*If using commercial red food coloring is uncomfortable to you, look for coloring made with vegetable dye in health food stores.
*I love a good cream cheese frosting to top red velvet cupcakes. Here's a good recipe: Pipe-able Cream Cheese Frosting
Source: RecipeGirl.com (Adapted from McCormick)