This Red Velvet Cheesecake recipe is a delicious and creamy cheesecake with an Oreo Crust. It's covered with a thick layer of cream cheese frosting too. Watch the video showing you how to make this cheesecake, then scroll to the bottom of this post and print out the recipe so you can make it at home!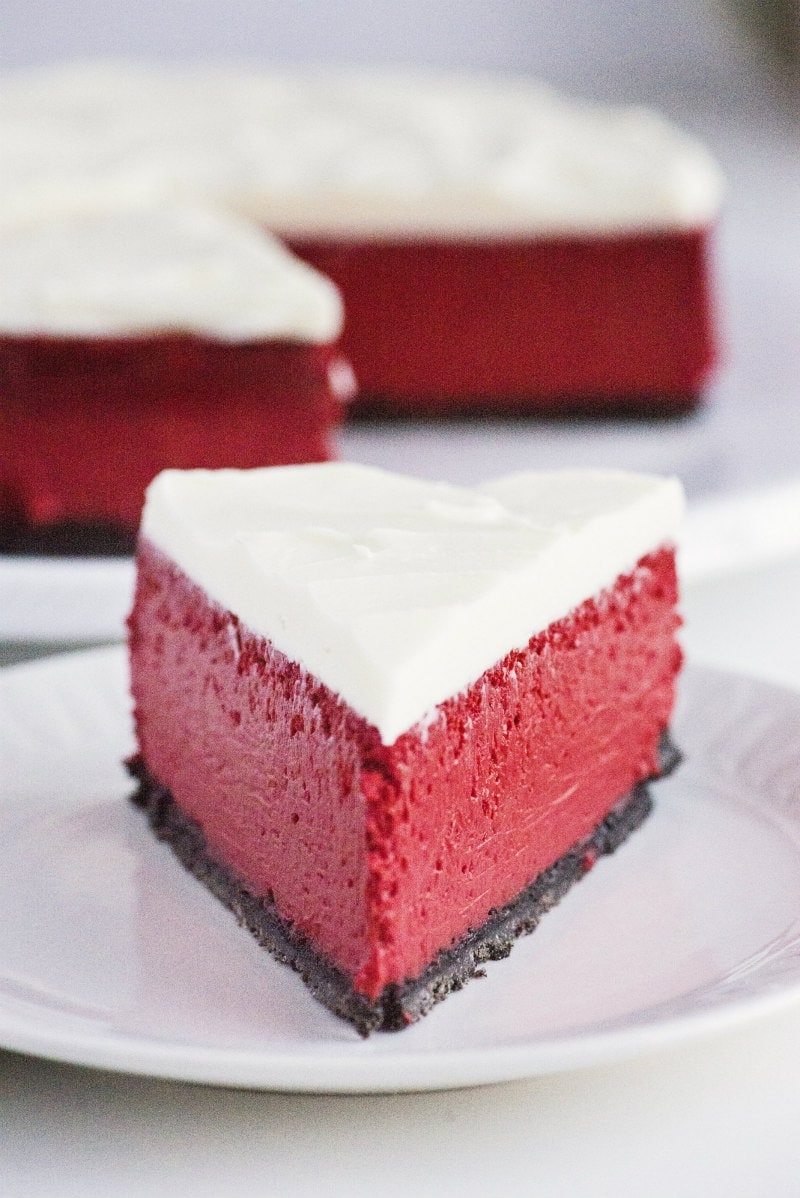 What is Red Velvet Cheesecake?
You're probably familiar with the classic red velvet cake, which has cream cheese frosting. Or maybe you've tried my recipe for my very popular Red Velvet Cheesecake Cake! Well, this red velvet cheesecake is frosted with a good, thick layer of cream cheese frosting too. Does that make it rich and decadent? Yes, it does! Cheesecake is always a mega sweet-treat, and this one is over the top. I've made it a few times, and it's always a big hit with cheesecake (and red velvet) lovers!
The Oreo crust is a nice pairing. Use the whole Oreo for the crust (cream and all). You can choose to make a classic graham cracker crust, if you'd like. Or you can use chocolate graham crackers for the crust instead.
What's the best occasion for serving a Red Velvet Cheesecake?
This Red Velvet Cheesecake is such a pretty cheesecake to make for the holidays. It's nice for Christmas because I love that it has all of the "Santa" colors. It's a festive one for New Year's Eve. And it's always a hit for Valentine's Day too.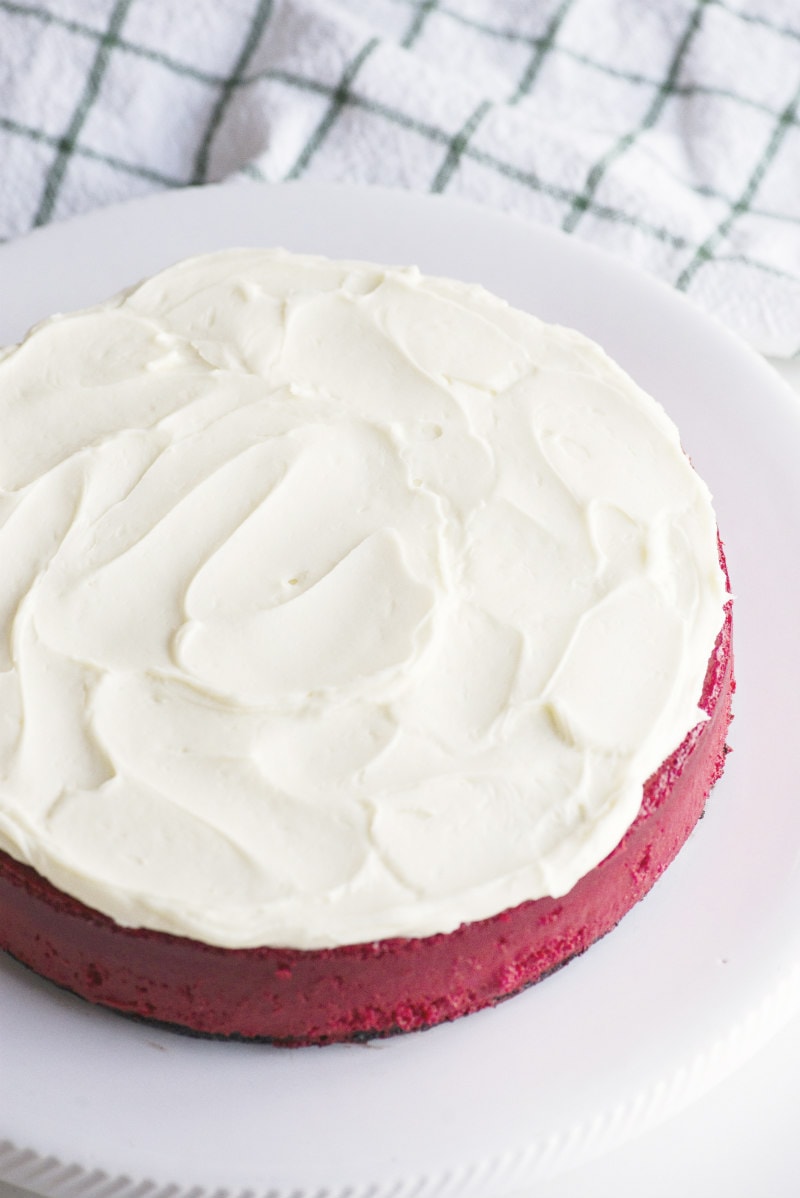 How do you make Red Velvet Cheesecake?
First you'll make the Oreo crust. It's a simple trio of Oreos that have been crushed into crumbs combined with melted butter and sugar. A classic 9-inch springform pan is used for this recipe, so the Oreo crust is just pressed into the bottom of the pan. The crust does NOT need to be baked.
The filling is next. It's a classic cheesecake made with cream cheese, sugar, eggs, sour cream and vanilla. But to turn it into a red velvet cheesecake, you'll add unsweetened cocoa, buttermilk, white vinegar and red food coloring. If you prefer to use gel paste instead of red food coloring, just add in the red gel paste until you get a nice, deep red hue to the cheesecake batter. The batter is then scraped into the pan on top of the Oreo crust.
Then it's ready for the oven!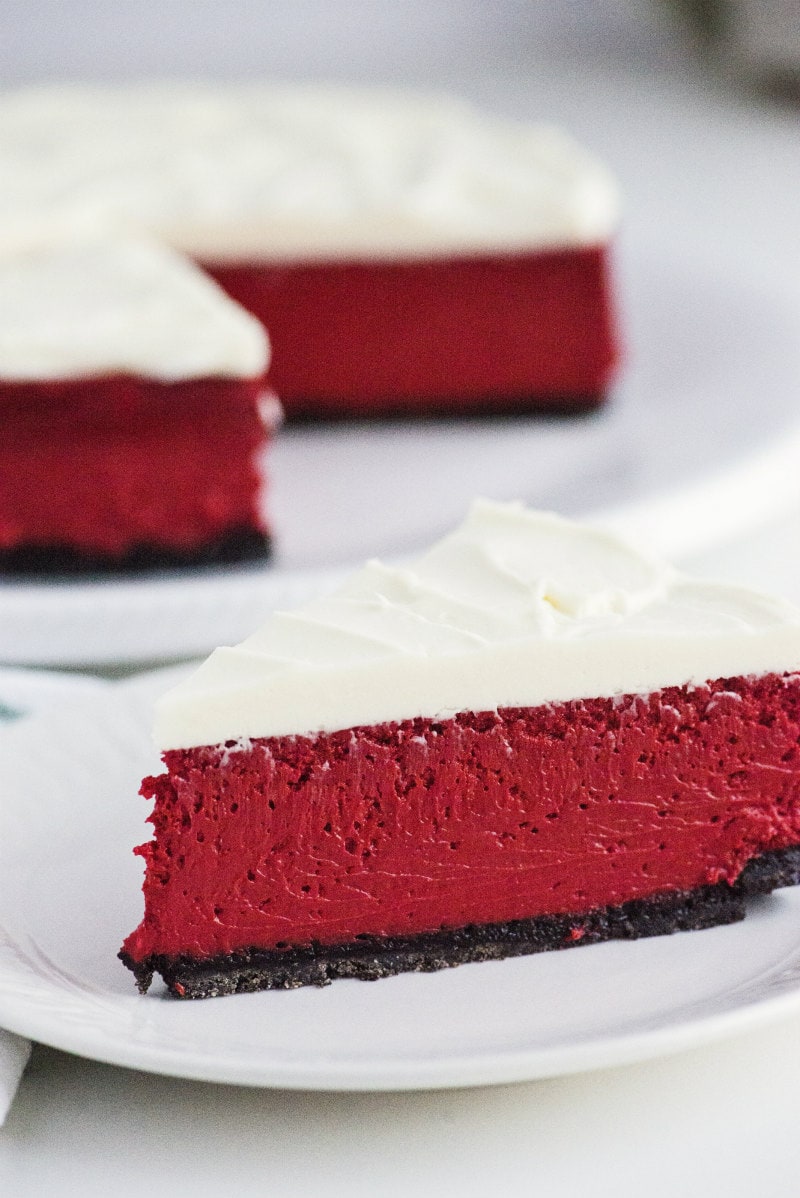 Do you have to bake this cheesecake in a water bath?
If you just bake your Red Velvet Cheesecake in the oven like you'd bake a regular cake, you run the risk of some major cracking. Lucky for you, there are two options for baking this cheesecake. You can choose to bake it in a water bath. This method just means you wrap foil around the cheesecake pan and set it into a larger pan that has a little bit of water in it. This ensures your cheesecake will stay moist during the long baking process. Some people are wary of using this method because of the possibility of water leakage through tears in the foil.
If you don't like to use a water bath, then you can choose this alternate method. Simply place a pan of water on a lower rack, and bake the cheesecake on a rack above the pan. Having the water in the oven will still create enough moisture to help keep the cheesecake moist. I actually prefer to use this method most of the time when I'm baking cheesecakes. Take a look at the photo above. This cheesecake turns out very moist!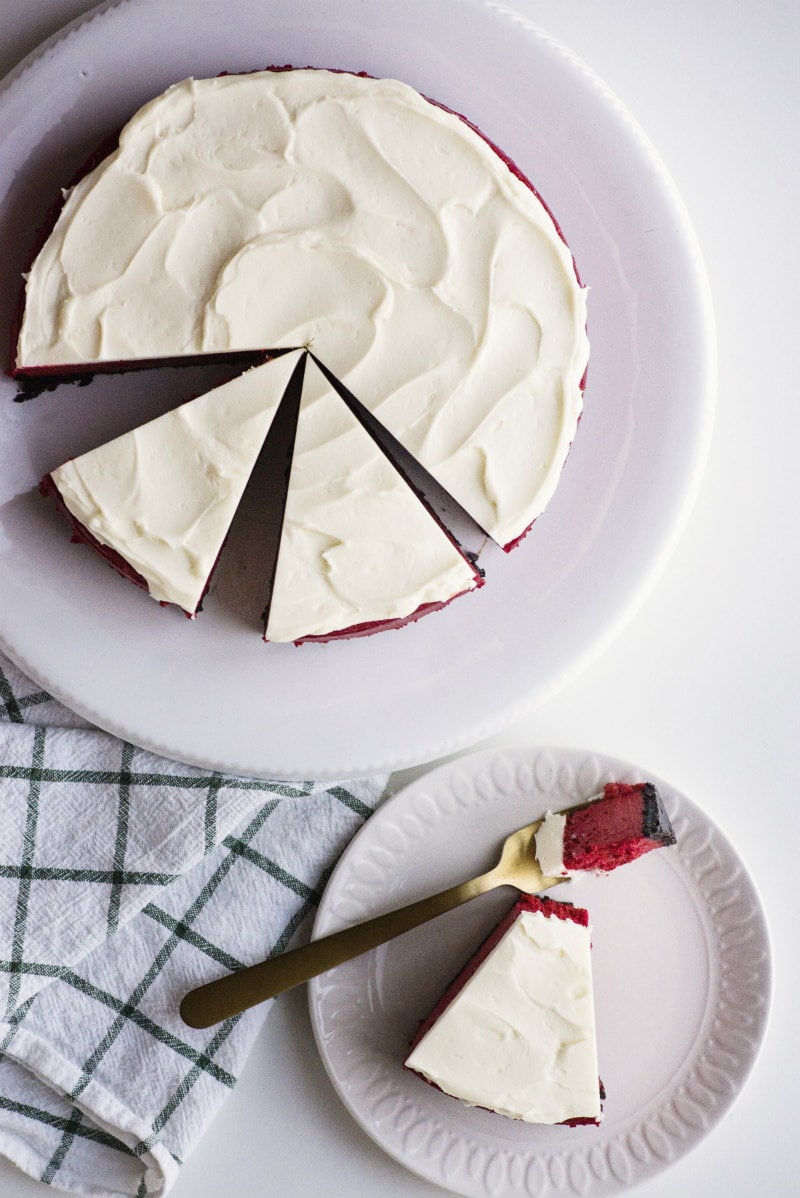 What do you do if the top of your Red Velvet Cheesecake cracks?
It's okay! Once the cheesecake has been chilled in the refrigerator for a good number of hours, you'll be covering the top of it with a thick layer of cream cheese frosting. So if there are any cracks there, they'll be buried by the frosting!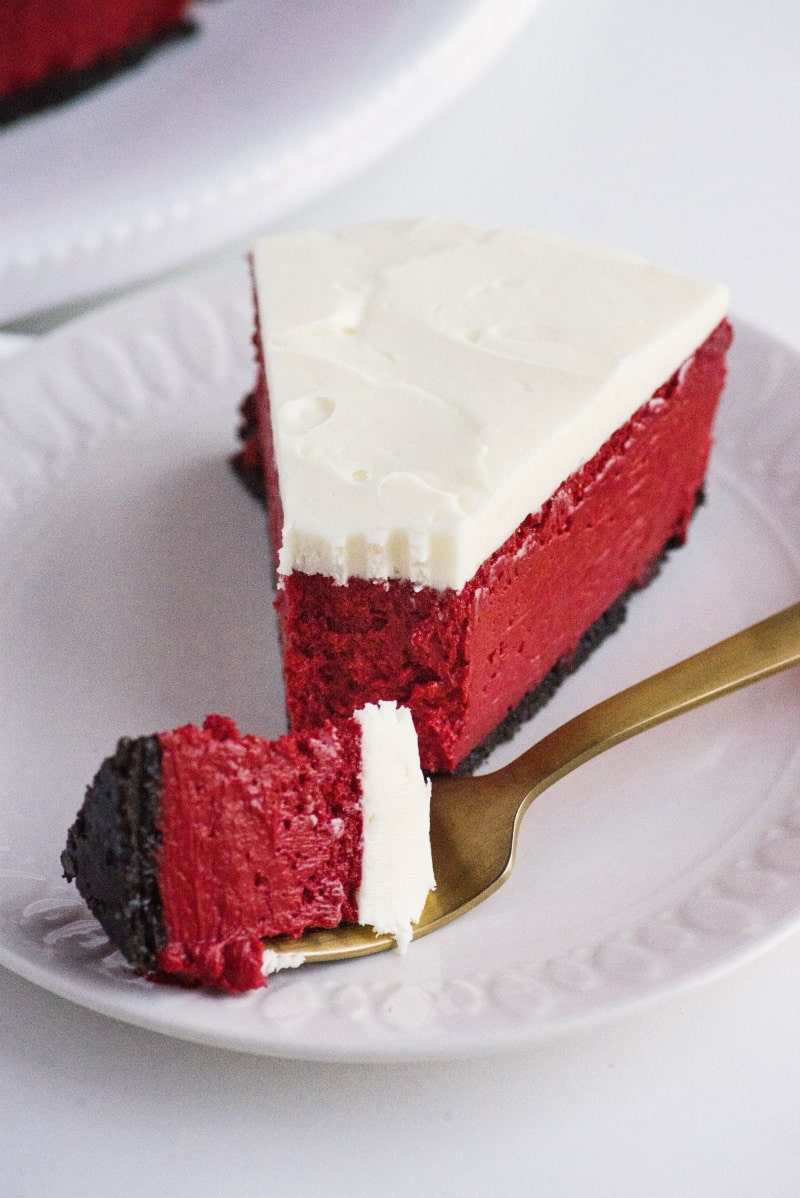 Are there make-ahead instructions for Red Velvet Cheesecake?
It's probably a good idea to make this recipe one day ahead of serving. Go ahead and frost it too. It will be easiest to cut neat slices if it has been well-chilled.
Here are a few more great cheesecake recipes to try: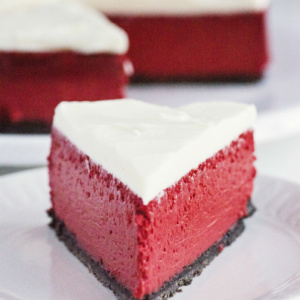 Red Velvet Cheesecake
This Red Velvet Cheesecake is a creamy and delicious cheesecake with cream cheese frosting and an Oreo crust.
Cook Time
1
hour
25
minutes
Rest Time in Oven
30
minutes
Total Time
2
hours
5
minutes
Ingredients
CRUST:
17

OREO cookies

(don't remove the cream), crushed into crumbs

1/4

cup (1/2 stick)

butter,

melted

1

tablespoon

granulated white sugar
CHEESECAKE:
24

ounces (3 packages)

cream cheese,

at room temperature

1 1/2

cups

granulated white sugar

4

large

eggs,

lightly beaten

3

tablespoons

unsweetened cocoa powder

1

cup

sour cream

1/2

cup

buttermilk

2

teaspoons

vanilla extract

1

teaspoon

distilled white vinegar

2

ounces

red food coloring

(two 1-ounce bottles)
FROSTING:
3

ounces

cream cheese

1/4

cup (1/2 stick)

butter,

at room temperature

2

cups

powdered sugar,

sifted

1

teaspoon

vanilla extract

mint sprigs for garnish,

optional
Instructions
PREPARE THE CRUST:
Stir together the Oreo crumbs, melted butter, and sugar.  Spray the bottom and sides of a 9-inch springform pan with nonstick spray, and then press the crust mixture into the bottom of the pan. NOTE: the video for this recipe shows that you have to bake the crust. That's an error. You DO NOT have to bake the crust!

Preheat the oven to 325°F. Prepare a water bath: Fill a large roasting pan (big enough for springform pan to fit into) with about 1-inch of water. Place in the oven and allow to preheat along with the oven. Alternately, if you don't want to put the cheesecake INTO a water bath, you can put the pan on a lower rack and plan to bake the cheesecake on a rack ABOVE the bath.
PREPARE THE FILLING:
In a large bowl, use an electric mixer to combine the cream cheese and sugar at medium-low speed for 1 minute. Add the eggs and remaining cheesecake ingredients, mixing on low speed just until fully combined. Pour the batter into the prepared crust.
BAKING:
If using the WATER BATH method, take out two sheets of heavy duty foil and layer them on top of one another. Place the springform pan on top of the foil and wrap the foil gently around the pan and up the sides. Make sure that there are no tears or holes and that the foil comes all the way up around all sides of the cake. Carefully place the foil-protected pan into the water bath in the preheated oven. Alternately, if not using a water bath, just place the springform pan on a rack above the pan of water.

Bake for 10 minutes; then reduce heat to 300°F. Bake for an additional 75 minutes or until the center is firm (it might take 15 minutes more or so... you don't want the cheesecake to be jiggly in the middle). Turn the oven off. Let the cheesecake stand in oven for 30 minutes. Remove the cheesecake from the oven. Carefully remove the cheesecake from the water bath and place on a wire rack. Run a thin knife around the outer edge of the cheesecake. Cool on the rack for a couple of hours, until the cheesecake becomes close to room temperature. Cover and chill for at least 8 hours (or overnight). Remove the sides of the springform pan.
PREPARE THE FROSTING:
Beat the cream cheese and butter at medium speed with an electric mixer until smooth. Gradually add the powdered sugar and vanilla, beating until smooth. Spread evenly on top of the cheesecake. Garnish, if desired. Keep refrigerated until ready to serve.
Recipe Video
Recipe Notes
You may sub 1 1/2 cups chocolate graham cracker crumbs (or regular graham cracker crumbs) for the crushed Oreos.
If your cheesecake cracks, don't worry!  You'll be covered the top of it with frosting, and no one will know.
Some readers have indicated that there is far too much frosting for this recipe. I personally like a lot of frosting, so you can see a thick layer of frosting in the photograph. If you're not big on frosting, you can leave it off entirely or cut the frosting recipe in half.
Nutrition Facts
Red Velvet Cheesecake
Amount Per Serving (1 serving)
Calories 616
Calories from Fat 342
% Daily Value*
Fat 38g58%
Cholesterol 163mg54%
Sodium 401mg17%
Potassium 207mg6%
Carbohydrates 62g21%
Protein 7g14%
Vitamin A 1320IU26%
Vitamin C 0.2mg0%
Calcium 112mg11%
Iron 2.2mg12%
* Percent Daily Values are based on a 2000 calorie diet.