No Bake Banana Rum Cheesecake is the tastiest way to get dessert on the table quickly!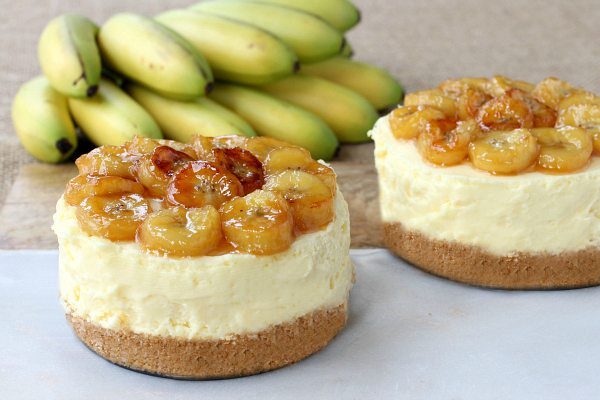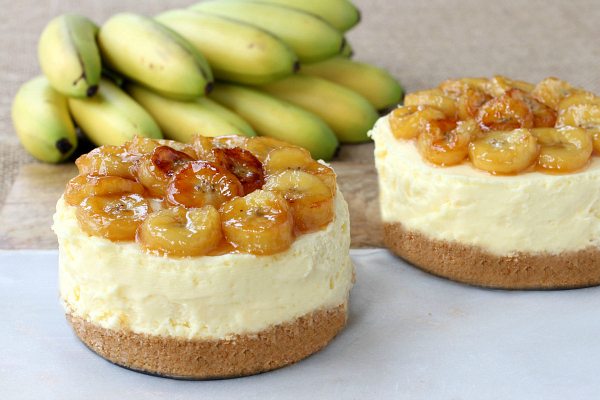 Since I'm not a baker I like to find recipes that I can impress my guests with that even I can pull off. This No Bake Banana Rum Cheesecake definitely fits the bill.  For one: it doesn't require baking (hence the name), and for two: with a quick banana rum topping, this cheesecake seems like it was bought at a bakery instead of made in only minutes.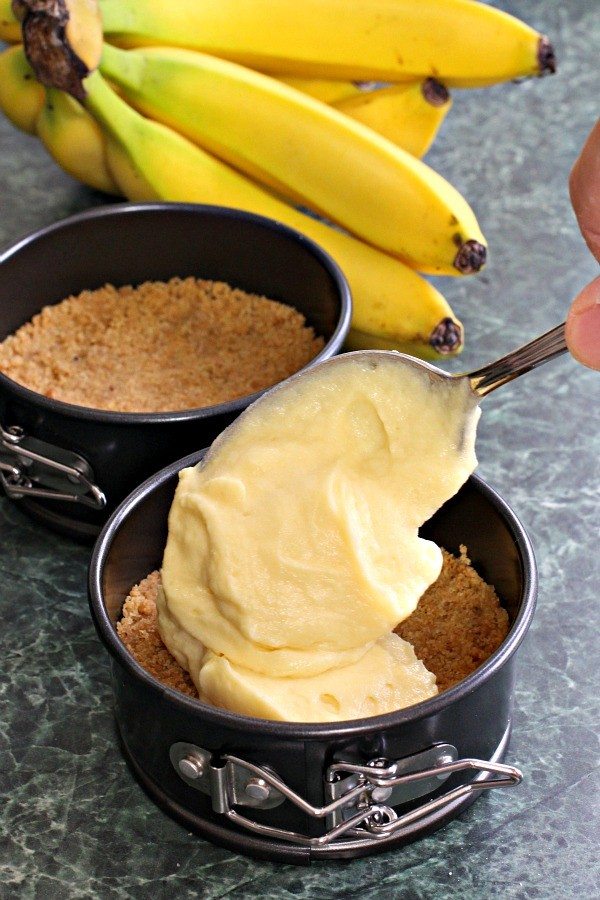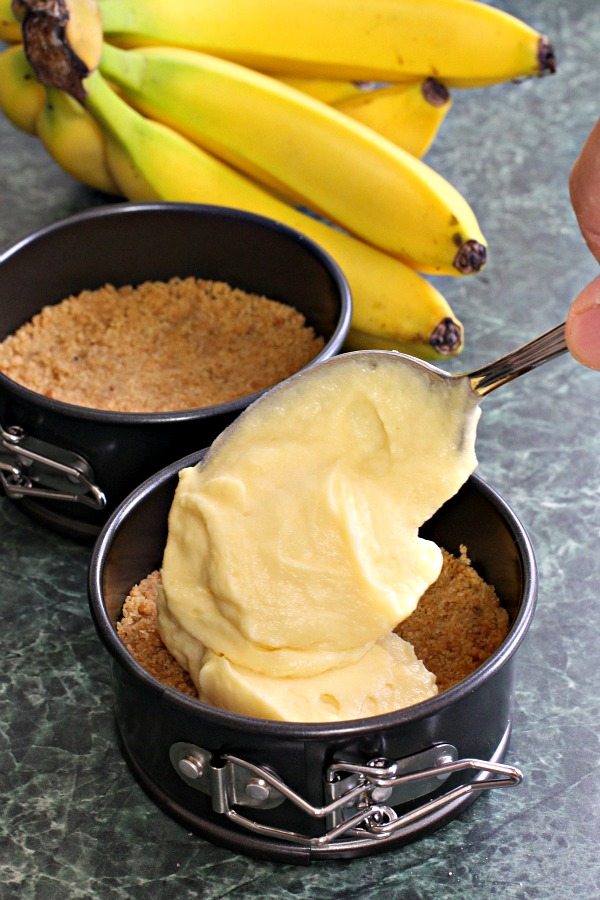 All you need to do is mix together graham cracker crumbs, melted butter and some sugar and press it into a springform pan to make the crust. I like to use four of these 4 1/2″ pans to make them individual – a big individual portion but that's how I roll – but this recipe will also work perfectly in a regular sized 9″ springform pan.
Press in the crumbs in the bottom of the pan nice and thick and then spoon in the filling. I mixed a little bit of rum in this filling – not rum extract – but dark rum. But if you do want to keep this alcohol free you can substitute a half teaspoon of rum extract instead.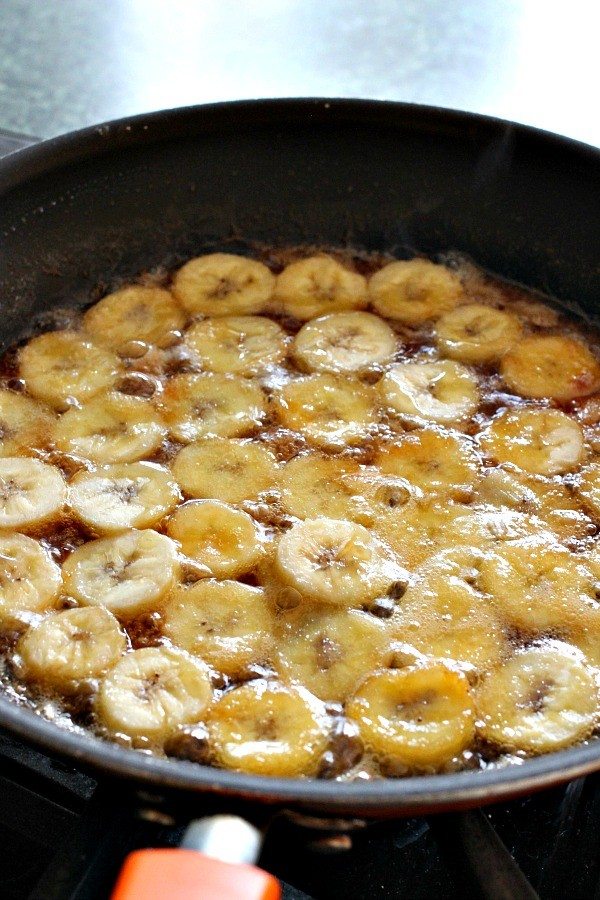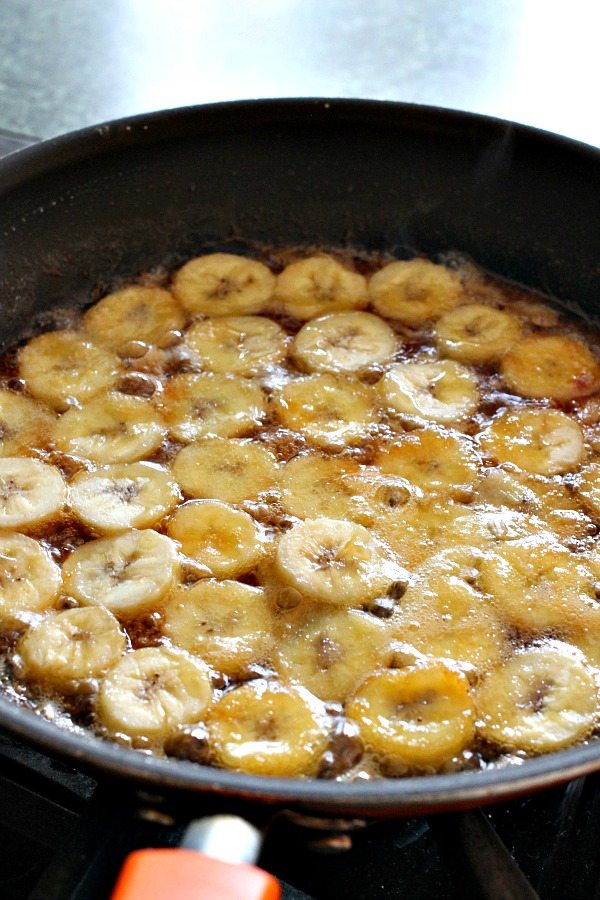 While the cheesecake is firming up in the fridge, you can make the boozy banana topping. This topping is almost like what you'd make for bananas foster – one of my favorite desserts – but instead of ice cream were going to spoon it over our no-bake cheesecake. It's butter, brown sugar, rum and bananas cooked together for a few minutes… and that's all there is to it! You can make these the day before and then make the topping right before serving.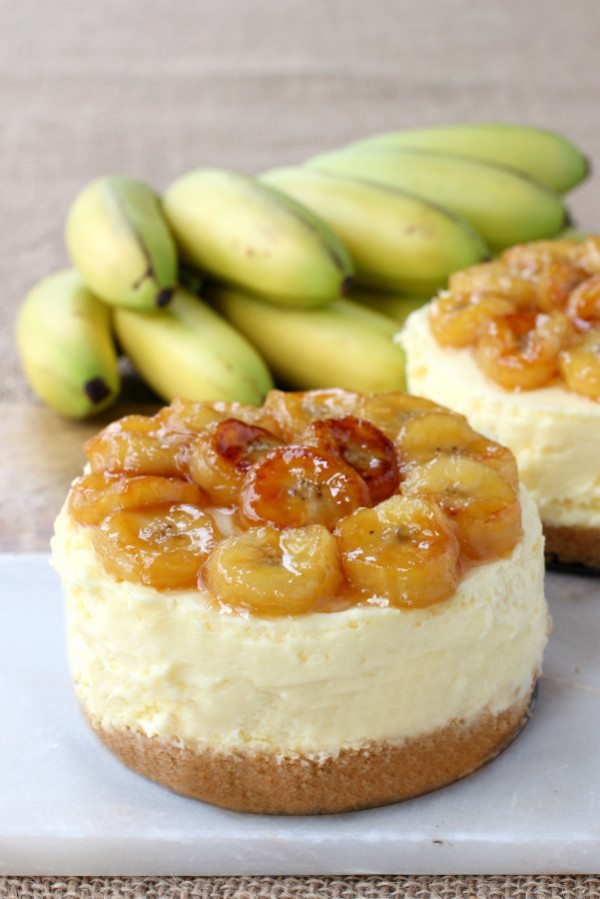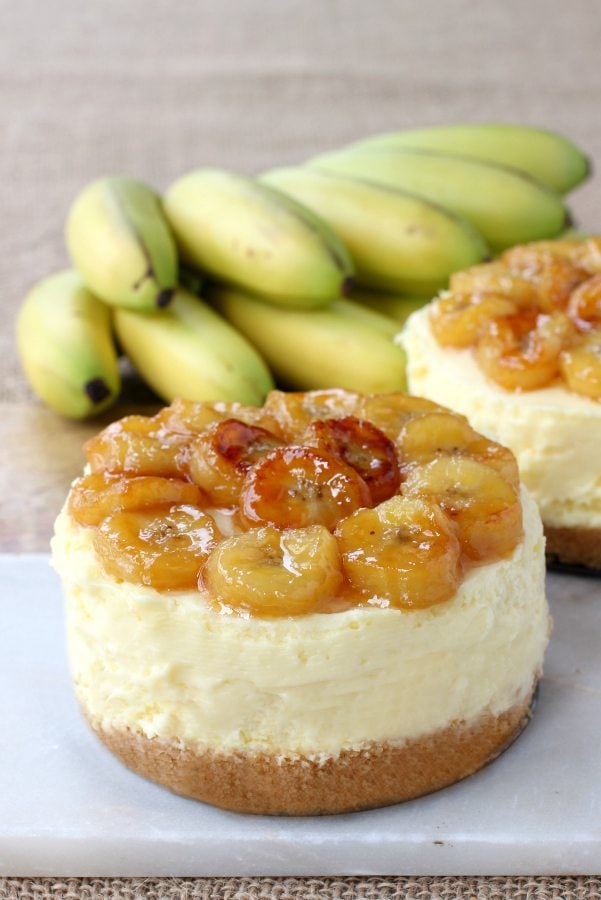 Even though these No Bake Banana Rum Cheesecake won't take you long to make, you don't have to tell anyone that.  Let your guests think you baked all day!
No Bake Banana Rum Cheesecake
Yield:
1 9" cheesecake or 4 individual cheeseca
Prep Time: 15 minutes + 4 hours chill time
Cook Time: 9 minutes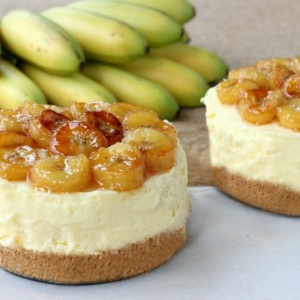 Ingredients:

CRUST:

1 1/2 cups graham cracker crumbs
5 tablespoons melted butter
2 tablespoons granulated white sugar

FILLING:

Two 8- ounce packages cream cheese, softened
3/4 cup heavy cream
1/2 cup granulated white sugar
1/2 teaspoon vanilla extract
1/4 teaspoon banana extract
1 ounce (2 tablespoons) dark rum

TOPPING:

4 tablespoons (1/2 stick) butter
1/4 cup brown sugar
2 ounces (1/4 cup) dark rum
2 large bananas, sliced into 1/4" thick slices

Instructions:

 In a medium bowl, combine the crust ingredients.  Press this mixture into the bottom of your springform pan (either a 9-inch or 4 individual 4 1/2-inch pans) using a glass to press down firmly.
In a large bowl, use an electric mixer to combine the filling ingredients; beat for 3 minutes, or until smooth.
Scrape the filling evenly into the 4 springform pans, or scrape all of the filling into one 9-inch springform pan.
Chill in the refrigerator for 4 hours or up to two days.
Make the banana topping by adding 4 tablespoons of butter to a large skillet and heat over medium heat.  Once the butter is melted, stir in the brown sugar.  Carefully pour in the rum and cook for 3 to 4 minutes while stirring.
Add in the sliced bananas and cook for 5 minutes, flipping the bananas over halfway through.
Remove the cheesecake(s) from the springform pans by running a knife around the edges first and carefully loosening the spring on the pan.
Spoon the banana topping over the cheesecake and serve.
SOURCE: RecipeGirl.com
Here are a few more cheesecake recipes you might enjoy!