This Strawberry Coconut Cheesecake is full of so many delicious flavors!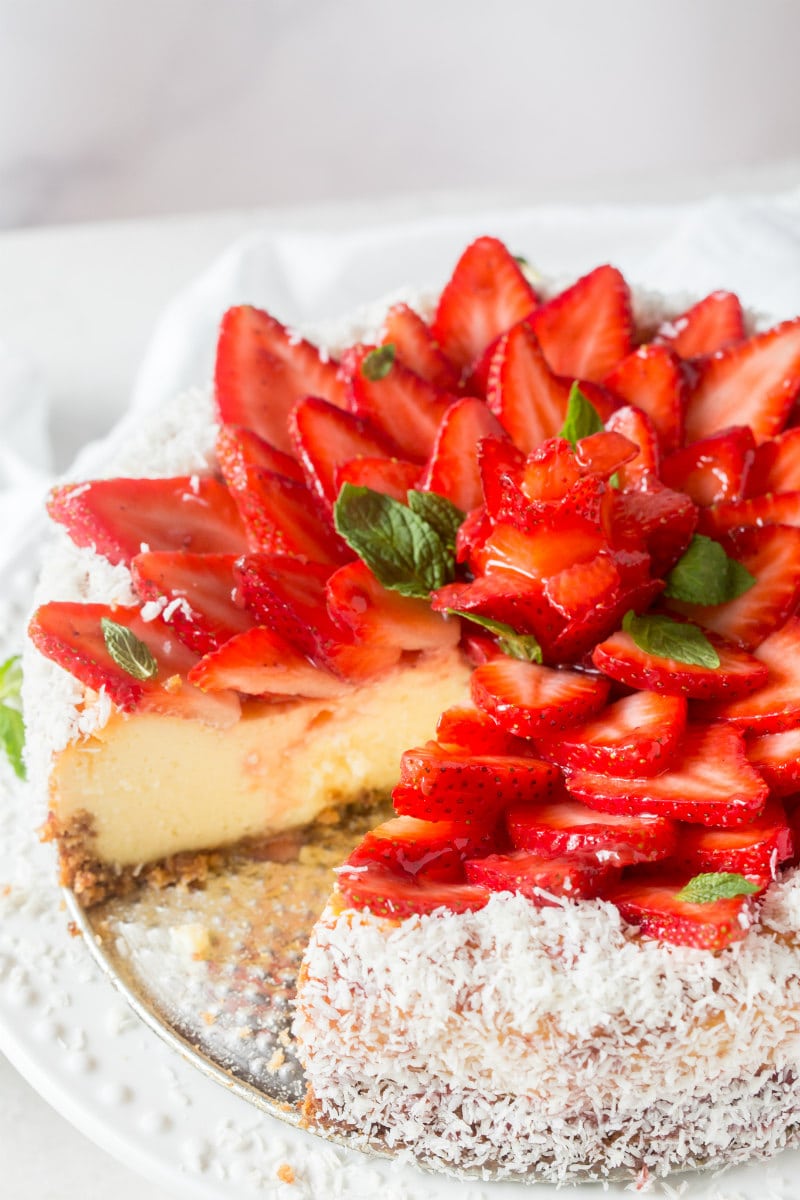 Many years ago, when I was first really getting into cooking and baking, I baked this Strawberry Coconut Cheesecake. The recipe is originally from Bon Appetit. And I baked it for a contest at the San Diego County Fair. I ended up winning 2nd place in the cheesecake contest, and for that… I got a ribbon!
It really is a delicious cheesecake. The filling of the cheesecake is flavored with coconut, but there aren't any flakes of coconut floating around in the cheesecake filling itself. And it's topped with plenty of fresh strawberries.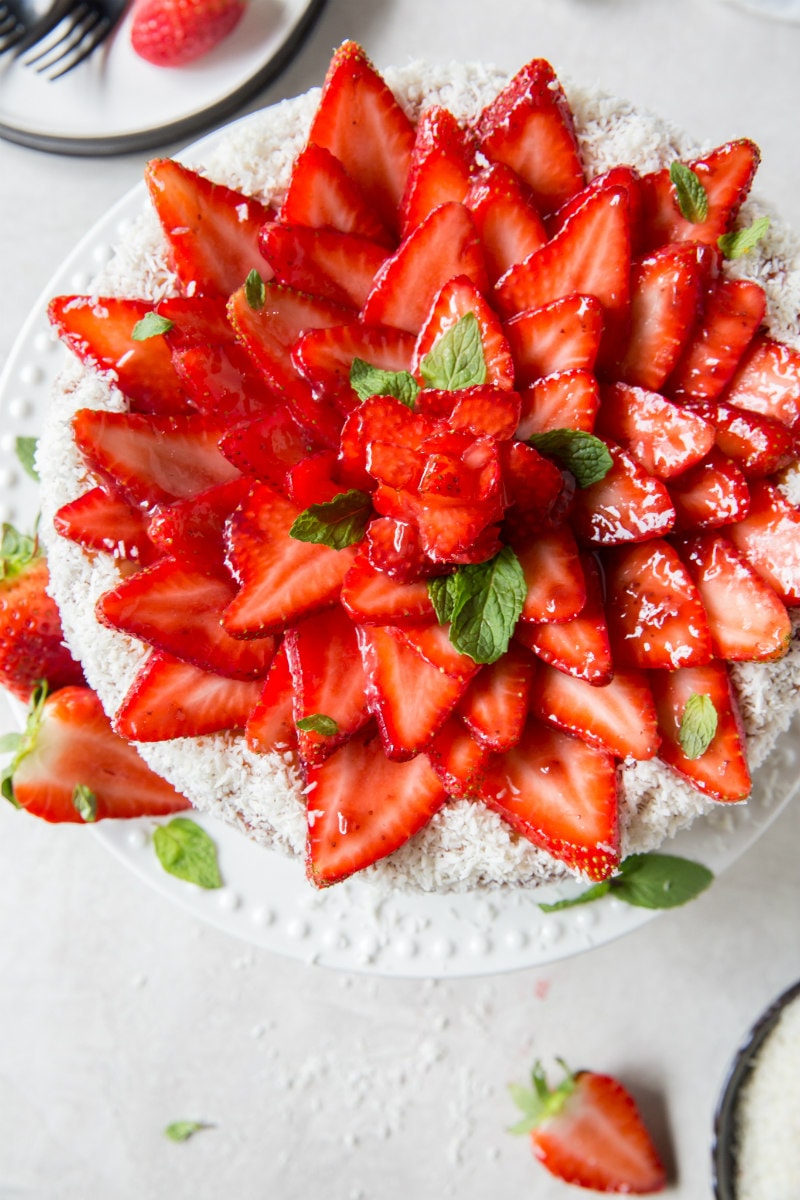 If you are a fan of coconut flakes, you can edge the side of the Strawberry Coconut Cheesecake in coconut flakes too. But that's totally optional. It will be delicious either way, but I know that some people are not big fans of the texture of flaked coconut… so it's okay to leave it off.
Personally, I love the flavor of coconut… but the flakes aren't my favorite. So I usually leave them off the edges. The photos here show it with the flakes.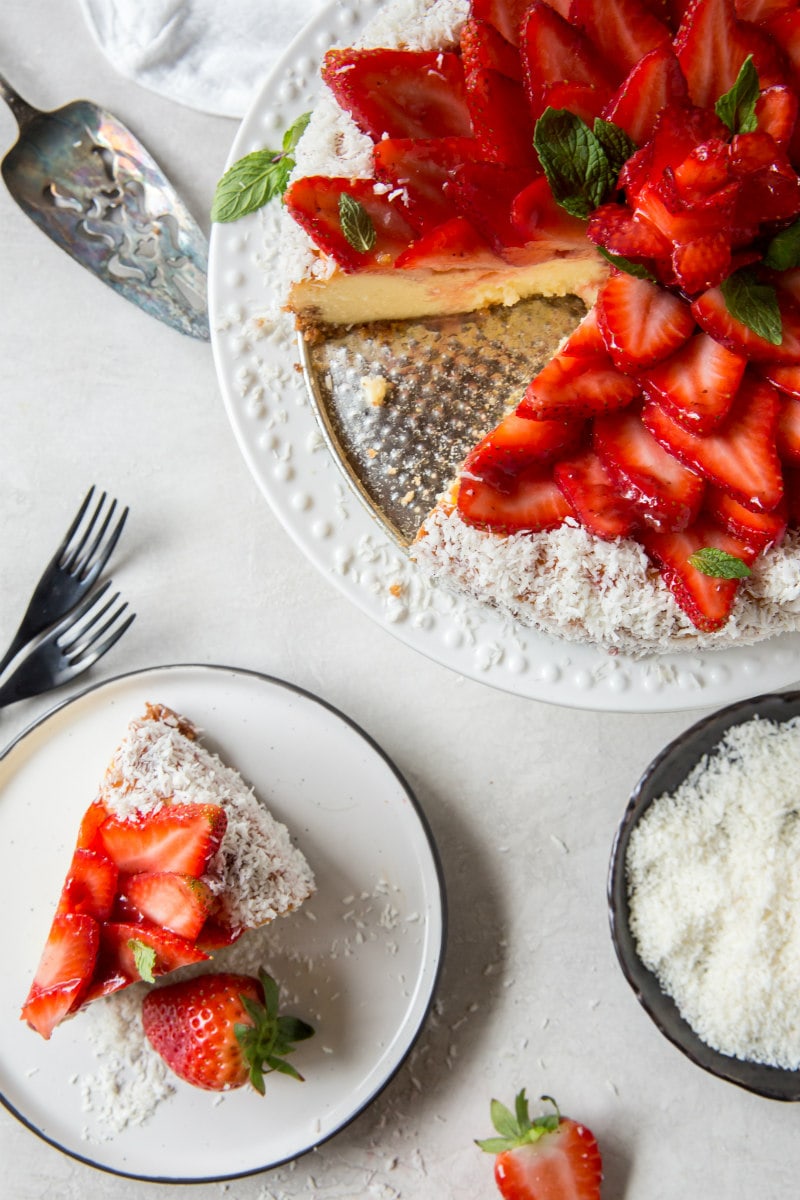 What is cream of coconut?
It's sold in a can, and it can usually be found near the other cocktail mixers. Sometimes you can find it in the baking aisle. If you can't find it, ask! Do not substitute coconut milk or coconut cream. Cream of coconut is the sweetened version of coconut cream. You need that for this recipe!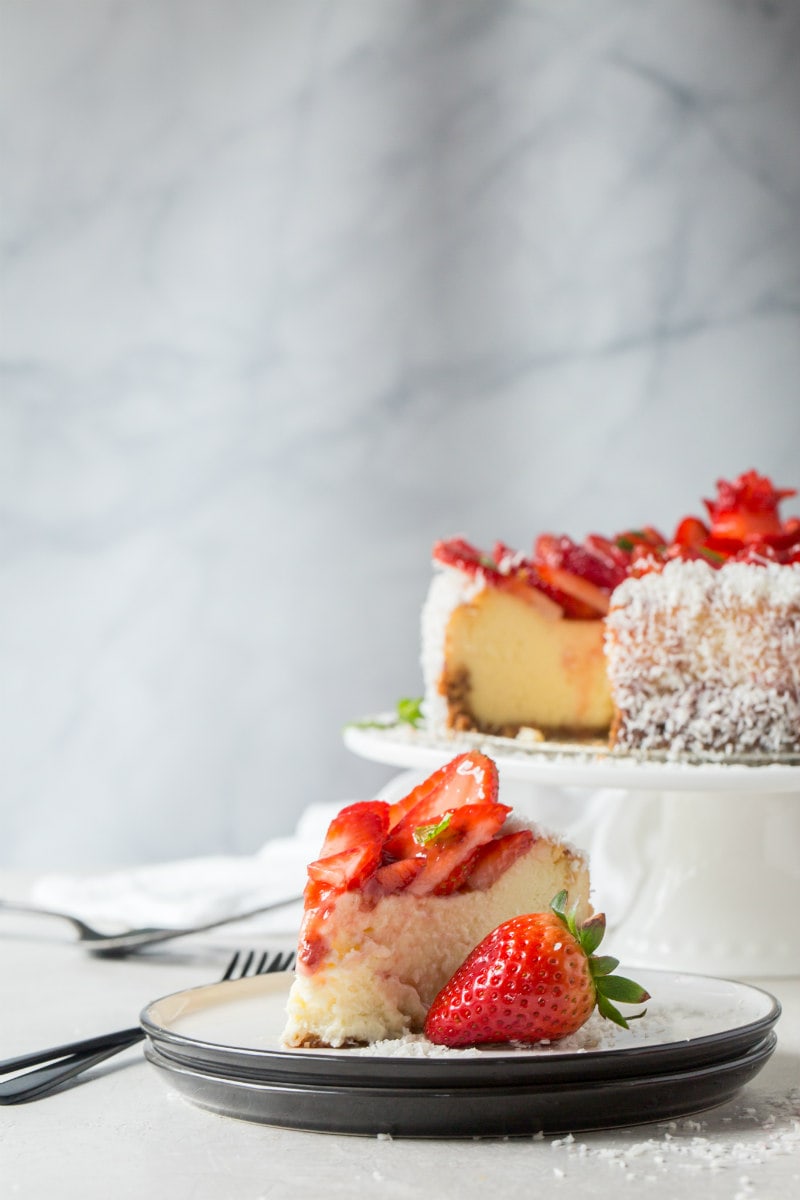 How to toast coconut:
For this recipe, you'll need toasted coconut to add to the crust ingredients. If you want, you can also add toasted coconut (or regular, as pictured) to the sides of the cheesecake. To toast coconut, preheat your oven to 325°F. Spread the coconut flakes on a baking sheet in a thin layer and bake in the preheated oven. The flakes will toast very quickly and won't take more than 5 to 10 minutes. After a few minutes stir the coconut so it's all toasting evenly. Keep a close eye on it- you don't want it to burn.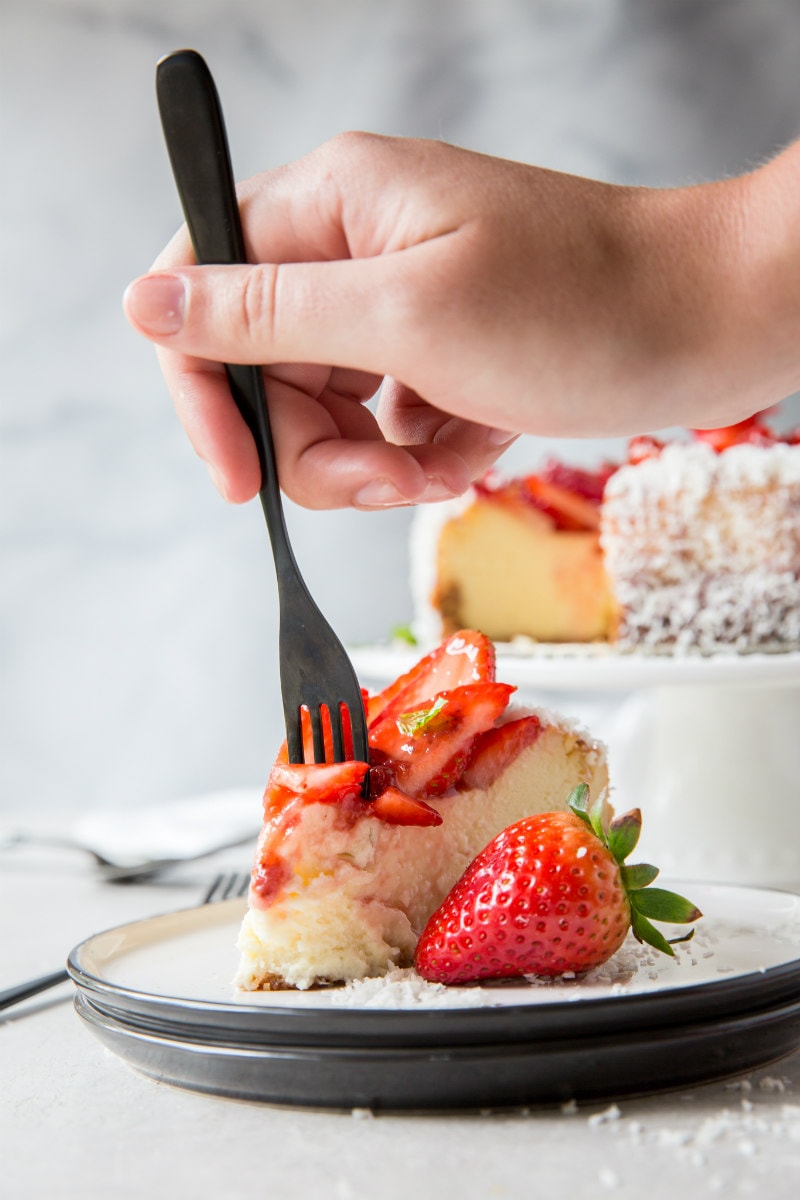 This Strawberry Coconut Cheesecake is a showstopper dessert. It's pretty enough for a special occasion. Enjoy!
Here are a few more cheesecake recipes you might like to try:
Strawberry Coconut Cheesecake
Totally perfect combination of flavors in a cheesecake- strawberry and coconut!
Recipe Details
Ingredients
CRUST:
2

tablespoons

butter,

divided and melted

3/4

cup

graham cracker crumbs

1/2

cup

unsweetened shredded coconut,

toasted and cooled

1/4

cup

granulated white sugar
FILLING:
Three

8-ounce packages

cream cheese,

at room temperature

1

cup

granulated white sugar

1/4

cup (1/2 stick)

unsalted butter,

at room temperature

3

tablespoons

cornstarch

4

large

eggs

1

cup

canned sweetened cream of coconut

(such as Coco Lopez)

1/4

cup

coconut rum

(such as Malibu)

1½

teaspoons

coconut extract
TOPPING:
1/4

cup

seedless strawberry jam

2

tablespoons

water

3

pints

strawberries,

stemmed and sliced

more flaked coconut,

for edging the side of the cheesecake (optional)
Instructions
PREPARE THE CRUST:
Preheat oven to 350°F. Brush 9-inch diameter springform pan with 2-inch sides with 1 tablespoon melted butter. Blend crumbs, coconut, sugar, and remaining butter in medium bowl. Press mixture over bottom of prepared pan. Bake crust until lightly browned at edges, about 10 minutes. Cool. Reduce oven temperature to 300°F.
PREPARE THE FILLING:
In a large bowl, use an electric mixer to combine the cream cheese, butter, sugar and cornstarch until well blended. Beat in the eggs 1 at a time. Then beat in the cream of coconut, rum and coconut extract. Pour the batter over the baked crust. Lay out 2 layers of heavy duty foil; set the pan on top of the foil and lift it into a large roasting pan. Fold the sides up to create a "bowl" with the foil. Add enough water to the roasting pan to come 1 inch up the sides of the cake pan (making sure the pan is protected by the foil). Cover the whole roasting pan with foil.

Bake the cheesecake in the roasting pan for 1 hour. Remove the foil. Bake until the cheesecake is pale brown, puffed and just set in the center, about 40 minutes. Set your pan on your cool stove and cool in the water bath for 2 hours. Then remove from the water; gently remove sides of springform pan. Chill the cheesecake for 3 hours. This part may be made 2 days ahead. Cover and keep chilled.
PREPARE TOPPING (on the day of serving):
Simmer the jam and 2 tablespoons of water in a small saucepan. Brush the top of the cheesecake with warm jam. Overlap the berries atop the cheesecake, covering completely. Brush the remaining jam over the berries. If you want to edge the side of the cheesecake with coconut, you can do that too. Chill until ready to serve.
Nutrition
Serving:
1
slice
,
Calories:
585
kcal
,
Carbohydrates:
61
g
,
Protein:
7
g
,
Fat:
34
g
,
Saturated Fat:
21
g
,
Cholesterol:
148
mg
,
Sodium:
278
mg
,
Potassium:
321
mg
,
Fiber:
4
g
,
Sugar:
50
g
,
Vitamin A:
1054
IU
,
Vitamin C:
70
mg
,
Calcium:
93
mg
,
Iron:
1
mg