I'd like to introduce you to my favorite new flavor cheesecake:  Snickerdoodle Cheesecake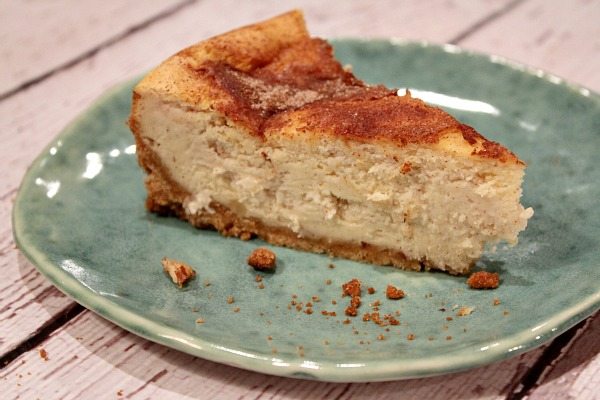 It's been a while since I made this one, and its pictures have been haunting me in my photo collection ever since.  A few of my family members were in town visiting, and we needed something good for dessert.  The thing is… we had a couple things to consider.  #1:  Many of us like to eat light and #2: my Mom is gluten free, so we had to choose something she could enjoy too.  My sister is often recommending recipes from magazines, and she had pulled this recipe out of an issue of Better Homes and Gardens from last fall.  Since I'm a snickerdoodle cookie FANATIC, it sounded wonderful to me… and it would be easy to turn it into a gluten-free version too.  As far as eating light… well… we at least used light cream cheese- ha!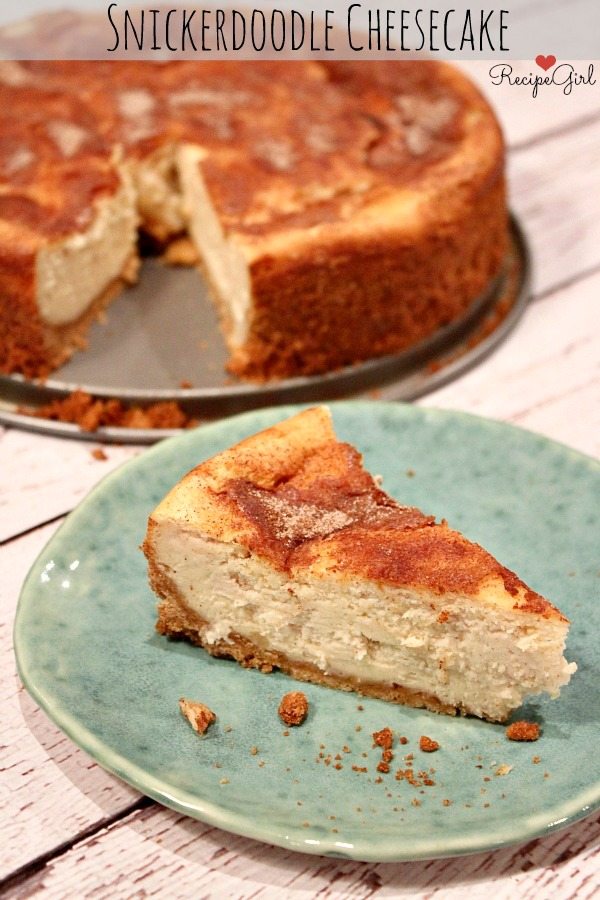 While this is not a low calorie dessert, devouring a small slice of it will totally satisfy your craving for sugar.   I'm all for eating kind of a plain-type cheesecake without a lot of sauces or toppings or anything excessive like that.  I love cheesecake enough not to mess it up with a lot of extra stuff, so this cheesecake meets that criteria.   It's a delicious and creamy textured cheesecake with a cinnamony-crust on top.  Perfect!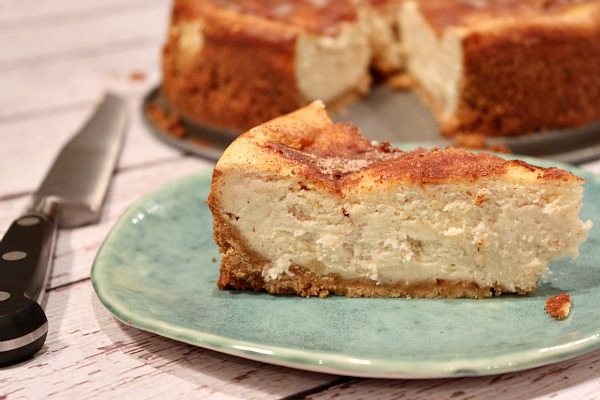 Our gluten-free adaptation of this recipe turned out very well.  We used Cup-4-Cup Gluten Free Flour Blend (my favorite to use for baking).  And for the crust we just used some gluten-free sugar cookies (animal cookies would work fine too).  My gluten-free Mom was happy that she was able to eat it too.  It was enjoyed by all of us.  Did it taste like snickerdoodles?  No, not really.  But it was a delicious cheesecake with a cinnamon-sugar touch!
Snickerdoodle Cheesecake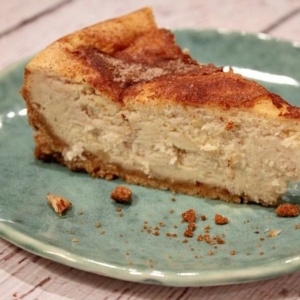 Yield:
12 servings
Prep Time: 25 min
Cook Time: 40min
Ingredients:
CRUST:
10-ounces shortbread cookies, finely crushed or ground in food processor (I used gluten-free sugar cookies)
1 tablespoon granulated white sugar
1/4 cup (4 tablespoons) butter, melted
FILLING:
Two 8-ounce packages cream cheese (I used low-fat), at room temperature
One 8-ounce carton sour cream
1 cup granulated white sugar
2 tablespoons Gold Medal® All-Purpose Flour (or gluten-free flour blend)
2 teaspoons vanilla extract
1/2 teaspoon ground cinnamon
3 large eggs, lightly beaten
TOPPING:
1 tablespoon granulated white sugar mixed with 1/2 teaspoon cinnamon
Directions:
1. Preheat oven to 350 degrees F.
2. Prepare the crust:
In a medium bowl stir together cookie crumbs and sugar. Stir in melted butter and mix until combined. Press the crust onto the bottom and 1 1/2-inches up the sides of a 9-inch springform pan.
3. Prepare the filling: In a large bowl, use an electric mixer to combine the cream cheese, sour cream, sugar, flour, vanilla and cinnamon- mix until smooth. Then mix in eggs. Pour the filling into the pan, spreading evenly. Sprinkle with the cinnamon-sugar. Place the springform pan in a shallow baking pan.
4. Bake 40 to 50 minutes or until a 2 1/2-inch area around the outside edge appears set when gently shaken. Cool in the springform pan on the wire rack for at least 20 minutes, then use a knife to loosen the crust from the sides of the pan. Cool 30 minutes more, then remove sides of the pan. Cool the cheesecake completely, then cover and chill for at least 4 hours before serving.
Nutrition:
Each serving has 412 calories, 27g. fat, 108mg cholesterol, 310mg sodium, 39g carbs, 5g protein
Other cheesecake recipes you may enjoy >
Peanut Butter Cup Cheesecake from Handle the Heat
Strawberry Cheesecake from Barbara Bakes
Italian Ricotta Cheesecake from Bell'alimento
Double Decker Cheesecake from i am Baker
Boston Cream Pie Cheesecake from Cookies & Cups